We are one of the leading Android Application Development Company in Bangalore. We have a team of experts to analyze your business in which strategies your business will matched to develop an Android app based on market demands and user requirements. We are the team of enthusiastic and confident expert Android app developers. Our experience has provided us with the power to do any difficult job for all your business needs.
We have updated to the level where we served numerous services in developing designs we have proven has the best Android app development companies in Bangalore and our creative idea made us strongly transformed into mobile app marketing without any pauses.

We have designed 1500+ of Android, iOS or iPhone apps for different businesses, for their development. It doesn't mean what industry you are serving, Our Android application has the capability to help you to acquire and maintain customers. Mobile apps are universally located in all market origins!
The software business is currently loaded with numerous android apps. If you need to transfer your business to mobile apps, then you must consider an Android App Development company of your market. The Android platform begins an endless volume of possibilities to build a simplistic yet, but strong android apps development with the modern technological progress. Google has continued its strong abilities to android, which performs it as a vital platform to multiple industries.
Android apps control several endless mobile projects in more than ninety countries throughout the world. It is the most important point in the support of any mobile platform and developing fast. At present technology new android devices unit initiated worldwide. At Fusion Informatics, we provide a large variety of Android mobile application solutions. Our developers develop Android apps that increase businesses. We investigate the network Android SDK stand and employ all high-end resources to build scalable and execution determined applications. Presently concentrate on your business and start the application development with us. Your idea, our integration of hard works to success your business.
Fusion Informatics will make your vision into reality
We understand the importance of a successful business model, assure you, that we will make your vision into reality using state of the art technology, and create high-quality Android applications for your consumers.

We will guide you from the start to the end, giving you the best possible solutions.
Overview of Android Application Development
With the ever-growing market of smartphone devices, most of the organizations are adopting ways to incorporate mobile apps in their business flow, in order to enhance their market outreach. For a smooth development and the success of a mobile app, the organization and developers have to initiate a detailed plan strategizing the various types of processes to use.
Fusion Informatics - Infuse Ideas to Reality
Driven by the motto of infusing ideas to virtual reality, Fusion Informatics has hit the list of top most Android app development companies in Bangalore, India that amazes its customers by converting simple ideas into incredible mobile apps. We understand the importance of a successful business model and assure you that we will make your vision into reality using state of the art technology and create high quality android applications for your consumers.

Supported by a team of professional designers, programmers, testers and team leads, Fusion Informatics is in its 20th year of service in the field of Android App development in India.
Headquartered in the Indian state of Gujarat, we bankon the concept of teamwork as a driving force behind our success. Making our presence in the arena of Android App Development since the last 19 years, Fusion Informatics relies on its skilled technical team to churn out Android and iOS apps. We, being at the top in the list of best Android App Development Company in Bangalore, India, will guide you from the start to the end, giving you the best possible solutions.

We offer custom Android App Development Services for businesses, because the Android devices consists of multiple versions of OS with different sizes of screens making the development of android applications the task of experts.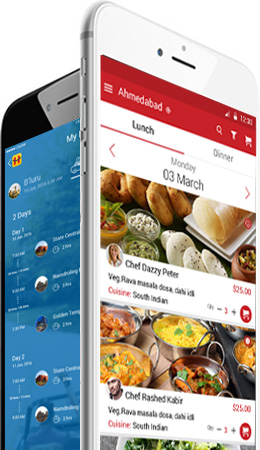 Native android app development
A native app is a program that has been coded in a specific programming language, for devices having specific OS. For example, Objective C is used for iOS or Java for Android Phones. These apps use the OS features and other software tools that are installed on that platform. They also have access to various phones features such as camera, gallery, contact list etc. Mostly Native apps are compiled into machine code. These provisions help native apps perform the best in a mobile device.

The native app development method is easy and there are numerous resources available, but it might not be something everyone can comprehend since it is fairly complex.
The main features of a native app are:
High degree reliabilit
Simple but Fast Performance
Better user experience
Supports both online & offline transactions
Hybrid android app development
A hybrid app is a program that is created using HTML 5, CSS and JavaScript and wrapped in a native container. This native container loads maximum information on the page as soon as the user navigates the application. There are plenty of native web frameworks available, which can help you build a hybrid app.
The main features of a typical hybrid app are:
Faster app development
Simple and easy to maintain
Cross platform UI
Integrate with device file system
Less expensive app development and cost effective maintenance
Single code management for multiple mobile platforms
Our android app development approaches
We believe in the idea of less is more and hence, make your app simple and attractive, with user-friendly layouts and easy navigation.
We understand the importance of customer comfort and thus support multiple languages with localization and globalization.
Like customer satisfaction is your main aim, your contentment is our goal. We study your target customers and based on the results create mobile applications to best suit them.
We focus on the offline experience of users as well.
Why to Choose Fusion Informatics for Android App Development?
Powering 2 Billion mobile devices across the globe, Android inevitably stands out as one of the most sought-after platforms for mobile app development. Fusion Informatics is a leading Android app development company in Bangalore, India giving successful mobile applications to enterprises. Avail our Android mobile app development services to increase your customer reach.
Our Strategic Vision:
You have the vision and we have the strategy.
You give ideas, we create the blueprint.
We can develop some amazing apps with ease.
We are Brand - Focussed
Our mobile app development services are always tailored as per your brand conditions. We will deep-diveon your business widely before initiating the development process.
Platform-Specific Apps:
Our development team includes expert Native and Hybrid App developers, dedicated to designing, developing apps for android, iOS & cross platform.
Getting Started?
Being one of the fastest growing Android Apps Development Company in Bangalore, India, we aim to please our client with the superlative, user-centric mobile apps. We ensure you the top-notch class mobile apps by using next-gen technologies in affordable cost. Our Android Apps are user-centric, developed comprehending the intent of mobile apps for your business.

We, Fusion Informatics, have 19+ years experienced team who well versed with trending technologies, total transparency, talented coding, and technical knowledge. Through our dedicated work towards customer's satisfaction, they made us top-rated in the list of Android apps development companies in Bangalore.
Effective communication & project management is the supporting pillars in boosting the relationship with clients and resolves the conflicts. Due to more competition in the business world, it is very important to hire well Best Android Application Development Company Bangalore. Our Android App solutions have enabled many companies across the globe, especially in UAE, USA, and India to crack business problems, bring up productivity and figure new products.

Fill out the request form or drop us your app project inquiry at sales@fusionInformatics.com. You can also call us +91- 6361 054076. Our consultants will get back to you to immediately. We are always willing to support you with our services. We are in a click away!