Flutter one of the Revolutionary frameworks that promise to build Android and iOS apps with a single code base in a short time.
As Flutter comes with fast ship, customized widget set for building native app in minutes. Flutter combines all the features of the native performance that includes navigation, scrolling, icons and fonts. It favorably about Flutter it allows you to work with an existing part of the application because there is no requirement to have a full application in the Flutter.

At Fusion Informatics, we being a Top Flutter App Development Company are vigorously focusing on the development of hybrid mobile apps with a rich user experience and fluid and assured us the end-users of mobile applications rich beautiful and functional. We are experts in completely customizing the widgets that are available to create a mobile application responsive.
We know well about every single feature of flutter and able to provide the same output as the client's expectations. Flutter allows developers to create new widgets and UI eye-catching and dedicated Flutter app developers make applications more attractive and robust in design. It is the right time to Hire Flutter developers for iOS and Android apps to build advanced high-quality native interface in a few minutes.
Therefore, it is the right time to make use of Flutter and also the Cost to Develop and Build Flutter App depends on feature and utilizing Flutter framework. Our native app developers can build next generation applications for iOS and Android in a short time. We have skilled expertise in turning your idea into profitable mobile applications to grow your business. Our Cross-platform app developers are the most valuable asset having good experience and skills. Get the full spectrum of Flutter app development services & solutions to build cross-platform application that is beautiful in a few minutes.
Hire Flutter App Developer to Transform Your Business
When compared with other hybrid framework, Flutter is a strong and reactive with widgets and tools that enable the development and deployment of animation and UI with a single code base that suits android and iOS platforms as well. In addition, the release of all code compiled using native code such as Android LLVM, NDK and AOT- prepared which do not require the involvement of an interpreter, resulting in the fastest code delivery, which is very close to the pure native kind of performance so hiring Top Flutter App Development Companies would be beneficial for business and organizations.
The Cost-Effective Solution
Flutter Apps Development comes to the level of cost effective where a single code base used to develop applications for iOS and Android. Eliminate the need to have a separate iOS and Android developers.
Easy Maintenance
With Flutter, deployment of new features and maintenance of mobile apps is now much easier and comfortable, as a single code base is required to deploy the application.
Advance UI / UX
With Flutter, we create an intuitive user interface to provide an uplifting experience. In addition, developers are not bound by the restrictions imposed on the implementation of the native UI framework.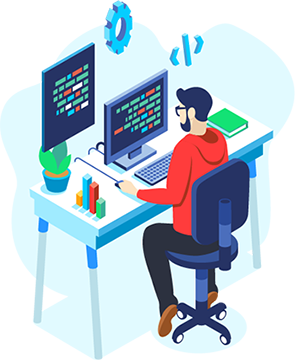 Fusion Informatics is a leading Best Flutter App Development Companies with more than 18+ years of experience in the industry. Employing a proficient and experienced Flutter App Developers can benefit from the cost savings and flexibility without the overhead. Fusion Informatics use Flutter framework to develop next-generation solutions. We help our customers to design flexible, beautiful, high-quality native applications in a short time and put them on both iOS and Android platform without maintaining separate code bases. The Cost to Create and Make Flutter App with Fusion Informatics is cost effective and designed to provide rich functionality, innovative and reliable solutions.
Cross-platform Flutter Apps Development
Services & Solutions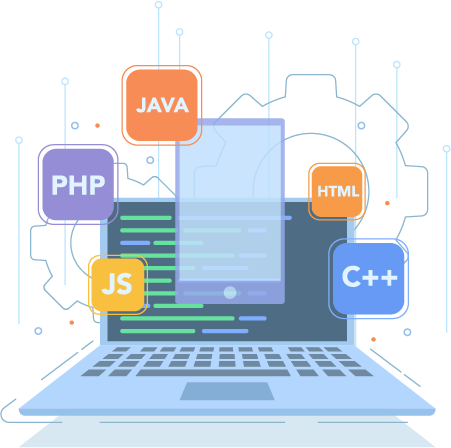 The realm of the world of technology is always something new to offer when it comes to evolution. Google is free and open source mobile app SDK to develop high-quality original interface on a cross-platform in a record time of 120 FPS is the best example of a reliable phone UI framework that Google has just announced and introduced.
Flutter Google UI Framework for iOS and Android let our programmers write UI code once and run it on both platforms. The most advantageous thing about Flutter framework is to provide a bridge to the original, so the flutter of agile developers we can do almost everything Kotlin / Swift / Java does not. Flutter core concept for the bridge and drawing.
Bacancy superior technology development company providing services to Flutter in the development of world-class flutter we also globally famous for offering the best-suited technology solutions for our clients. If you have an idea, then we have a strategy! Our expert and skilled application developers' flutter can help you to build a user friendly android and ios mobile applications to meet specific business development projects.
Technology Stack for Flutter Apps Development
Fast Coding
Refill with hot features, developers can modify the code and check the results in real-time without starting the build process. This enables faster debugging and simplify the process of fixing a bug.
Easy to Adopt
Flutter The main purpose of architecture is to simplify the development process for developers. This is done by offering integration using other programming languages.
Widget Creation
Besides allowing customization of widgets, Flutter allows developers to create new widgets. Rich widget library SDK makes it easy to customize the widget quickly.
Single codebase
Flutter eliminates the need for developers to write different code for iOS and Android. Use one codebase to create applications for iOS and Android.
Eye-Catching UI
Mobile application development is always demanding eye appealing and attractive user interface. Flutter of anticipation in getting design yet natural heart to your native mobile applications.
Faster Testing
Previously, developers had to carry out the testing process separately for two different platforms, but with Flutter, only a single test is needed for both platforms, making faster and more efficient testing.
Smooth Experience
Flutter modern technology allows developers to create faster and more fluid experience to end users, making it easier to meet user demand.
VISUAL TECHNOLOGY
Fusion Informatics also develops ultra-modern visual applications obtain, analyze and synthesize images and recognize patterns in them.
Cross-Platform
A single user interface to run on both platforms by utilizing the same libraries, frameworks, and renderers. Flutter offers widgets that are designed in accordance with Cupertino (IOS) and Material Design (Android) specification.
Industries We Cater as a Flutter App Development Companies
As a Best Flutter App Development Company , our main domain expertise of our developers is to build a flutter app with rich user interface and creates a single interactive mobile application code base using the Flutter framework.
Medical
Shopping:
Music
Travel
News
Education
Business
Finance
Lifestyle
Food & Drink
Entertainment
Social Networking
Health & Fitness
Sports
Weather
Why Choose Us as Your Best Flutter Apps Development Company
We have known every whereas a Pioneer when considering with the leading List of Top 10 Flutter App Development Companies because for our efforts and skills we implement to undertake the framework of flutter. We vigorously build mobile applications that beautiful and functionally rich, made to meet your specific needs. They help businesses worldwide to develop next-gen applications expressive, flexible, and provide an enjoyable experience for their users - all in a short time.
Flutter application we developed with customization capabilities make the most of the platform and the ease / uniqueness that 'Everything is Widget' framework offered. Integrating the capabilities of Flutter with the visual appeal of the plausibility of Materials Design, we are building digital experiences for the end user of our clients to enjoy and return to each day.
Google flutter application development SDK is the newly launched framework designed to support the native app development for both iOS and Android mobile applications using a single code structure. Flutter is a strong and reactive with widgets and tools that enable the development and deployment of UI with animations and a single code that works on different platforms.
At Fusion Informatics, we assign skilled and dedicated team of experts for each project. This helps us to create a better solution for them.
Dedicated and highly qualified team of developers
Expertise in designing intuitive user interface for mobile and web apps
Apply high quality solutions on cross-platform in a short time
Use expressive and functionally rich widgets
As a Flutter Apps Development Agencies, we respect your privacy then we follow strict NDA terms during the development process of flutter-based app and keep your valuable ideas safe and secure.
Fusion Informatics is one of the Leading Flutter Application Development Companies. Despite the current newest flutter compared to other frameworks, we still managed to get used to the style and methods of functioning by making us one of the best flutter apps development companies. Our diverse and skilled team of developers can help you sketch smart and fastest solutions for projects of cross-platform development and bring it to life expectancy you aspire for your projects.
Our Flutter App Solution and Service Process
The Development of Flutter App is now a very good choice for the rich and beautiful build native applications. We assist our customers in creating a cross-platform application that is wonderful for different verticals such as logistics, Retail, m-commerce, healthcare, travel, banking, etc.
Cross Platform Application Development
We will help you to embrace your mobile strategy more robust by building high-quality cross-platform mobile applications for iOS and Android.
Get Personalized Service With Us
Get personalized assistance to develop your mobile applications tailored to our application development services on flutter
End-to-End Project Management
From gathering requirements to final delivery of the application, we handle everything.
QA and Testing Services
From the early stages of the project, we put our expert quality analysts in the loop so that you can ensure your application runs on all browsers and screen.
Quick support & maintenance
Our team will help you with any problems of any level of complexity by providing workarounds and bug fixes for security audit and enhancement applications. Flutter is a promising feature makes it unique, for instance, the same code can be used for iOS and Android development, hot reload and support for hardware interfaces.
Our Flutter Mobile App Development Process

Hire Flutter App Developers and We are
excited to collaborate with you
Utilizing Flutter framework, we at Fusion informatics have skilled native app developers to develop next generation applications for iOS and Android in a short time. Give your mobile application flexibility of Flutter, the cross-platform help in saving time and effort when developing new applications.
Fusion Informatics as a Top Flutter App Development Companies in Bangalore, Ahmedabad, Mumbai, Noida, Delhi and Gurugram, India, San Francisco, USA, Dubai, UAE, South Africa offers next gen application development services using the framework of the revolutionary Google, Flutter. Do you have an awesome and innovative idea? Let us make things together, contact us at sales@fusioninformatics.com and we will provide free rapid analysis and free consultation for it.