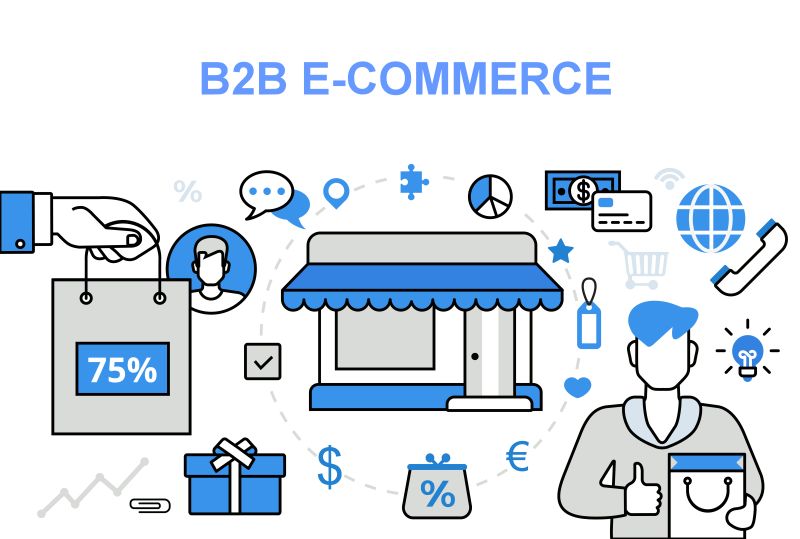 Are you a Wholesaler or planning to start a wholesale business on an e-commerce platform?  You can either build your website dedicated to your wholesale business or, you can choose an e-commerce platform like Shopify, Amazon, Indiamart, and so on. These e-commerce platforms are the marketplaces where retail companies buy and sell products. Creating your unique identity in an existing online marketplace needs to follow certain guidelines. On the other hand, you can build and launch your unique wholesale e-commerce platform. To do that, you need to consult a dedicated web & mobile application development company for the step-to-step development process. In this blog, we will discuss both the options – Popular online marketplaces or e-commerce platforms, and, the guideline for a few basic mandatory features you should adopt for your wholesale b2b e-commerce yet-to-launch website.
Top Features of Platform
1. Synchronizing Data
Your website/e-commerce platform should have the feature that synchronizes data from varied, multiple channels. You know how people are super active on so many channels. This is the virtual world, and people just love to hop on places upon clicks, in seconds. Don't you agree, too? People, businesses, b2b customers search across channels available on the web and do fundamental research for products/services before buying. So, as a wholesaler on an e-commerce platform, you get opportunities to sell your products on multiple channels. Indeed a valuable addition to your sales. However, you have to smartly organize data residing on all the platforms and ensure data security. The detail of your buyers, payment transactions, delivery status and so many details that concern your wholesale business is available online. Make sure your website is perfectly synchronizing all these data and does the needful. This is a very prominent feature that your website should have.
2. Mobile App
As per Statista report, there are more than 3 billion smartphone users across the globe. This has opened up an attractive avenue for retail businesses and you being a wholesaler, need to capitalize on this. Your website/wholesale e-commerce platform has to be mobile-friendly and compatible with all types of smart devices where b2b customers, or the buyers, are present most of their time,i.e., mobile, tablet, iOS platform, Androids, and so on.
3. Integration with Third Parties
Your wholesale website is not the only platform where your customers/clients come and interact. Your e-commerce platform should have pre-sales as well as post-sales touchpoints, too. For instance, content, advertisements, campaigns, research, are few pre-sales points whereas, upselling,cross-selling, etc. are post-sales points. Thus, your website needs to have this feature of integrating with other platforms, tools to manage all the touchpoints.
4. Customer Support Feature
As a responsible wholesaler, your website should provide your b2b customers with strong support and service 24*7. The customer support service feature makes sure your e-commerce platform is dedicated to the service you provide while caring for your customers is an equal priority. This facilitates an increase in conversion rates.
5. Content Marketing
Content is the king. And how your website presents content to your target audience attributes a lot to your business gains. It means, your wholesale e-commerce platform needs to have a content marketing tool appropriately designed and placed. This feature leads to your brand awareness, the recognition in the market as well as engaging your customers, prospects, into the sales funnels. Competitive videos, images, blogs,infographics,etc. are some content examples that can be duly leveraged for your business gains.
Popular E-Commerce Platforms
1. IndiaMart
Indiamart is a popular e-commerce platform for b2b and b2c businesses. It caters to the Indian market specifically and is the topmost online b2b marketplace in India connecting buyers with wholesalers. You can connect to this platform and start building your wholesale business. Follow the guidelines and get connected to your potential buyers. Plenty of categories and verified buyers is the plus point – 72 M+ products & services, 125M+ buyers,6.5M+ suppliers. This is the popularity of the very e-commerce platform.
2. Alibaba.com
Alibaba group is based in China. Alibaba.com is a subsidiary of the giant group. This wholesale e-commerce platform hosts varied wholesale businesses and support a very large user base. The process to sign-up here is simple and whichever category you belong to, you will find your place. You can easily set up your wholesale business here and the plus point is its compatibility with multiple language options as well as multiple payment options. The platform charges $100 for service, and also offers logistics support.
3. X Cart
X Cart is a popular e-commerce platform for wholesalers and is considered to be more cost-effective as compared to other platforms. Its usability power is immense as it can let you connect your CRM, ERP, POS without writing codes on your part. X Cart offers multi-language support and omnichannel content management, too.
4. Amazon Business
Amazon is a household name today. Amazon Business is dedicated exclusively to B2B transactions between retailers and wholesalers. As a wholesaler, you can freely sign-up here and compare your products with your competitors and plan your offers accordingly. You can create multiple users accounts on this platform and can use varied payment methods. You can check its website for further guidance.
5. Shopify Plus
Shopify Plus gives you the dedicated services categorized under Sell, Manage, Integrate, Migrate! When you visit the very e-commerce platform, you will be mesmerized by the way it delivers its message for wholesalers like you. There lies a dedicated 'wholesale e-commerce' section and the message reads "Wholesale without the hassle". You get a self-service online platform to sell directly to your b2b customers!
Bottomline
E-Commerce is thriving, growing exponentially, and is a big contributing factor for the worldwide transformation in the retail industry. Every day there is a new addition to the platform (buyer or seller). Wholesalers like you are connecting manufacturers, distributors, retailers globally and proving a big boon to the supply chain segment. So, you need to decide what you want now. Want to start selling in a marketplace ready for you, like Amazon Business or Shopify Plus? Or, you want to start your e-commerce platform and stand in the league of giants like Alibaba and India Mart! You decide because it is your wholesale business.
Are you an aspiring wholesaler, or an established player in the market? We have an e-commerce solution to take your business to new heights of success. Contact our experts today to get started.