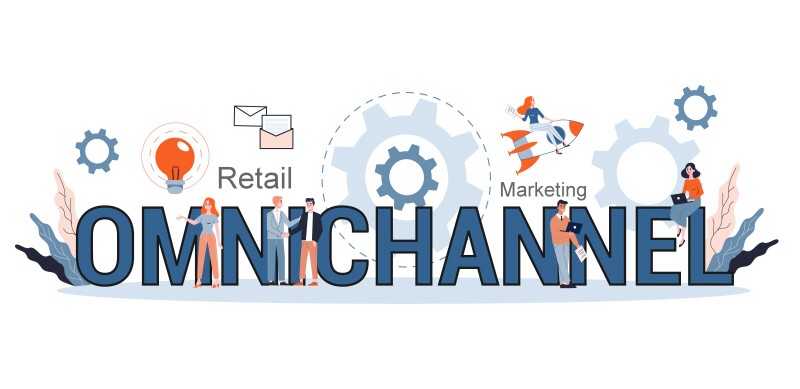 When it comes to shopping, there's been a massive transformation in terms of consumer behavior the world over. This year, and the last year, the inevitable circumstances have compelled retailers to adapt as per the newest trends in the shopping behavior of consumers. Shopify saw a rapid spurt in the creation of online storefronts, and e-commerce is growing as ever. On the other hand, brick-and-mortar shoppers still love the tangibility, immediacy elements of a physical retail store. A huge 79% of mobile-first shoppers(APAC) while they shop in physical stores, mostly search for information online (and you guess the global data). Hence, in the age of brick-and-click, it is necessary for retailers irrespective of the modes, to create reliable, and intuitive omnichannel experiences for customers. In the retail industry, 51% of all offline purchases done are digitally influenced. If you are a retailer, it's high time you realize the importance & efficacy of omnichannel marketing for your business.
What is Omnichannel Marketing
You own a brand and your customers need to know it.
Creating awareness via multiple touchpoints!
A wide presence of your brand across multiple channels is what omnichannel marketing can be understood in the simplest term.
When you hear multiple channels, you'd mean online and offline platforms. Virtual platforms like websites, social media channels, mobile apps, web apps, WhatsApp, email, SMS, podcast, etc. are the places where your brand needs a substantial presence. Whereas, in the physical form, you can create your brand presence via owning a physical store, conducting regular events, or having a call center.
All these channels have a common goal – to ensure a positive, seamless customer experience. You should know that omnichannel marketing deals with both types of channels equally well bringing your brand image to the forefront and creating a marvelous relation with your customers. Remember, a bad customer experience leads to churning. And 67% of those customers acknowledge this fact. So, when you say you want to provide your customers with the best, positive and seamless experience, you need to mean it, too! Not just in the theory, but practically done. The entire formula is made to win, to retain your customers. Omnichannel marketing strategy prepares the formula for your brand, in the retail industry.
Why Important
Omnichannel Marketing strategy adopts the approach for delivering a thorough & consistent brand experience in the market, in the lives of consumers. It helps in meeting the massive, varied shoppers' needs that fluctuate from time to time. keeping pace with this fluctuation is what omnichannel marketing does for boosting the retail industry. Let's see few notable factors that make this omnichannel marketing so valuable for the industry to sustain, to thrive!
1. Competitive Edge
Your brand needs a special place in the mind and hearts of your customers.
Even your competitors also have the same goal. So, how to beat them in the race, and stand out in the crowd? You'd need to resonate your brand with the specific needs of your customers, promising excellent customer service leading to a satisfying shopping experience. Understand and adapt as per the ever-changing needs of your present customers. Identify the needs of your future customers (target audience), right in advance. You can identify the scope of making changes, if any, in the areas of product assortment, messaging part, sales channels, ad campaigns, and so on. Be regular, focused, and consistent, in this approach, to get what you want,i.e, having a clear edge over your competitors!
2. High-Level Personalization
Consumers today are getting a convenient shopping experience via their mobile apps, web apps, across devices like laptops, desktops, tabs, etc. Show them up where they are and make their shopping journey a convenient and satisfactory experience. Consumers are always on the lookout for new products, new brands, new offers, on various platforms, Viz., Instagram & Facebook ads, Google ads and shopping, marketplaces like Amazon, Flipkart, physical in-stores, in a plethora of reviews, word-of-mouth, and what not! They are happy to respond to offers that attract them as they are targeted to their personalized interest levels. So, combine your technology and operations in a way that catapults your potential customers' journey towards your brand. Your omnichannel marketing is the answer here. You can leverage all those data collected via varied user touchpoints. Then, you combine identity data with in-depth insights and customize personalized offers aligning users' search and unique demands.
3. Social Integration
Consumers love to shop over interactive visual platforms and participating as they want. Being visually-oriented, they buy desired products directly from their preferred virtual shops over social media channels. Omnichannel retailers can leverage this opportunity to integrate social media content into their websites. They can also put their product listings in varied social media posts where customers naturally get attracted and come across these products they might want to buy.
4. Multiple Touchpoints
A major reason why omnichannel retailing is important because it allows shopping at every touchpoint of varied customers. Just take the example of DISNEY. The brand has its shopping platforms over websites, mobile applications, theme parks as well as in-store. Thus, under omnichannel marketing in retail, if your prospects add items from your website to their cart, they have to download and install your mobile app, too. Another example is the popular brand under the online marketplace is SHOPIFY PLUS. The brand allows you to integrate your store into Facebook directly, thus letting your followers, fans check out natively.
5. Boost Your ROI
Omnichannel Marketing has the highest potential to create and offer the best-in-class, complete satisfaction to your customers. This is a sure-shot way to boost your company's ROI.
Focus on the 4 ways-
Consistent messaging in your customer lifecycle
Deliver a consistent experience at all touchpoints to improve LTV
Communication to be constant(without gaps)
Personalizing through data-driven marketing
Bottomline
Customers are spoilt for choices they have at their fingertips on multiple platforms. Closest to them is their mobile apps, for instance. As a retailer, you need to cut through the noise to drive them to your website, channel. Segmenting your customers based on their behavior, geography, demographics, is essential to create an effective omnichannel marketing strategy for your retail business. Find out their most favorite channels, time spent there, and what are items they like to add to the cart, and the likes. Then, based on segmentation you can map out their journey. Use the power of digital technologies, and integrate them into your inventory, sales, marketing, advertising channels, making your omnichannel marketing a holistic experience in all.
Would you like your business to outshine in the retail sector? Chalk out the suitable omnichannel marketing strategies for your retail business from our experts