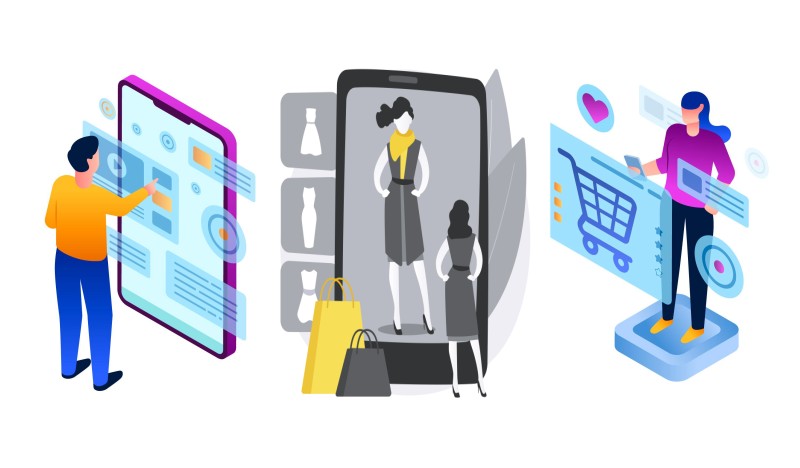 The retail industry has a new set of enablers that facilitates its unique bonding with customers. Immersive technologies, AR and VR, have catapulted the dream ventures of so many retailers around the world. They believe that customer immersion would rather be a key to enhancing the overall customer experience in offline stores. The market value of AR and VR technologies is expected to touch a massive $97 billion by the year 2025. Surely, your retail brand cannot overlook the scope of adopting them now! In this age of Phygital, it is the clubbing of the physical world with the digital world that leads to the transformation of a retail space into a customer-centric space. AR/VR-led customer immersion is a compelling way to boost engagement today. Let's see how you can leverage these immersive technologies, AR/VR, to boost your business growth.
AR/VR Benefits
1. Personalized Customer Experience
Big retailers across the globe have realized the immense benefits that personalized, targeted marketing entails. So, why would you use AR and VR in your retail store? These digital technologies help in creating personalized marketing strategies for varied platforms, viz., physical stores or offline retail stores using mobile phones, digital kiosks, web shopping platforms, and so on. The personalized marketing strategies using Augmented Reality (AR) and Virtual reality(VR) help to provide your customers an enhanced level of shopping experience. As a retailer, you are not providing a simple 2D banner but 3D graphics-rich content, which does the wonderous job for you! Yes, the ultimate result is the total immersive experience for customers increasing engagement. Don't you think this is increasing your sales, too? After all, happy customers mean happy retailers!AR tools like Magic Mirror can design customized apparels, or any products like cosmetics, as per the demand of your customers shopping in the retail store. Thus, AR and VR do create a customized, personalized in-store shopping experience leading to an increased users' buy rate. Using these technologies, You can get a much detailed view of your customers' preferences so that you can curate their shopping options for the future.
2. In-Store Navigation
Big retailers are focusing on the minimum physical contacts in their in-stores. For instance, AR applications enable in-store navigation a very easy process for the consumers. Like, there is signage (AR-based) for product-finder, pathfinder, virtual concierge, lift& learn facility, in-store catalog, in-door maps, and so on. This way, you can help consumers to find products quickly, and even can call 'staff' on requirement.
3. Contactless Trial for Products
If you are a big retailer, owning a big retail showroom with a huge collection of apparel, cosmetics, accessories, wearables, you must be having a large customer base (and loyal customers, too). Today, people don't want to go to the trial room and try clothes, or, they even don't want to use testers (that are repeated with customers until done) while buying cosmetics. AR magic mirror with its aesthetic appeal handles this challenge, too. AR with video walls in-store and AR app mobile phones, people just love shopping offline and online on this platform.
4. Improved Customer Engagement
Augmented Reality (AR), Virtual Reality (VR) technologies help to improve your customer engagement as well as personal involvement to a higher level. As said earlier, your customers now can use the AR-powered in-store navigation tool to locate the items they exactly want to buy. It helps in searching for products in your store very easily leading to smooth purchasing. Moreover, Your customers can have a virtual tour of your store from any location, just from wherever they are present now. Certainly, these AR/VR experiences boost a greater level of customer engagement. Your customers can get required product information using VR headsets leading to their immersive buying experience while using AR tools, they can see their items to buy in the real world, for example, digital kiosks, digital magic mirrors. Hence, as a retailer, you can benefit from AR/VR in-store as well as in the online retail segment.
5. Enhanced Content Marketing
The Augmented Reality(AR)and Virtual Reality (VR) are tremendous marketing too. For example, in-store, digital signboards can attract customers by detecting their age, gender and persona and displaying the related items onscreen (that can have the AR-led check-out system, too). Thus, you see, AR/VR can provide you with engaging, intuitive, personalized content for your digital marketing strategies. Even you can capitalize on these technologies for marketing on social media channels and sites. It is not just about displaying non-interactive ads that are providing product information to the users, as that does not always create users' interests. However, using AR and VR technologies, you can now evoke your users' interests by providing an engaging advertisement option to them which might lead to checking out the product, too!
6. Enhanced Customer Satisfaction & Retention
If your customers are happy, as a retailer you are also happy. If they are happy with their shopping experience in your retail store, chances are very high they will return to you next time, too. You create a unique bonding now with your happy customers' thanks to the AR/VR immense capabilities that engage them, enhance their overall shopping experience. AR and VR provide personalized services to your customers that help you to retain them. Also, it is very less likely that they will return your products after purchasing. Thus, the technologies help in boosting customer satisfaction, retaining them, and guaranteeing you a profitable return in the competitive market. So, the adoption of AR and VR technologies is conducive to your retail store bringing in a greater ROI for your business.
7. Improved Employee Training
Do you find training your employees, staff, sales associates, etc. an arduous process? It is indeed a complicated process for every big retailer in offline retail stores. Even it would incur huge costs if any employee commits mistakes during training, leading to financial loss to your retail company. When you use AR and VR tools, the whole training process becomes smooth with zero risks. It happens this way, these capabilities facilitate training by simulating real-life environments and training situations. Your employees can now be trained smoothly using AR/VR-powered tools wherein they can get hands-on experience handling customers, helping them find a product, emulate buying behavior using Magic mirror, etc.
Augment your Retail Business
AR and VR are the big digital powers that can boost your retail business anywhere around the world. Being a big retailer in the market, it is your competitive edge that can drive customers to revisit your in-stores, online stores, or both, owing to their immersive and personalized shopping experience. These digital applications can help you immensely in accelerating the decision-making process, generating more sales, and building a large customer following for your business. So, have you adopted these digital technologies in your retail business? Think over, and act soon!
Are you a retailer wondering how to incorporate AR/VR capabilities into your business? Reach Us today and avail of the immense benefits conducive for your retail business.