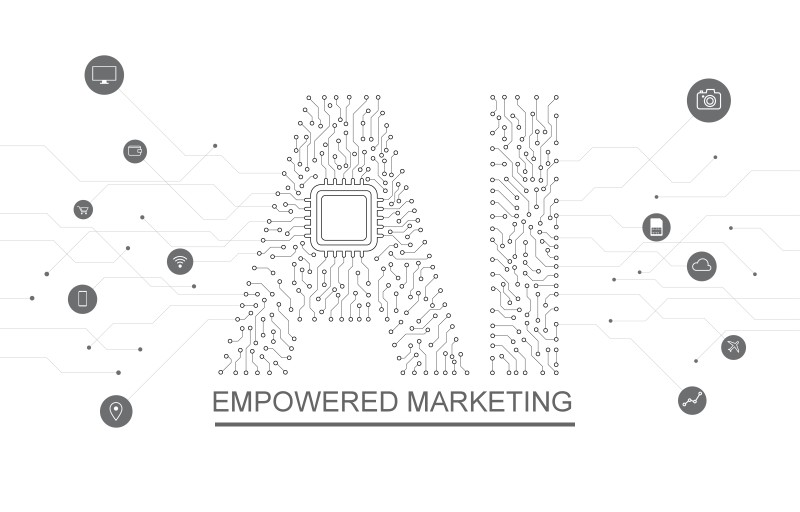 Do you know the global market value of AI is estimated to reach $267B by the year 2027? That's an inspiration you can derive out of the digital technology that is creating a big spur in all the markets, across industries, throughout the galaxy. Yeah indeed, you can't expect NASA to go to MARS without an AI, can you? So, imagine how your business can survive without involving AI leveraging its massive capabilities across functional areas! Applications of AI in modern marketing are something you need to ponder over. Because marketing is crucial for any business to reach target customers at the right time, with the right message, through the right channel. Let's discuss applications of AI in modern marketing and how the technology is benefitting the marketing industry.
Importance of AI in Marketing
AI or Artificial Intelligence is expanding its tentacles beyond human competence in marketing. Digital technology is helping marketers create impact within budget involving cost-effective methods. Combining AI-enabled tools, analytics, and customer data, as a marketer you can anticipate what your customers want, and their next moves.
Using AI:
You can know your market better
You can create compelling content
You can execute personalized, effective marketing campaigns
You can get accurate insights on customers and the target market segments
You can avail of smart marketing solutions based on the insights given, and this would lead to boosting profitable returns.
AI Applications In Marketing
1. Optimizing Product Prices and Placements
Setting Competitive Prices: You can leverage AI to know your competitors' pricing data and optimize your pricing accordingly. Setting competitive prices increases the potential to maximize revenues.
Optimizing Physical  Placement of Products: AI-ML along with Big Data can be used to optimize online as well as offline product placements of your brand. AI-powered robots, images, videos, etc. help you in shelf-auditing and analysis, how much space your merchandising needs, and overall optimal use of the shelf space in an exact manner. Take an example of Lowe's AI-powered robot. AI-based solutions help you to analyze shelf space and manage it appropriately based on images, and other related inputs.
Optimizing Digital Placement of Products: AI marketing tools can help your business to manage, improve all sorts of product information, modifying, updating related descriptions (about box, product, etc.)automatically. This helps in improving product appeal and discoverability. Also, AI-enabled Machine Vision enables customers in the visual search of their desired products. Image tagging leads to improve the chance of discovering related products and this is one of the ways, AI is empowering marketing in physical and digital eco-space.
2. Personalization of Strategies
AI-powered personalization of marketing strategies helps you to reach your target audience, the right customers through the right channels. Your customers will simply love to get the offers exclusively designed for them and that is possible through personalized marketing strategies. This further leads to increased customer satisfaction. AI-based recommendation systems, AI-ML-powered NLP chatbots, etc. help your marketing efforts reach goals. How? By leveraging customers' data and reaching them back with specialized channels with personalized recommendations. Data means all the analog, digital interactions with your brand that happened across the channels viz., web, page views, email offers, online purchases, offline purchases, digital payment records, etc.
3. Optimizing Marketing Communication
AI-powered marketing tools help to create an optimized marketing communication that reaches your target customers at the right time with the right message and appropriate channels.AI tools help you to track customers' behavior over varied devices, and ensure you reach them at the time on that device that they are presently available.
AI-Enabled Neuro Marketing: You can optimize your marketing content by leveraging neuroscience, biometric sensors to test your content and understands its impact on your target audience. To elaborate, how your content using neuroscience can influence emotions, the memory of patients. You can leverage this AI-Potential and try and test it before launching your product in the market.
Context-Based Advertising: Marketing involves context to maximize the value of messages it conveys. Context-based or context-aware advertisings are a key to increase marketing efficiency as they ensure that the message that your brand conveys does resonate with the context. As a context-based marketing company, you can leverage the power of NLP, Machine Vision to comprehend the context where you are going to place your advertisements. You can consult an AI-Marketing expert to understand how this model can help your brand grow its market reach.
Leveraging Third-Party Data: If you want o to understand your target customers, existing customers, identify all the possible leads from varied external sources. Leveraging third-party data is a big thing to boost your marketing activities.
Omnichannel Optimization: you can optimize your marketing communication across all the channels, varied paid platforms. You can compare the impact of your strategies on different platforms.
Optimization of marketing communication involves channel-specific content generation is another area you can focus on using AI-powered tools:
NLP based content marketing
Mobile Marketing
Email Marketing:
Video Commerce
Referral Campaigns for Loyalty Marketing
4. Marketing  Analytics
AI-based analytics help in connecting automatically all the marketing data and KPIs. AI analytics & tools enable you to identify your customer groups more accurately, efficiently manage varied campaigns, and trigger alerts leading to improve your marketing strategies. AI-powered marketing analytics, thus, allows you to discover your loyal customers, to retarget your customers based on their interests expressed on your products or services. Some AI-enabled marketing analytics are:
Platform- Specific Analytics
PR-Analytics
Social analytics
5. Leverage Customers Feedback
AI-ML helps to optimize social media channels, messages, and social posts, timing to post as well as the target audience. You can reach your customers at the right time just by seeing and analyzing their online habits!. And importantly, AI-enabled Computer Vision can help capture customers' micro gestures, mimics, emotions helping you with the right message and feedback.
6. Marketing Campaigns
AI facilitates creative marketing campaigns and helps boost effective strategies across platforms. How can you apply AI to your marketing campaigns? The three ways you can do that:
Predictive Analysis: AI analytics & tools in marketing helps in analyzing demographic information. It helps to identify and locate significant information about page views, bounce rates, time spent on a certain page, click-through rates, etc. AI helps you to devise a strategy that can work best for you.
Targeting  & Segmenting Audience: AI-led ML algorithms are used to drive the target audience to your websites, applications and drive traffic. Recognizing specific content, specific users, allows you to devise marketing campaigns accordingly.
Recommendation Chatbots:  AI chatbots help to attend to clients in different time zones to answer their queries in real-time. Especially, during a product launch, big sale, or just during any marketing campaign, these AI chatbots serve your purpose.
Final Thought
Artificial Intelligence (AI) is the magnificent digital technology that is redefining marketing in terms of its core functionalities as well as ­­­­­­­all-round effectiveness. Consumer behavior, the environment, playing a big role in restructuring marketing models along the lines of Digital and Phygital. Omnichannel presence demands AI intervention to tap the right audience at the right time at the right place. Digital Marketing, AI Marketing is the need of the hour, and it's never too late if you haven't started it yet!