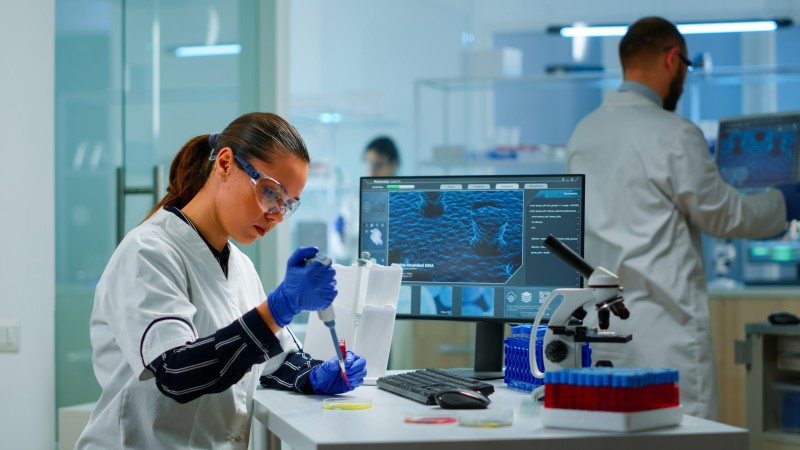 Do you know technology innovations that you see today live were once considered mere science fiction taking you to the fantasy world? Thanks to the advent of digital technologies like Data Science, Artificial Intelligence (AI), Machine learning (ML) which are transforming industries like never before. The healthcare industry is leveraging the power of digital in all its segments including pharmacy. The World's Pharmacists Day is being celebrated on the 25th of September,2021, and the theme is "Pharmacy – Always trusted for your health" says Sandra Leal, President, American Pharmacists Association (sources- FIP & LinkedIn). Surely, this trust cannot be attained without digital interventions and indomitable AI. Let's see today, how AI is transforming the Pharmaceutical industry with its massive use-cases and invincible appeal!
Pharmacy – Always trusted for your health

– Sandra Leal
1. Discovery & Development of Drugs
AI-ML-led algorithmic and computational advancements have accelerated the process of drug discovery and its development. The technology is resulting in a huge time saving concerning drug approval and its market reach as well as in the reduction of animal testings during clinical trials. Combined with Data Science tools and techniques AI-powered biomarker ensures a drug's sensitivity, and robustness as well as validates results using in-silico models.
2. Creating Personalized Medicine
AI-ML-powered personalized medicine is one of the striking use-cases of AI in the Pharmaceutical industry. The technology can process, integrate a huge amount of data (structured, unstructured) information from varied sources and this happens to be the key requirement for creating personalized medicine.  For this, the mining process of myriad levels of information at an individual scale, as well as at a global scale, is done that facilitates effective, efficient treatments at an individual level. AI's role in this domain can be estimated from the fact that how a continuous analysis becomes possible for treatment progress which allows a timely adjustment of the dosing of drugs, thereby increasing its efficacy and safety parameters of the treatment itself!
3. Optimizing Operations
AI is helping automating tasks at the operational levels in the pharma industry. Smart automation of varied processes reduces time paving way for more complex tasks that are urgent. For instance, automation of a patient's reminder, follow-ups is a big beneficial AI usage. AI-powered remote monitoring facilitates timely intervention during a treatment plan in case of drugs not working efficiently, thus addressing drug adherence issues properly on time. Another striking AI use case under operational optimization is that to read, clean, and analyze structured/unstructured data like doctors' notes, patients' records, prescriptions, etc. It's a noteworthy point that continuous medical follow-ups generate a large magnitude of personalized data that can be effectively harvested to procure desired outcomes.
4. Genome Editing Research
Genome editing can be understood as a method that allows scientists to change the DNA of several organisms that include animals, plants, and bacteria. Editing of DNA can lead to certain changes in physical attributes such as the color of the eye, disease risk, etc. Artificial Intelligence or AI technology is increasing its foothold in this domain, too, as it is making genome editing initiatives accurate, safe as well as cheaper than before. Researchers are using AI for gene editing that helps them to minimize any potentially damaging effects(off-target effects). Several renowned research institutes like MIT, Broad Institute, are researching the advancement of AI-powered gene-editing technology and its further applications.
5. Diagnosing Diseases
AI-based ML algorithms and approaches help to overcome several intricate limitations rampant across the pharma sector. Limitations exist in the form of incomplete patients' records, unfulfilled medical history, overlapping casual symptoms, etc. and these can be addressed using supervised, unsupervised AI-ML approaches. Unsupervised ML helps to change the manner diseases get classified. Harvesting AI ability for analyzing vast data sources, data types like clinical records, imaging, omics, biological events, etc. facilitates efficiency in the process overall.
Conclusion
AI is transforming the pharmaceutical industry through its immense capability of optimizing huge volumes of data and information, enhancing R&D, designing to development aspect of the entire drug life cycle. Undoubtedly, AI is leading the pharma industry to a new era of innovation addressing the core issues of declining ROI, cybersecurity, data regulations, transparency, etc. It is indeed simplifying the overall complex nature of the system itself while facilitating companies towards attaining business goals.
Are you into a pharmaceutical business and wondering how AI can boost your business returns? Contact our experts.