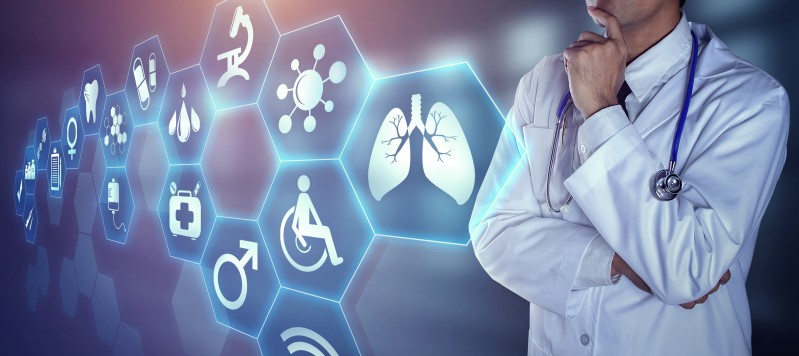 Ever since the outbreak of COVID-19, digital technologies have taken a front seat in businesses across industries globally. The healthcare industry is harnessing the massive potential of digital in response to the pandemic, leveraging billions of online datasets, mobile phones, and connected devices. AI-ML NLP advances and varied other technological capabilities have made inevitable inroads into the lives of people, and healthcare businesses across platforms. The entire perception has transformed about healthcare and its massive appeal and consumers have undergone a major awakening in terms of being healthy via digital adoption. Covid-led unprecedented public health emergency has unfurled few things – Wider technological dependence with greater emphasis on remote-care, preventive measures while protecting personal data, adhering to privacy norms.COVID-19 pandemic is now acting as the biggest transformation catalyst in the consumers' behavior and businesses involved in the healthcare sector. Let's explore briefly but precisely!
1. Telemedicine
Covid-19 has created a paradigm shift in the healthcare sector,  focusing on virtual setups and remote treatment of patients. People got confined to homes and getting ill meant consulting a doctor on a digital platform. Several telemedicine apps have come to the fore and are surging on a greater scale today. Telemedicine is allowing healthcare providers to deliver healthcare services remotely. Technology is playing the main role, and remote patient care, online consultation, virtual treatment,home-diagnostics, etc. are helping people immensely. People are happy with telemedicine procedures and the healthcare fraternity, too. This acceptance is leading to massive adoption of digital technologies like AI, Robotics, IoT, Blockchain, etc. for creating modern telemedicine apps, solutions, and tools.
2. On-Demand Pharmacy
Consumers and healthcare businesses both leveraged the power of digital and resorted to mobile phones for specific apps, online pharmacy, and on-demand medicine delivery solutions. As per market research conducted by Zion Market research, the e-pharmacy market is estimated to grow to USD 107.53 B by the end of 2025. Pharmacy businesses have started adopting selected models as per requirement, viz., they can go for medicine delivery app for single-store, or can go for an aggregator medicine delivery app development type, or direct-to-customer type of customized app model. COVID-19 has opened up these avenues abundantly from business perspectives as well as consumers' convenience and demand.
3. Health Insurance App Surge
The demand for health insurance rose in COVID times. People realized the importance of their health safety leading to a surge in demand for the coverup, Covid cover in particular. Health Insurers have come up with specialized mobile apps that are helping customers across b2b and b2c segments in the healthcare industry. As per a recent Statista Report, there were 218 billion mobile apps download by consumers, to their connected devices, in 2020 alone. So, mobile applications are benefitting consumers and insurance companies alike. Digital capabilities-led Insurance Mobile Apps allow three major types of functionalities-
Functionality for healthcare providers – Allows direct access to patients' histories, valuable doctor-patient communication.
Functionality for Patients – Allows searchingfor doctors, accessing related documents as well as receiving timely reminders.
Functionality for choosing as well as purchasing insurance policies– Allows users in choosing and purchasing perfect health insurance plans, even renew the existing policies. This functionality also includes in-app payments, communicating with insurance agents, and so on.
4. Shift to Healthy Lifestyle
People have realized the importance of Eating Healthy, Living Healthy. The COVID-19 has alarmed them that how a weak immune system can cost precious lives.   Immunity boosting has become their priority over the past two years and resorting to their 24*7 companion, mobile devices, for varied nutrition apps. Nutrition mobile apps help to track nutrition intakes and calorie counts, having an enormous database containing food insights, recipe importer, barcode scanner, restaurant logger, and a lot more.  These powerhouse apps help to monitor nutrition levels, weight balance, warning alerts for bad food habits, planning meals with nutrition facts, extracting insights based on personal data, etc. AI-ML-powered virtual apps help to provide personalized recommendations and have a multilingual platform.
5. Virtual Fitness
Fitness and wellness form the core of the healthcare industry. Fitness facilities shut down quickly after the pandemic struck at the onset of 2020. Amidst lockdowns, gyms and fitness centers had to close down for an unlimited period. Non-essential workers stayed at home which limited their fitness options and this triggered the rise of virtual fitness apps. Technology in the form of IoT-Sensor powered mobile apps, youtube videos are enabling people to get a long-term workout plan at home itself. Whether it is for losing weight or building strength,easy-to-follow video workout guides, a fitness app helps to track, map all runs and allows to log in to more than 500 activities (customized apps) like gym workouts, cycling, yoga, walking, cross-training, etc. The app provides a gear tracker that tracks mileage and can connect to varied devices to import, analyze personal data for regular guidance.
6. Realization on Logistics Challenge
One of the biggest challenges that surfaced during the pandemic was the lack of adequate logistics and inventory management systems. During the entire  COVID-19 pandemic, shortages in medical oxygen greatly affected hospitals in  India, Brazil, Nigeria, Peru, Italy, and even the US. Lack of timely supply of oxygen cylinders, oxygen concentrators, oxygen generators, etc. proved fatal to many COVID patients who succumbed because oxygen was not available on time. In the wake of this challenge, many companies chipped in and started resorting to mobile and web app-based digital tracking systems. This trend has picked momentum and there's been a big boost in the web & mobile app development dealing with logistics and inventory solutions.
Health is Wealth via Technology
From 2020 onward, the world is seeing a major surge in healthcare technologies. Artificial Intelligence – IoT-powered telemedicine apps, virtual healthcare, remote patient-monitoring, self-care, etc. have picked momentum. People are opting for mobile apps to seek healthcare solutions at competitive costs. Virtual healthcare can deal with all health problems, with this realization the healthcare industry has started evolving at an unabated pace leveraging digital technologies across the ecosystem.
How healthcare has evolved for you? As healthcare applications and integrated technology get more accessible, it's time businesses start investing in real transformation. Speak to our experts today!