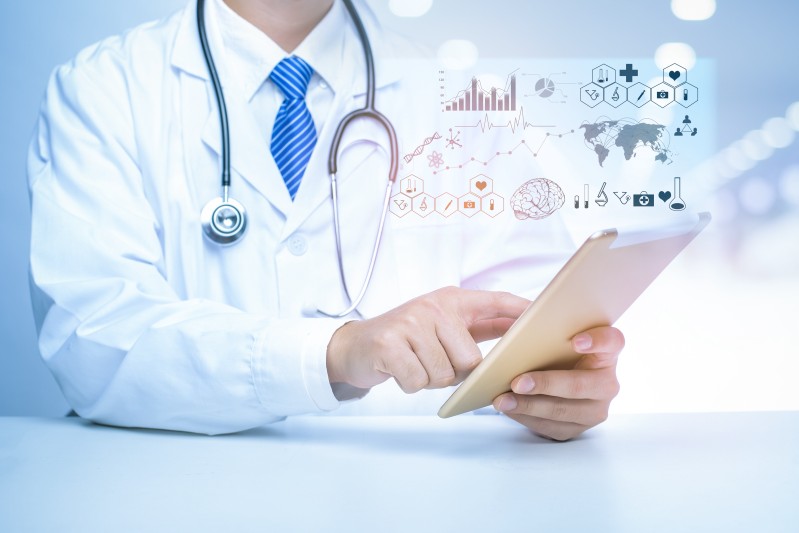 Just the other day India celebrated her 75th Independence day, a glorious moment for the largest democracy in the world. Industry leaders unanimously cheered India for being resilient in Covid times and how healthcare has revamped over the years. On 15th August 2021, Kiran Mazumdar Shaw, the Executive Chairperson, Biocon & Biocon Biologics, said, "Technology can be a game-changer for the Indian health sector….The digital health ID initiative can help India develop a universal healthcare system based on electronic health records (EHRs) and e-Health Centres..."(source – IANS). Currently, India's healthcare industry stands beyond mere hospitals! It incorporates huge medical equipment, devices, telemedicine, clinical trials, medical tourism, health insurance, and more. The Blockchain-led Electronic Health Record(EHR) with AI-based add-ons, is allowing the Indian Healthcare industry to be more patient-centric, promising privacy, security, interoperability of health data in the ecosystem.
What is EHR
EHR is the abbreviated form of Electronic Health Records. EHR is considered to be a comprehensive, detailed health report of an individual which is available in the digital format. Thus, EHRs (Electronic Health Records)are the digital version of patients' records in real-time. It helps in tracking the clinical progress of a patient and helps to facilitate an improved, evidence-based healthcare decision and care eventually. An EHR consists of the demographics of a patient, his progress notes, medications, problems and vital signs, allergies, immunizations, past medical records/history, radiology reports, laboratory data, and so on. It includes detailed information about a patient's health profile, traditional health record, behavioral as well as environmental information which is electronically/digitally entered by the healthcare providers throughout his lifetime.
EHR is different from EMR
Though both the terms are often used interchangeably, Electronic Health Records(EHR) are different from Electronic Medical Records (EMR). An EMR is just the digital version of the paper records of medical history about a patient, recorded within a clinician's place/office. EMR is not shared outside of that clinician's office. On the other hand, an EHR is a detailed collection of multiple medical records, a comprehensive report of a person's health journey over the years during lifetime.EHR report is exclusively designed to be shared beyond a healthcare organization, anytime, anywhere.
EHR BENEFITS
1. Hospitals
Hospitals are one of the major beneficiaries of EHRs. Varied departments can access EHR records anytime. For example, a doctor, physician, lab person may need a particular patient's records for their specific purposes. They'd just start their system, enter that patient's id and access required information immediately.No hassles for searching non-digital documents, papers, etc. Thus, hospitals leverage EHR benefits in the following manner:
Better quality care
Access to accurate patient information whenever required
Increased level of interoperability
Enhanced efficiency & productivity
Increased Revenues/higher ROI
Advanced level of data security
2. Pharmaceutical Industry
The pharmaceutical industry (pharma industry) is purely an information intense business. The industry relies on adequate information utilizing them for effectively developing and delivering medicines to patient populations across the country. EHR helps the pharma industry in:
Audit-Medication Workflow
Data Collection for clinical trials
Clinical-trial recruitment
Managing documents during clinical trials
Drug-safety surveillance
Real-time insights supporting decision-making
Thus, EHR helps a pharma company throughout a product's lifecycle viz., from preclinical to post-marketing phases.
3. Clinical Research & Development
EHRs are providing enhanced opportunities for the clinical research & development sector. EHRs that are interconnected through multiple healthcare networks have the massive potential to prove in research platforms, too. They help in:
Optimizing varied clinical trial protocols
Facilitating patient identification, recruitment
Providing state-of-the-art security
Does not require any specific extraction of patient-level data from clinics, hospitals
4. Patients
Healthcare teams face a major challenge while dealing with patients' data and keeping them safe.EHRs help patients to see their data exclusively through their unique identity and access authorization. They keep track of the detail like who has accessed data before, what time, how many times, and what did the individual do while accessing those records. EHRs keep all information safe from anyone who doesn't have authorized access to see patients' data. Thus, EHRS help Patients:
Have access through own EHRs with unique patient portal
Can read, or print, or send their health data/information to doctors, health insurers, etc.
Are empowered to be their own advocates
Better informed through updated medical records
5. Clinicians
Illegibility of medical prescriptions is a major challenge. This leads to medication errors. Thus, clinicians benefit from EHRS in:
Managing medications
Improved patient outcomes
In reducing adverse drug events as a wrong medication is avoided (via integrating with bar code scanning technology)
Timely reporting of clinical details
In determining when to repeat a lab test
In viewing actual radiology results
Being cost-effective
Government of India's EHR initiatives
Introducing EHR Standards
In September 2013, the MoH&FW ( Ministry of Health & Family Welfare) introduced EHR standards in India. These standards were based on the Ministry's EMR Standards Committee's recommendations contained in a detailed document. It was for the first time mentioned that a uniform system for EHRs should be created and maintained by varied healthcare providers.
Goals  of EHR Standards
To promote interoperability
To support this evolution, and ensuring the standards that are being adopted are maintained on time
To promote technical. digital innovations
To encourage all the stakeholders, vendors for active participation
To reduce implementation costs to the minimum level
To plan, consider EHR best practices, policies, experiences, frameworks
To promote adopting standards that are not interdependent but modular
Thus, the Indian government has clearly emphasized the need for EHR standards because, without them, interoperability of medical records can hardly be achieved!
Challenges & Solutions
Challenges –There are varied challenges that occur during varying levels of the development as well as the implementation of EHRs. It needs an adequate level of capital investment, funding, a well-trained, adequate manpower like doctors, health consultants, IT experts, educators, etc. To keep patients' records secure is a big challenge while implementing an EHR. Then, misusing databases, cyber-security threats, ensuring the confidentiality of records while authorizing access to the correct users, etc. are big challenges that EHR implementation is facing in the country.
Solutions – Measures like the following ones can help for a smooth implementation of EHRs in the country:
Making data password protected
Cloud Storage, encryption can address issues related to EHR's security
Security measures such as Firewalls, antivirus software, etc. for data integrity
Consulting a reliable EHR development organization
Designing a user-friendly interface
Appropriate investment for quality EHR practices ensuring seamless experience amongst stakeholders
Increasing awareness of protocols regarding the overall security of health information
Constant,24*7 reliable data monitoring using digital tools & technologies
Bottomline
In India, the development, implementation of EHRs ( Electronic Health Records ) are lying in varied fragmented stages. It is noteworthy that the challenges need to be adequately addressed using relevant digital tools and technologies and only a reliable, leading IT development agency can provide the perfect solutions apt for a healthcare organization. Moreover, the COVID 19 pandemic has already underlined the urgent requirement for a better, more resilient healthcare system across the country. Transforming every stage of healthcare delivery needs an adequate technology deployment making it more accessible, effective, empowering, and satisfying to the core.
Are you a healthcare organization, hospital, clinic, or an entrepreneur in India looking to tap into EHR Applications? Contact us to know more.