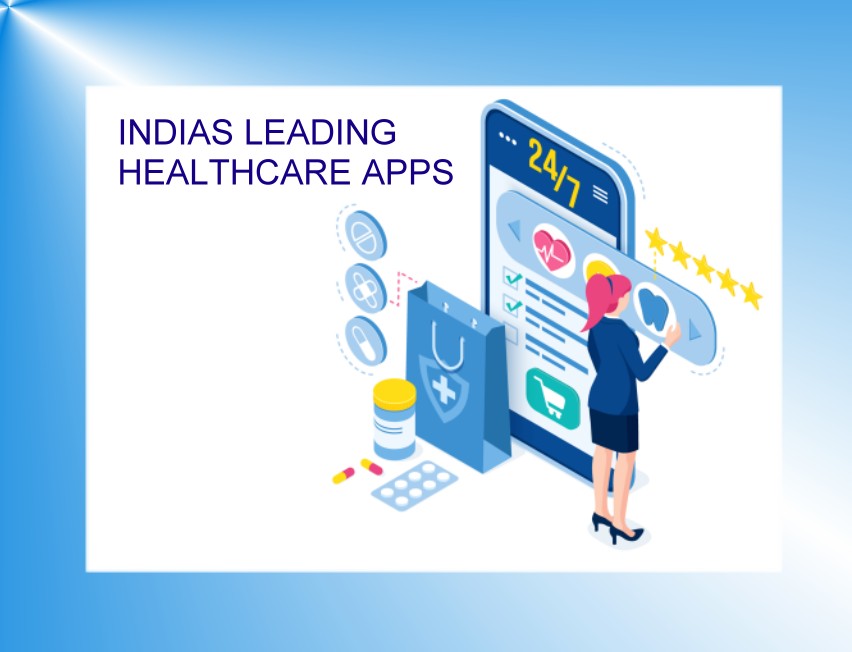 Do you know India sets a new world record by administering over 75Crores Covid vaccine doses in the fight against corona? Thanks to the CoWIN app, the indigenous healthcare app in India that protects you from the precarious effects of coronavirus. The app allows you to follow a 3-step easy process viz.,booking an appointment, getting the vaccine as per slot allotted, and finally, downloading the COVID certificate, your licensed health certificate. The pandemic has accelerated digital adoption in healthcare, and people are increasingly resorting to web & mobile app-based home healthcare services, telemedicine. All these trigger digital health leading to quality personalized healthcare services across geographical boundaries. Be it healthcare providers, hospitals, clinics, businesses, or patients, healthcare apps are dominating the healthcare sector in India. Let's find out a few of the best healthcare apps in India!
Figure1- Google Playstore
Google Playstore – Free & Paid Apps
PharmEasy app is one of the most popular healthcare apps in India specializing in online pharmacy. It allows you to buy healthcare products, medical equipment, and OTC products online. You can even book online diagnostic tests and other preventive health checkups from the comfort zone of your home. Quite an easy mode of home delivery, a perfect online medicine delivery app for your medical needs.
Online Rating – 4.5
2. Practo- Online Doctor Appointments & Consultation
Practo is also a popular online doctor consultation app and it offers a complete range of telemedicine solutions for your medical needs. The Practo app allows you to access a wide network of multiple clinics, doctors who provide online consultations to patients across the country. The mobile app has more than 5 million installs by now across India. Patients can have a direct chat and calls with the doctors they consult. The app uses Google Map to identify doctors who are available in the locations near to patients.
Online Rating – 4.5
3. mFine
mFine is a top healthcare app in India while showing over 2 million app downloads by now. It offers 24*7 AI-enabled telemedicine services such as doctor-patient consultation, audio/video calls, etc. The very app connects more than thirty specializations for consultancy services. A patient has to pay for booking an appointment over the app but needs not to pay again during follow-ups. The app arranges for personalized digital prescriptions as well as home-diagnostic tests.
Online Rating – 4.5
4. Pedi -STAT
A significant healthcare app for pediatric patients in the emergency and critical care wards. Pedi-STAT app works for a timely and rapid reference for paramedics, RNs, physicians, and pediatricians.
Online Rating – 4.5
5. Critical – Medical Guide
A marvelous app that takes care of the entire critical care needs and a comprehensive guide for that regard.A complete critical care reference app for RNs, physicians, and other healthcare professionals.
Online Rating – 4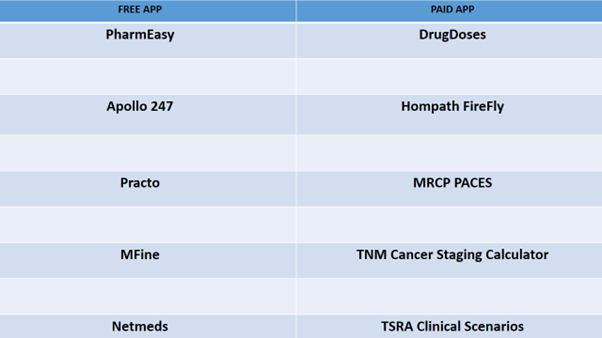 Figure2 – iOS Appstore
iOS Appstore – Free & Paid Apps
1. Apollo 247
Apollo 24|7 app is a renowned name in the healthcare domain and relates to Apollo Group of Hospitals. It provides outstanding app- services like a personalized level of health experience in all, priority access, and valued Prices. Absolutely a complete healthcare buddy that is available 24*7 anywhere in India.
Online Rating- 4
2. Netmeds
Netmeds app makes your medicine delivery an easy process. You can download and install the app to avail of medicine service from anywhere and anytime within India. Go to the app and tap over it to upload your specific requirement for medicines. The Netmeds healthcare app in India also allows you to consult doctors online, book lab tests, and obviously, home delivers your medicines.
Online Rating-4.5
3. Hompath FireFly
It is a popular homeopathy app based in AppStore. Hompath FireFly app refers to 10 repertories directly from Kent, Boericke, Kent, Boenninghausen, and many more, while effectively managing patients' cases over virtual mode anytime, anywhere. This innovative mobile healthcare app is making people go crazy for its massive features and benefits.
Online Rating – 3
4. DrugDoses
DrugDoses app is the iOS version of Frank Shann's little booklet which has been helping the healthcare industry the world over for over 30 years towards prescribing medicines to children. So far, DrugDoses has more than 2150 entries. The app is yearly updated and updates information regarding the latest drugs in the market.
Online Rating – 4.5
5. MRCP PACES
A fantastic healthcare app in India, the MRCP PACES app has some exclusive iPhone features that benefit a user's journey while availing of this app service. For example, Some striking features of this app are that it does not require any subscription, once downloaded, no need for an internet connection, too. You should download the app and check its magical features.
Online Rating – not yet given
Conclusion
Digital health adoption is not a choice anymore rather a big necessity. Healthcare apps in India are crusading the healthcare industry with their massive digital capabilities that not only facilitate remote patient care but supporting the healthcare fraternity as a whole. The emergence of advanced digital technologies like IoMT, Blockchain. AI-ML, VR, and changing business models are playing a crucial role in driving the healthcare app-market in India.
Whether you are a Start-Up, Doctor, Lab, or Hospital Owner, we have a comprehensive range of healthcare solutions and apps that can aptly cover your end- to- ends needs. To know more, talk to our experts today.