The healthcare industry has been known for dealing with complex and sensitive data. With the onset of the year 2020, the healthcare providers have been trying to adopt IT solutions for most of their challenges. These contemporary technologies ensure that the challenges arising in this vertical are simplified.
According to a survey by GreatCall, 93% of the doctors believe that healthcare apps and platforms can improve a patient's health and 80% of physicians are already using mobile and web technology to deliver the patient care.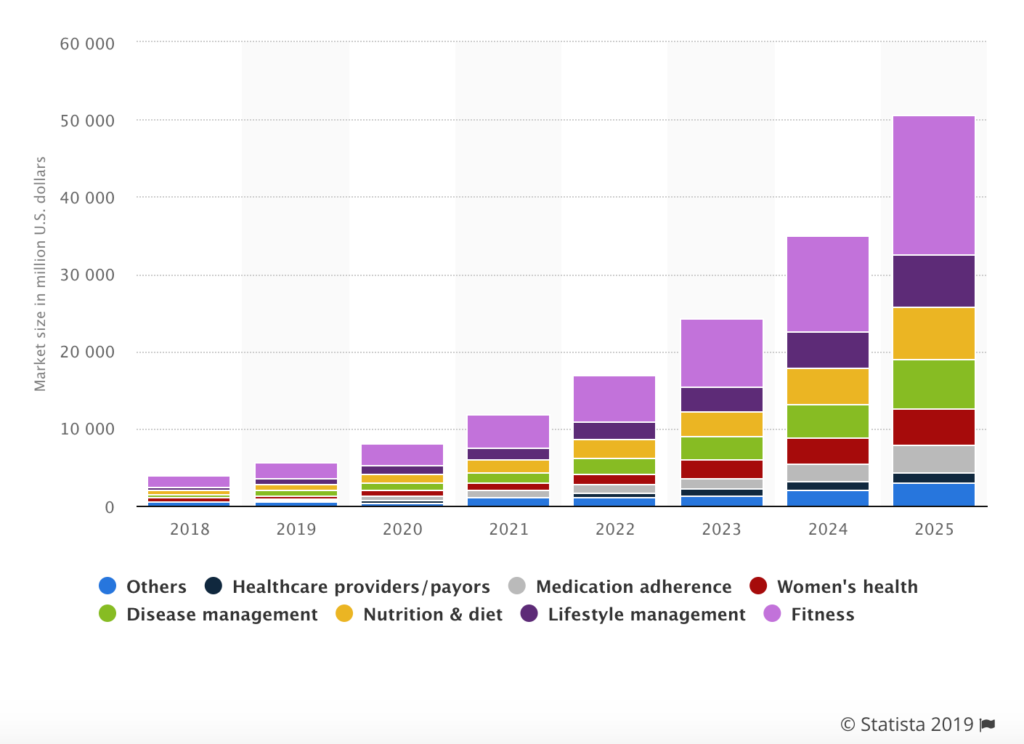 The above image from Statista shows us how the market size has been affected by various domains and how it is estimated to increase by 50% in the near years. The market size is predicted to skyrocket by 2025 with a net worth of 60,000 million US dollars.

1. Healthcare Sector
The hospitals are provided with insights on the various patient records, diagnoses, cases etc. Using various business systems and data visualization tools, medical practitioners can operate better by getting real-time information that supports decisions and thus by this, they can deliver actionable insights.
2. Telemedicine

Telemedicine platform allows patients to seek medical advice remotely and discreetly regarding any symptoms they are developing, or possible side effects of certain treatments from certified doctors. The doctor helps in diagnosing the problem and offers consultation followed by the required prescription.
3. mHealth Applications
The health conscious crowd is increasing day by day. People are more drawn towards tracking their fitness and staying fit. These applications insure that a user can log in their exercises and other physical activities by syncing it with their wearable gears.
4. Wellness
These wellness applications hellp a user to log their everyday lifestyle. They can log in their diets, and various physical activities. They are provided with data like their everyday calorie intake and an apt diet plan that is customised based on their daily activity, BMI, Age and Gender. There are apps that provide trainers and people a platform to exercise and meditate together at the comfort of home. Many apps also help women track their menstrual cycles and also look up for any common health related query.
5. Healthcare booking
Appointments are automatically placed within an application where it gives the patient and doctor flexibility of time. It also generates automated reminders for both and synchronizes external calendars and doctors' availability.
6. Clinical Decision Support (CDS)
CDS is a health IT component that has various tools to boost decision-making in the clinical workflow. These tools include computerized alerts and reminders to care providers and patients, clinical guidelines, condition-specific order sets, and other such things. It provides the medical experts and patients knowledge and person-specific information that is sorted by using technology that aids in making this process simple.

7. Wearable Sensors
The basic fitness sensors track the number of steps a person has taken in a day. The advanced wearable gears allow continuous monitoring of the heart rate of a person and also measure the blood pressure. Using this information, the device is able to calculate and report accurate data on calories burnt by exercising.

8. Mobile Wireless
Smartphones, tablets, and mobile apps are changing the physician-patient dynamic. These wireless devices empower the patients to control and improve their health and they also allow the medical experts to conveniently work using these technologies. Social media also plays a vital role in spreading awareness about health on a global level.
In conclusion, the digitization of the healthcare industry, technology provides equivalent opportunities for both the medical personnel and the patients to ease their respective demands.