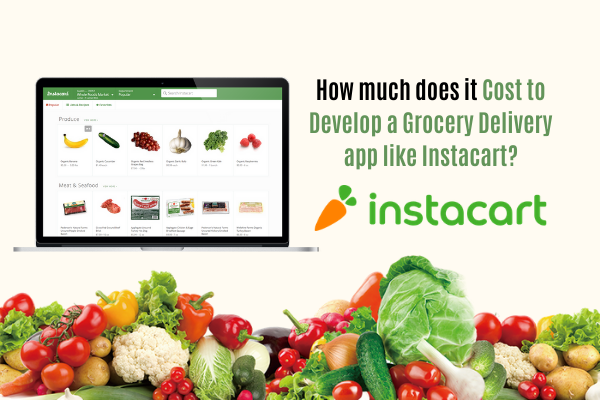 Listen to the Audio file instead of Reading!
About Instacart
Instacart is an e-commerce grocery website which was founded in 2012. Valued at nearly 8 billion dollars, it is one of the top fast growing companies in the USA. Since the USA has 60.8% and Canada has 61.8% of the working crowd, people find it hard to take out time for grocery shopping. This is where Instacart steps in. Instacart provides same day pickup and delivery services across the USA and Canada where these services are as fast as within an hour. It delivers to more than 85% of the USA homes and 70% of the Canadian homes.
It provides the customers an option to make purchases over the mobile application or the website platform where they get to choose from over 350+ national, regional and local retailer partners. This order is then delivered by an Instacart professional at the customer's doorstep. According to Statista, it is estimated that on Demand Grocery Delivery Apps will overtake brick-and-mortar grocery stores in about a decade.
Why go for Grocery Development apps like Instacart?
Grocery Development apps like Instacart support the daily requirement of an everyday household. Also, with the increase of internet usage globally, people tend to do things that require the least effort, i.e., shopping online.
Apps like Instacart majorly follow the Rule of 4 for a successful overall performance:
1. Global Reach:
Once your business is set up, you need to start with promotion amongst the masses. The idea of a grocery store is versatile and in this era of modernization, people are mostly dependent on technology for their work. Hence taking your business through a mobile application will bring about profit and an ever increasing customer base. As the company gains fame, more retailers will want to tie up with your organization. This will make sure that you have a strong seller base and you get a great number of clients.
2. Fast and Hassle Free:
This online platform will be available 24×7 , thus enabling you to accept orders instantly and get delivered within the minimum delivery time. The advantage of taking this to a digital platform is that customers can place orders at any point in the day and meet with their requirements from the comfort of their homes.
3. Full Transparency
Buyers will be provided with complete transparency. Unlike brick and mortar stores where the price of grocery is negotiable, prices will remain the same as the MRP or less if a discount is applied.
4. Offers and Discounts
More customers can be attracted by offering discounts. This will ensure that you have a permanent base of customers.
How do these apps work?
These apps work on the following conjunctures to meet with the essential needs of the customer:
1. Browsing Products
It is important that users have a hassle free experience while browsing on the application. To ensure this, the user interface needs to be fast and lag free and must be RAM optimized so that it is compatible with mobile phones too. This ensures that the users can place orders smoothly without any issue.
2. Easy Navigation and Recommendation
Navigability plays an important role in a grocery development app. Clients do not want to test the customer's patience by making them search for a particular item in the pantry. Hence to overcome with this idea, the search bar provides an apt solution to the users to quickly search for the necessary item.

The app allows them to view a recommended list of things according to their past purchases and interests. This results in a faster checkout time, thus increasing the efficiency of the application. Apart from this, a search bar should also have the option of filtering items so that a customer does not have to scan through a multitude of products.
3. Registration and Login
It is quintessential to maintain individual customer records to avoid any problem with the delivery system. The app allows users to set up their own individual records which adheres to all security standards. To increase the efficiency, the app should be able to keep a track of user preferences.
4. Tracking and Delivery
An efficient tracking system is provided to the customers keeping in mind the idea of transparency. This allows them to keep a track of the order and create an approximation of the delivery, so that they are present to receive it.
So, how much does it cost to develop an app like Instacart?
The total cost of the grocery delivery app depends on various factors like complexity, the platform you prefer, the cost of hiring developers, the number of countries you want to target it for, app size and design etc.
To build it on a single platform the price can be estimated somewhere between $10,000 to $30,000. Selecting a cross delivery app may cost much more than a single platform since new features will be introduced in the app. This would attract more customers and the price to build such an app can be estimated around $50,000.
With an average price of around $35 per hour, the cost for building an app like Instacart will start at $62,000 and increase on the basis of new features and technologies being used.
Looking forward to develop an app like Instacart? Get a free quote here!
Final Thoughts
An app like Instacart helps users to make grocery purchases conveniently from the comfort of home. The process is very simple and the delivery is fast and reliable. It solves the problem of going to a grocery shop and bargaining for the prices by providing items at a minimum price after discounts. This enables the clients to have a vast customer base and thus creating an established product name in the market.