Listen to the whole blogpost here instead of reading!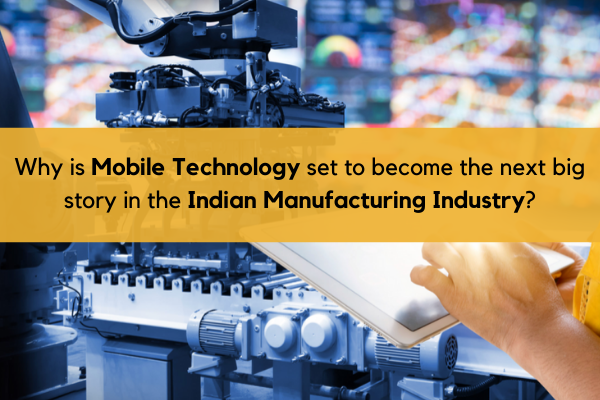 Manufacturing is one such vertical that has its roots deep into the Indian Industry. The biggest challenge manufacturing industries face is adopting new technology with the coming age. It is mostly noticed that the employees of such companies are highly accustomed to the traditional legacy processes and various systems in the warehouses and factories. We can see that almost all the Manufacturing operations management is turning digital and thus this creates a demand for mobile technology. It is of no surprise that the manufacturers prefer this, since 204 billion times apps have been downloaded by people worldwide alone in 2019 (Statista). The modern manufacturing domain is standing on the cusp of Industry 4.0, a new industrial revolution coming up this year. This approach would create a need for all the manufacturers to rethink about the ways in which their companies operate. Technologies like AI, Machine Learning, AR and IoT are changing how the traditional ways were used in manufacturing. These ways are helping the companies move forward by leveraging this whole lot of technology.
How is Mobile Technology helping the Manufacturing Industries?
1. Operational Efficiency
Operational efficiency is a key factor when it comes to the manufacturing process. Companies are prompted to evaluate how they are making use of these technologies and how it is affecting their companies. Industries want to opt beyond the current technologies that offer single use and hard-mounted devices. These devices do not allow flexibility and thus they want to opt for something that shares real time data and helps in fast decision making. These devices should be built in such a way that they handle any kind of rough handling, bumping and any kind of drops that is inevitable in this kind of environment. Thus, this helps in an improved method that is efficient and provides better output.
2. Form Factor Flexibility
Mobile devices are beneficial for workers who work in the assembly lines and demanding devices which can integrate these solutions across the companies. Integration of these mobile devices can help in inventory management for fast data entry on the shipping docks and can also be used for showing the proof of delivery. The transformation of traditional methods to modern and fast methods requires optimal device deployment and a trusted partner that takes care of all the business needs for their work. Technology is capable of providing hardware and software solutions tailored specially for the manufacturing industry.
3. Streamline Device Management
Reducing costs is an important task that any company has to manage. This can be reduced by reducing the number of devices that are being managed by the IT department of your company. For example, instead of managing each and every device individually, the whole lot can be managed by using Mobile Device Management(MDM) or Enterprise Mobility Management(EMM) tools. These tools allow all the updates to be simplified and makes the process of troubleshooting, repair and management easy. This ensures that you spend less and the IT team is more focused on innovation than troubleshooting.
4. Enable Versatility and Maximise Security
Tasks can be equally divided among the team leaders who can work on individual areas of development. Each member can handle different tasks like managing operator breaks, taking charge of work orders, tracking these orders, etc. By using certain security measures, it can be ensured that any company data is not leaked out in any case. In manufacturing industries, financial data regarding accounts are always passed from person to person which increases the chances of leakage. These can be kept safe by using devices which enable encryption modes to store data.
5. Access Powerful Computing on the Go
The people who work for a manufacturing industry can leverage the advantages that come with mobile devices. These devices have the ability to put all the tasks on a fast track and improve the efficiency in each step of manufacturing. If computing data is delivered on the go, along with data processing, the factories will no longer need to wait for the solutions for a long time. These solutions act as the anchors for smart factories in the future. The businesses that look forward to adopting these solutions are surely poised to gain some competitive advantage.
6. Logistics and Supply-chain Coordination
The best coordination supply chain and logistics can be expected from a company that adopts mobile solutions. This technology brings a balance in the timelines, delivery and profit margins of the company. A continuous tracking process with reporting to the supervisor in real time helps the manufacturers avoid any kind of negative cash flows.
7. Predictive and Proactive Maintenance
It is important that automation tools and other components work optimally on the assembly line. This ensures cost reduction and helps in meeting target outcomes. Predictive maintenance can mark out the potential issues with a system with the help of a mobile tablet that is configured with the latest technology. Data collected by this device can be shared to the supervisors and managers on a dashboard or similar thing and thus help them make quick real time decisions to fix the problems. With a device in hand, the employees can report any kind of maintenance data which can be fixed in a short time and thus increase the productivity of the company. There are companies that work on an autonomous loop i.e., their data is in a loop which makes the systems intelligent over time. In case a machine fails, this data is recorded into a Machine Learning program and thus makes it better for future use. These machines can warn in the future if they see any similar kind of problem approaching.
8. Resource and Inventory Management
Inputs that are gained by barcode scanning for location tracking of raw materials for a specific batch run can be a valuable aspect for Inventory Management. Employees working across various factories can supervise the movement of all the critical supplies and thus schedule production on time. Supply chain management applications have the capability to send out timely alerts of the status of various shipments to the worker's devices once the products are scanned. To automatically trigger supply orders when products are running low, inventory management softwares can be used.

Conclusion

Need of the hour is introducing mobile technology well into the manufacturing industry and making it flow with the ongoing digitization in the world. This not only does improve efficiency of such companies but also makes this industry more promising.