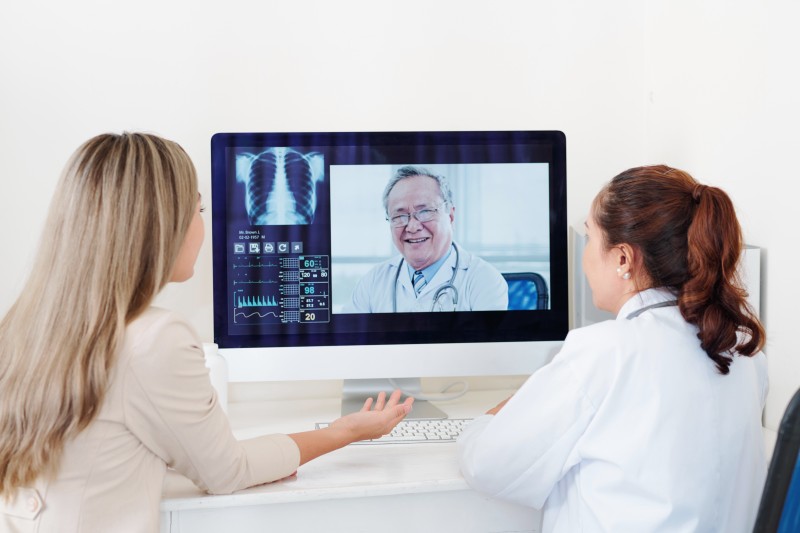 Telemedicine is empowering the healthcare industry to a new dimension. The real-time interaction between doctor and patient is increasing the trust quotient of this digitally-enabled system. The convergence of digital technology, video conferencing, smartphones, mobile apps is making the process of telemedicine a convenient, affordable, and time-saving regimen for healthcare providers as well as their patients. The number of people using telemedicine is only showing an upper trend steadily over the years, and over half of the total U.S.hospitals having at least one telemedicine program as of now. As per Allied Market Research, by 2030, the telemedicine market size is estimated to grow at an impressive $431.82 billion globally, at a CAGR of 25.9% (source- GlobeNewswire). As telemedicine consists of three types, we are discussing only one specific type in today's blog – About the Real-Time interactive Telemedicine.
What is Real-Time Interactive Telemedicine
Healthcare services that can be provided to patients over virtual mode via devices like smartphones/mobile apps and have video calling features, texting features via messaging apps, SMS, are described to be Real-Time Interactive Telemedicine.
The feature of interactive care within the gamut of telemedicine is the telecommunication between patients and respective healthcare providers and there occurs the real-time interaction. This method incorporates a live audio/video session, that involves discussing and transferring patients' data while the session is still on between clinicians and patients. So, we can understand that real-time interactive telemedicine is very much similar to that one used in-person/physical visits to the clinics. The only difference here is the virtual mode but the benefits are more as compared to the in-person visits.
Applied Areas
1. Follow check-ups, once the patients are discharged from hospitals
2. Mental health treatments like dementia, Neuropsychology
3. Pharmaceutical Advices
4. Remote Nursing Consultations
5. Post-Injury Rehabilitation Treatments
TeleNeuroPsychology
A significant use case of the real-time interactive telemedicine type is teleNeuropsychology. For a patient with a cognitive disorder or suspected to have one, a timely and convenient neuropsychological consultation, assessment can be done over the phone only, over mobile phone on video calls, direct talks between the doctor and the patient. Techniques that comply with a standard evaluation process are effectively implemented that leads to a genuine and fair assessment of the specific patient using video technology. A study has found out that this type of telemedicine service proves to be a very feasible and reliable alternative to conventional in-person consultations and assessments of patients' cognitive behavior and neuro-psychology.
Telepharmacy
This mode of telemedicine service helps patients to get a smoother medication facility when it is not possible to visit a pharmacy, real-time virtual consultation gives them pharmaceutical advice. This facilitates thorough monitoring of patients concerning their medication part, and see if they require any in-between medical advice over the phone.
Telenursing
Telenursing means utilizing digital technologies for communication to provide nursing service on a remote basis. Medical consultation can be delivered over mobile app-based video calls, or simply over message medium like Whatsapp, telenursing is being considered as a boon to the healthcare fraternity. Nurses do the diagnosis, monitoring of health symptoms and conditions using video calls mostly which are empowered by the advanced AI-ML-based digital technologies. Especially in the rural areas where people have limited healthcare facilities, they leverage this type of telemedicine for their treatment which requires a long-form of monitoring, consultation, and the entire treatment process.
Telerehabilitation
Telerehabilitation is considered a major technology boon empowered by telemedicine capabilities. The very telemedicine service utilizes digital technologies for communicating and performing clinical assessments for patients. Telerehabilitation is the adequate and most refined way today to conduct therapies for rehabilitation patients. This process involves strong visual elements, the latest technology-powered video conferences, webcams, etc. which are usually used for assisting in the communication of symptoms as well as clinical progress.
Conclusion
Telemedicine is rapidly increasing its reach to every nook and corner of the cities, countries, globally. Digitally-enabled video conferencing services, virtual consultations on video calls, mobile calls, will continue to play a significant role in telemedicine services and healthcare practices. All that requires is a digitally-capabled ecosystem and mutual collaboration between healthcare providers and their patients hailing from across the world.
How telemedicine can empower your healthcare business to the next level? Connect with us and get started right away!