Development Cost of Ecommerce App like Amazon, Flipkart, and Myntra?
So you are here to know how much does it cost to develop an ecommerce mobile app like Amazon, Flipkart and Myntra.
The impact of smartphones on the business affected every sector of business, including e-commerce companies. The traditional commerce entirely transformed into ecommerce because of smartphone usage. The mobile app technology helps eCommerce business to reach more customers globally. At present, customers prefer to buy products online through mobile apps. Customers prefer to use the internet daily and make shopping from their devices, particularly from mobile apps within simple clicks. The mobile app development services help companies to expand business from local to global.
The ecommerce business becomes popular, spread the services for customer convenience, and helps to reduce more investments than traditional commerce. Customers in India the demand for online shopping has become a hot buzz in the eCommerce market ecosystem. The eCommerce owners coming with latest technologies to attract customers such as e-wallets, personalized experience and payments options like net banking, EMI options or no cost EMO which increases the affordability of services.
The major cities like Bangalore, Ahmedabad, Mumbai, and Delhi online demand is more and expected to rule in the coming years and almost all the business will appear in online through mobile apps. By seeing the noticeable events and improvements in the business services, it truly confirms the developing mobile apps helps business to grow in every operation.
Developing a mobile app for ecommerce business is technically a huge transformation, which contains millions of installations, connections of devices and bulk of requests and user interface, a feature of payment gateway etc. The famous apps like Amazon, eBay, Flipkart, and Alibaba are updated with the latest technologies to attract customers. Most of the user is looking to know the exact cost details about how much it costs to develop eCommerce apps like Myntra, Amazon, Flipkart and eBay.
How Much Does it cost to develop an eCommerce Mobile App like Flipkart, Amazon and eBay? As per today's market scenario, we have shared the factors considered to know the cost of app development like Amazon, eBay, Etsy, Flipkart etc. Whether we are developing an app for food ordering, booking cab, ecommerce app that everything costs depend on the factors of business objectives and features integrated into it.
Essential Features of Ecommerce app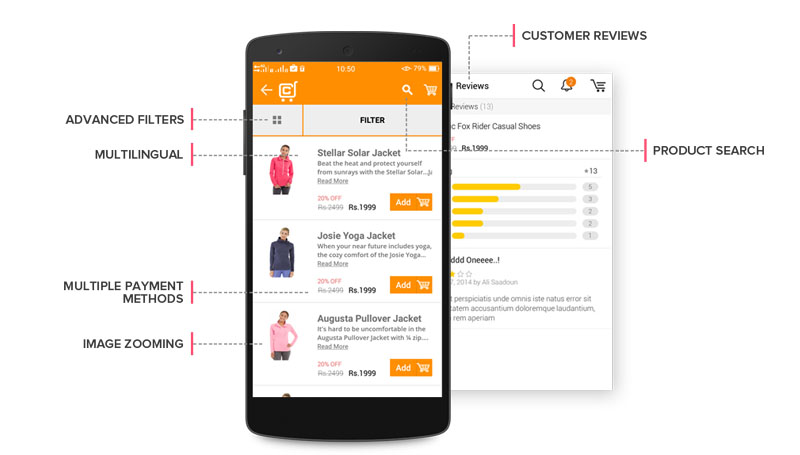 Registration
Every user likes to register in the simple registration process otherwise users are ready to leave for the complex procedure and If your app requires too much data then your users will drop their concern.
Social Integration
The advanced method of register helps the user to save precious time and all users to simple login and registration. The user can share the business discounts, offers to their friends and relatives helps to promote business.
Push Notifications
Push notification is the most important feature in the mobile application. It helps to send notifications of any special offers and discount, where it helps companies by engaging more customers within the app.
User Interface
The simple design and attractive user interface help business to receive more business and customer will refer your mobile app to others, helps in promoting our app branding and helps to increase customers.
Product Review:
The mobile app contains the feature to review and rate the product and services. Allowing customer to review and rating on the specific product helps businesses to focus on that and actually helps to make modifications to develop.
Check out:
The Quick Checkout feature enables customers to perform an order with required information from the quick check out the profile and automatically arranges the transportation and billing addresses for the consumer.
Multiple Payment
Developing multiple payment features in the mobile app helps to reach more customer .As some users wish to buy from their preferred payment choice. Integrating all types of payment features help to increase sales of the business.
Security:
In the case of eCommerce, you demand many data from the user. Some of this data also involve bank account details, cards info, address, etc. Security features play a major role to ensure no loopholes for hackers to steal.
Purchase History
Implementing the purchase history in the eCommerce mobile app development helps the customer to track the payment transactions, products they bought and can check their any missing things.
Google Analytics
To measure the performance of business and products, analytics is important and companies can track and identify the user experience and preference with these features. The data collected will only support further helpful updates.
Advanced Filter
Implementing advanced filter helps the user to find the exact products based on locations, category and price details by applying the filter in the search. This helps the user to find and buy the exact products.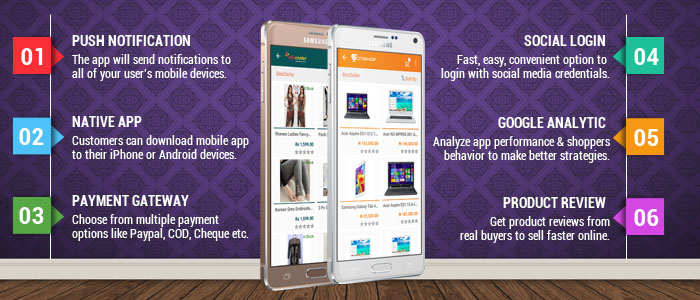 Advantages of Mobile Apps for eCommerce business
Mobile apps are more responsive compared to websites; the applications work faster in every aspect and provide a convenient way for users to purchase things.
It helps to store customer data and provide a feature to create profile and user can maintain an account link with bank details.
Companies can send offers, discounts and product recommendations to target audience as per user preference
Companies can transform the local business to global business by developing mobile apps for their business.
E-commerce Mobile apps allow the user to experience the vital interface accessed both online and offline also.
It helps to boost customer loyalty by rewarding or offering discounts and helps to connect more with your business.
With the help of a mobile app, business is available for 24*7 all the time and can solve many queries within the mobile app with instant chat.
The user can experience the combination of UX, user-friendly design and simple navigation that leads to enhanced conversion rates.
The Ecommerce App Development Process

As we are in the digital era and the importance of app is necessary for business growth. An eCommerce app provides recurring advantage the help business to reduce extra expenses and failures. Development of a mobile app for ecommerce is the best way to generate more visitors and sales to our stores.
Development of the app starts with the concept of the business idea and ends with the promotion. The main essential things need to integrate features like ease of navigation, simple access, and uniqueness is key to the success of the mobile app for any business.
Investigating different platforms of functions other than your ideas; encourages you to produce something more extensive in the duration of content and what you are presenting to your consumers.
The development process continuous by choosing the platform, as the Android platform is a very large market place where most of the common people use Android devices because of easy operation and cost convenience. By developing, an app for Android devices, chances to reach your ecommerce business for large users globally.
Next is the iOS platform, it is a little complex process, as it needs a lot of testing methods to complete the development process.
Market Analysis
A market analysis helps you to identify where you are customers and their preferences better. This analysis helps you to optimize the content on your mobile app such as images, product development, and services to the specific requirement of your target audience.
We came to know the interests, sentiments around specific topics from social media channels, blogs, and forums website can provide valuable insights to run campaigns and content planning. The market analysis is a key aspect to understand your audience before developing an ecommerce app like Amazon, Flipkart, and Myntra. Businesses can better recognize the reactions, attention, and the importance of a particular audience section.
Understand your competitors
Finding and understanding the competitors is the strong backbone for any business to make powerful content and marketing strategy. Business peoples need to identify the marketing tactics and their failures that differentiate to plan according to the research and reports.
There are some powerful tools to identify the competitor what they are doing and how they are doing. With the spy tools, we can plan the things to develop in ecommerce app for our business.
Choosing technology:
Selecting the right technology helps you to get more business with analysis reports and insights. Developing a mobile app vary in the selection of framework, database, and backend & front end for coding in the app. Decide whether you require to your app on the Android platform or on the iOS keeping device usage of your audience in purpose.
UI & UX Design:
Providing pleasant design encourages the customer to engage more time within the app. This type can do with soothing colors, schemes, and visuals. Optimizing with brand logos helps your customer to remind and increase the brand visibility for your business. The logo of the business is an identity of target customers.
How much does it cost to develop an app like Myntra, Amazon, and Flipkart?
The Development cost of ecommerce app like Flipkart Amazon and Myntra depends on many factors. However, it is not as simple as that mobile app cost like Amazon and Flipkart to explain. The complete design of app development divided into several parts based on the indication of the customer and app. They are some factors that affect the cost of e-commerce app development.
The development cost of the ecommerce app like Amazon, Flipkart and myntra vary, type of platform you choose. The Android App Development cost of ecommerce business is less costly when compared to iPhone app development. Because the iOS platform needs a lot of testing process need.
The cost of development of an ecommerce app like Amazon, Flipkart depends on the design. The ecommerce app needs much expertise in UX/UI designs. It is important to assure customers with a quality of prospects in a class of points by luring them into making reservations. The app must design to be user-friendly and pleasant.
The Cost to develop ecommerce App varies on the overall size of an app determined by its features and its functionality. This issue in various surplus charges for this application holds data about multiple areas, many numbers of functions etc.
Ecommerce app development like Amazon, Flipkart varies on various Features like data sync, geolocation, booking/delivery calendar, push notification alongside OTP verification, and customer support with instant chat.
A cost of development app like Amazon cost varies on the reliable and skilled developer vital as his location and expertise also affecting the development of the app.
The App development cost like Flipkart varies and depend on the development of innovations to use of social media, email id storage and using OTP's.
Best Ecommerce App Development Company
Fusion Informatics is one of the leading eCommerce mobile app development companies in India that we provide the best services for our customer with complete solutions from idea to app promotion. Being the best mobile app development company, we are capable to provide the most engaging mobile app for your business that maintains excellent possible eCommerce standards.
We are one of the customer top-rated app development companies provide advanced features for your eCommerce needs. We hold our excellent app developers that allow your business to produce more sales and efficiency. Our solutions meet your business and customer demands and offer effective eCommerce development services to your customer for seamless operations and most engaging shopping experience for your app.
The excellent interactive and real-time shopping expertise through our eCommerce app secures loyalty and brings customers to become regularly to your e-store for their buying requirements. Here are some of the eCommerce app solutions, which develop your marketing by building automated methods through these apps.
For any company owner or business person, the cost is the most crucial factor for app development. ECommerce app development cost depends on many above factors.
If you are serious about your business to know how much does it cost to develop a mobile app like Amazon, Flipkart, and Myntra, it totally depends on requirements.
Reach us sales@fusioninformatics.com to get a free quote