About – Uber Eats App Development Cost
The online food delivery business mobile application has gotten the attention of food lovers all over the places of world. On-demand food delivery app like UberEats mixes two things that the world cherishes on one best platform – that is nothing but a proper comfort and good food Quality. By making the complete procedure of ordering favorite food, not limited to any kind of cuisine, please the tap and flick of millions, on-demand food delivery mobile apps are borne to be a moment hit among an immense pool of mobile application users, regardless of what demographic they are living in.
In the blog we are going to discuss about Uber Eats features and Cost of App like Uber Eats, what is its business model and how does this app work. We will discuss and cover one-by-one. A Food Delivery Apps like UberEats developed to deliver food for their loved customers from their most favorite hygiene food from a preferred restaurant just by sitting from comfort place in room and restaurant is an ultimate spot where peoples like to taste their most favorite food item with different dishes and snacks.
Many restaurants have been established in all cites to serve their best services to satisfy customers and looking to know How much Does an App like Uber Eats Cost? There are already plenty of restaurants serving food deliveries to their most loved customers on daily basis.
Picking the right restaurant where one can have their preferred food to satisfy one's taste buds is quite difficult. There are online carriers of foods possible throughout the web. How Much Does it Cost to Develop Food Ordering App like Uber Eats? It is constantly a topic for business owners or organization that needs to get a similar app development.
Therefore, every food delivery business is seeking to develop Uber Eats Clone app and eager to know the Cost to Build Food Ordering App like Uber Eats and some businesses creating their own Uber Eats App Clone, App Script thinking to operate business like UberEats does with online mode of marketing.
Fusion Informatics created various famous apps for our clients and made our customers to stand a head out their competitors. Due to increasing oh huge competition in the most challenging dynamic digital market, restaurants or food delivery apps like Uber Eats markets try to discovering new strategies to sustain and support themselves in the business.
Fusion Informatics is leading and Top Food Ordering mobile app Development Company offers best services with 24*7-support maintenance and UberEats considers many factors and features based on market demands as discussed below.

Cost to Develop Food Ordering App like Uber Eats and Business Model
The Cost of Creating Food Ordering App like Uber Eats varies as indicated by your prerequisites. Creating application in iOS and Android is very costly and might be out of your financial limit. Furthermore, it will likewise rely upon the app development firm that you are contracting.
The UberEats business model has inspired beginner entrepreneurs and has encouraged a large number of startups on demand in vertical food delivery. Therefore, many traditional value chains in the food industry disrupted.
Yet you need to know the Cost to Make Food Ordering App like Uber Eats is somewhere close to $18,000 to $22,000 around. You can likewise hire mobile app developers who can be suitable for your time and budget. They charge on every hour premise. This every hour value contrasts as indicated by the country the food delivery app developed.
In Europe and America – The value range is $120-$250 every hour. In India – The Uber Eats like app development cost is very low when we compare with other regions like Europe and USA. It is $10-$80 every hour for building up an on-demand food delivery app with every one of the features. Therefore, the Cost to Create Food Ordering App like Uber Eats can be resolved key factors as-
App platform – The Cost of App like Uber Eats varies based on the different platforms; Android costs almost higher than the iOS/iPhone platform because it mainly has more devices to be tested in depth.
App design- In the market, it is important to hold fancy customers with a variety of options in a variety of places by luring them in to make reservations. The app must design in such a way that it should be very user-friendly and engaging.
App size- The Cost of Making Food Delivery App like Uber Eats varies on the overall size of an app is formed by its features and its functionality. This results in various surplus charges.
App Developer– A Food ordering mobile app cost for an iPhone/ios or Android app varies on the good and experienced developer vital as his location and expertise also influencing the development of the app.
Advance and External Features-The features like data sync, geolocation, booking/delivery calendar, push notification alongside OTP evaluation, etc.
Access Control Panel– the Development Cost Food Delivery App like Uber Eats varies and depends on the development of features to use of social media, email id storage and using OTP's.
Know About How Food Delivery Apps Like Uber Eats Work
It is such a gift to have food delivery apps like UberEats that give us with our preferred food anywhere we want and be it the solace of our home or at an office, your cravings can be fulfilled just by simply selecting the favorite food and restaurant. The huge market of food delivery apps is on its extreme dimension and helpful for customers.
If your organization is hoping to invest into food industry, you first need to team up with restaurants and Hire Uber Eats iOS/iPhone and Android app developers. According to this way one can give extraordinary and various cuisine to your clients, which is going to make your app one of the best food delivery apps by if you hire food delivery app developer. Next, including both the company and restaurants should need to build up a food delivery app.
Presently, it is essential to assemble a build a food app that has three forms catering into each one of the three branches restaurants, users and the organization. All the three renditions of the application must be associated with one another, they only they will work best to produce incomes for both firm and restaurants and fulfillment for consumers.
There are a several services giving applications out there that are taking a shot at customer services. In today's world, every one of the person have food delivery mobile applications in their smart phones to order food online.
The online food ordering mobile apps are empowering food lovers to book and get food from a wide chain of cafés and restaurants. It is presently very simple to order and get food directly at your doorstep with trending food delivery apps.
Basic Features Affecting the Cost to Make Food Ordering App Like Uber Eats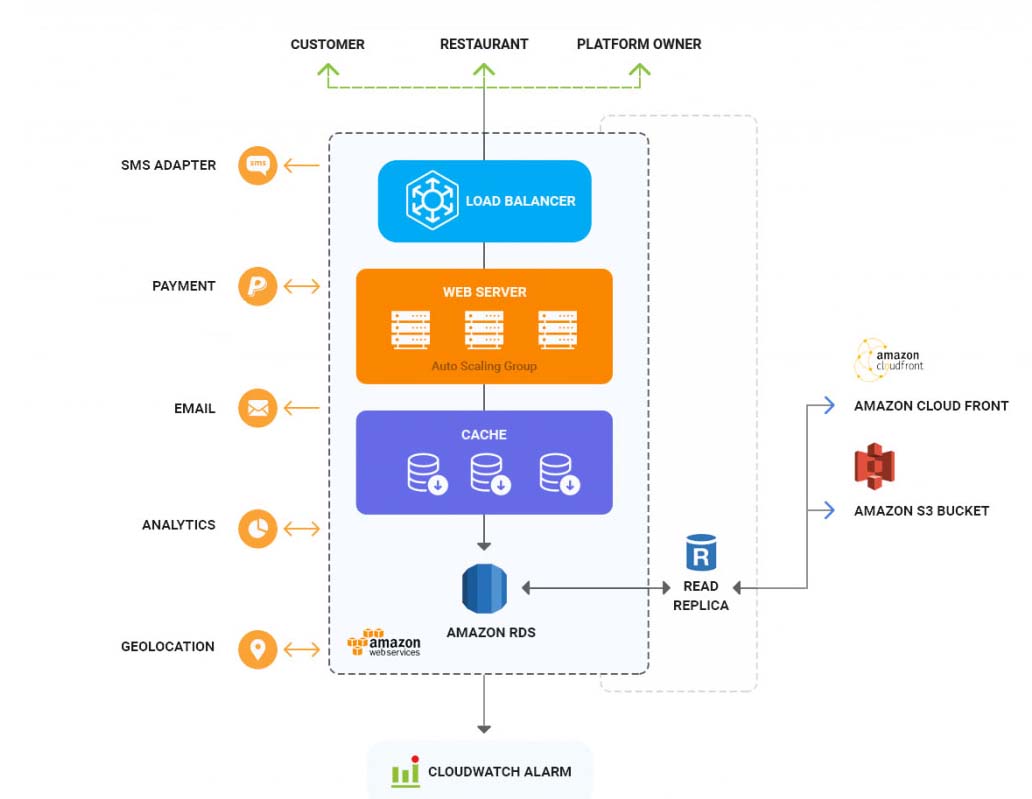 General Features:
Ease of access to in order to search for restaurants, bars, pubs and cafes etc.
Convenient table reservation option
Multiple payment options
Option to search dish name.
Access to favorite food and order history
Advance Features that affects the Cost of Apps like UberEats
Customer Side:
Login
Search Menu
Cart
Order Tracking
Rating and Review
Payment Integration
Customer Support
Restaurant Side:
Login
Menu Management
Push Notification
Checking rating and review
Delivery Side:
Registration
Order Management
Updating the Order Status
Admin Side:
Admin Login
Application Management
Payment Management
Restaurant Management
Discount Offers and Coupons
Technical Assistance
Are you looking to Develop Food Ordering App like Uber Eats? Share your requirement to "Get a Free Quote"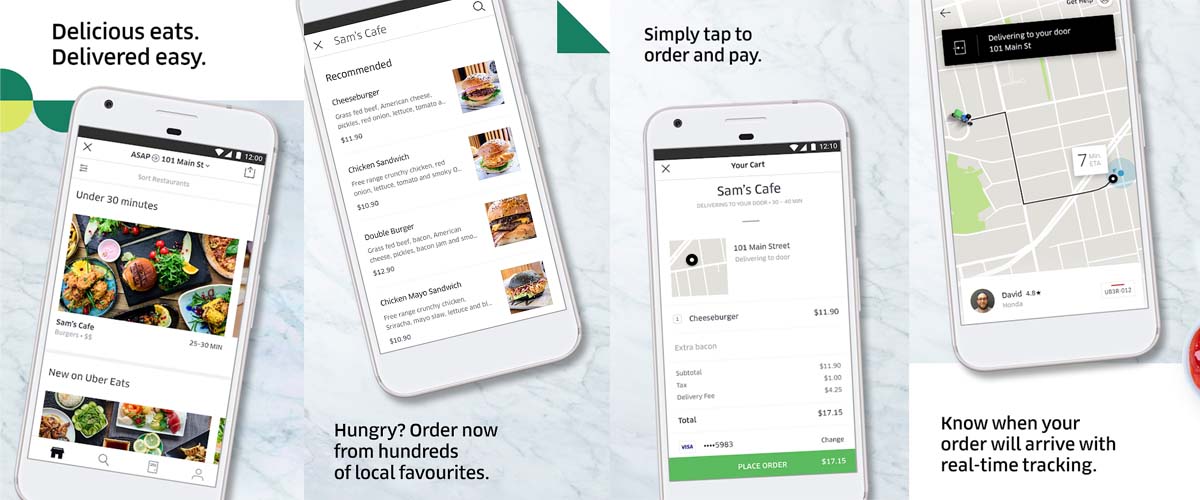 Looking to Hire Uber Eats like Food Ordering App Development Company?
We have we have cleared the query on Cost to develop Uber Eats like app. By understanding and knowing what exactly lies ahead in the food delivery app market future, you will be in a superior position when talking with your favored on-demand mobile app development company about scaling your application such that it is build up for the food delivery as future proof as well.
Need to know what to do next? It is Simple! Connect with Fusion Informatics, as we are the leading Food Ordering App development companies in Bangalore, Ahmedabad, Mumbai, India, USA, Dubai, and Africa and begin with your very own food delivery app development.
Do you want to build your own UberEats like Clone app that could generate outcomes for new companies? Well, The Ultimate option is to get in touch with us today at sales@fusioninformatics.com and we will assist you and clear your all queries related to the business.