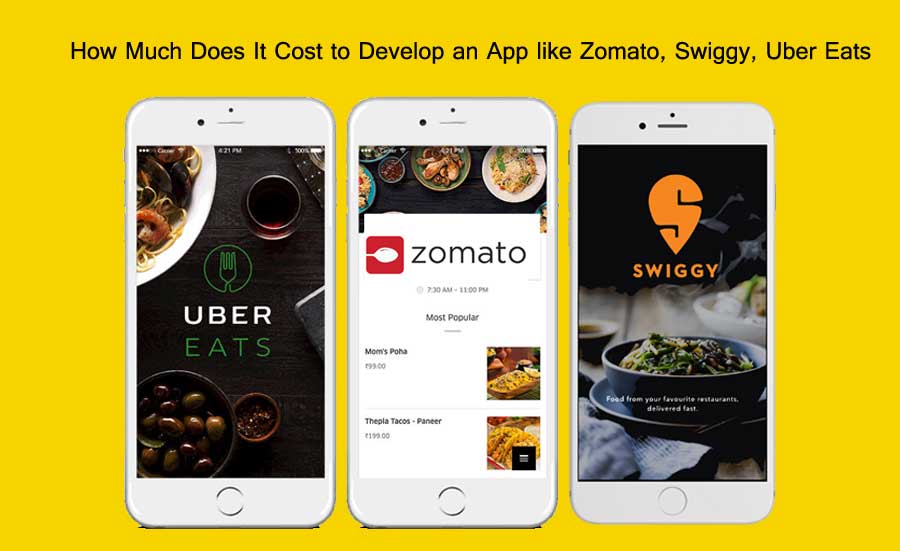 Cost to Develop Food Ordering/Delivery App like Zomato, Swiggy, Uber Eats
Online food-delivery platforms are increasing for selection and service, enabling customers to book and receiving food from a broad collection of restaurants with a simple click from their smartphones. The profession of delivering restaurant foods in the home is experiencing an accelerated evolution as new online platforms race to gain sales and customers across the Market. Although these latest Internet platforms are pulling, significant expense presents penetration into this active mobile market.
However, as in so many other divisions, the advance of digital technology is remodeling the market. Customers' expectations are increasing to experience the still simpler for online food delivery through mobile apps or websites, with best support and transparency.
In the busy schedule of people's life, mobile apps have made tremendous change and transformation in daily life activities for convenience and speed time-saving process and become more important for all the users today. In the business era, the customer has the freedom to choose the best quality from the best business provider through mobile apps. The online food delivery mobile app development aimed to provide the food or meals for customers adapted at a tight schedule, great convenience at any place and at any time. Mobile apps like Zomato, Swiggy, Uber Eats are spreading the services globally and providing the best customer experience with their food delivery mobile apps.
This made many companies looking forward to developing a mobile app like Zomato, Swiggy, Uber Eats. In addition, they can extend their services globally and trying to know more information about food delivery app development details, food delivery app cost, on-demand delivery app development and even new companies started researching about how to start a food delivery app and food delivery app development cost for various platforms like Android and iOS.
Therefore, How Much Does It Cost to Develop an App likes Zomato, Swiggy, and Uber Eats
Food delivery app development company looks at various segments to develop an app like zomato and app like swiggy, In this potential services the companies are looking to invest in profitable gaining from customers and restaurants. So it is a challenging task for mobile app development companies to develop food ordering app like Zomato, Swiggy, Uber Eats because it includes many features to include to satisfy restaurants and customers.
In this post, we are going to talk about the essentials of developing a food delivery app, the features, and functions that must include the cost it may vary based on the different features included and time spent on development.
About Online Food Delivery App Companies

An app like Zomato – How much does it a Cost to develop an app like Zomato? It is regularly a question for enterprise owners or business that requires getting a similar food delivery app development.
A Food delivery app like Zomato formed to deliver food to customers from their preferred food from a selected restaurant, relaxing from the comfort area in the room. Moreover, the restaurant is a spot where peoples love to feel the favorite food item with different foods. Zomato helps customers to meet many restaurants can submit their restaurants in Zomato to serve in different locations to satisfy the customer.
An app like Swiggy, Uber– Swiggy, and Uber Eats is an online food delivery app Company and the individual, development costs are greatly expensive, but cost-effective depends on many circumstances and points included to develop based on business demands.
This company has built based on serving the "urban foodie" with the food order and delivery solutions for restaurants from different locations. Swiggy is an umbrella to a diversity of restaurants for consumers and has a protection of delivery staff to pick and drop off food.
And certainly for any app development costing depend upon the requirements and features of the app, actually, there are a number of similarities in all food offering apps, but if you are providing any extra add-on in your app cost will increase as per to your special features.
How to build a food delivery app like UberEats or Zomato, Swiggy,?
Moreover, developing a high-quality food ordering mobile application that serves the demands of extensive people is the immense business investment.  In addition, all food ordering app development is unique and focuses on special structure functionality. The system performs with various features this thing drives to more number of efforts and capital.
To build a food delivery app development like Swiggy, Uber, Zomato Eats takes many features and functions. The features mentioned below are important when it reaches developing your very own food delivery app. The Food delivery app development cost may vary by implementing the various features on it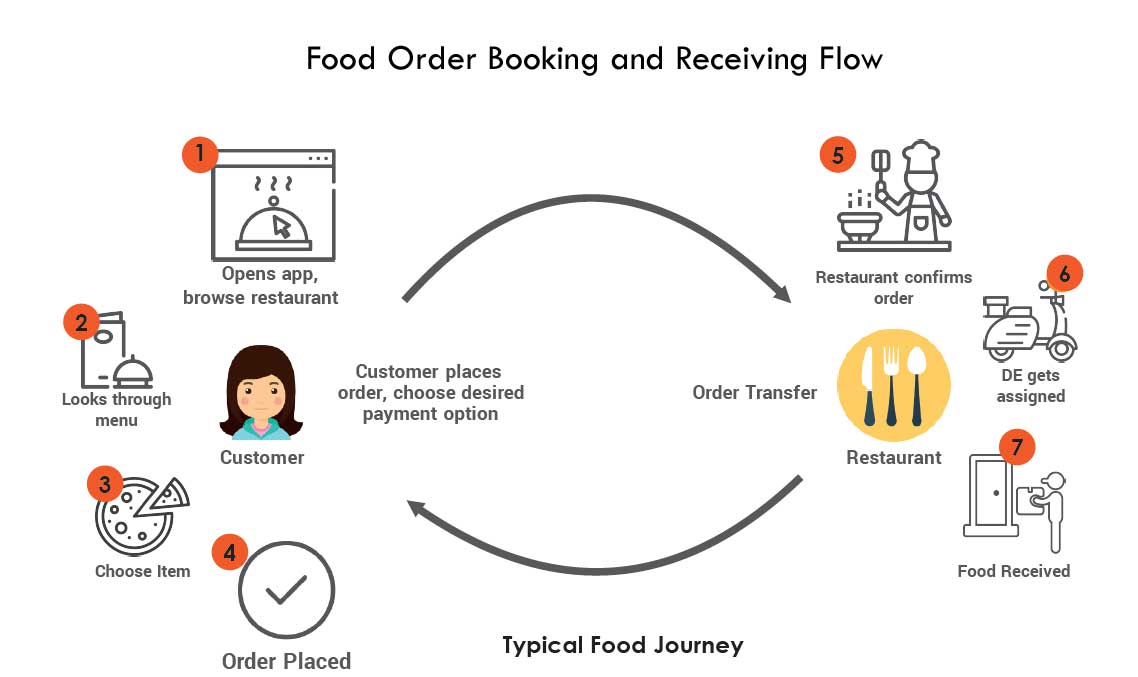 Essential features of Food Delivery Mobile App – User Panel and Features
The mobile navigation plan is the most powerful platform and stands for directing customer that directs at supervising users in the proper direction and not losing customers for improper navigation. Navigation is the support of the food delivery app development to place orders from a preferred restaurant, maintaining the overall content and data. So below are basic features may vary the cost to develop the food delivery app development.
Login/Sign-up
Location Tracking
Homepage Structure
Menu list
Selecting pickup on the map
Cart Division
Payment Option
Rating and Reviews Feature
Last History orders
Offers and Discounts
Contact Information
Tracking delivery boy
Search bar
Filter Search
Food Delivery App Development– Restaurant Panel and Features
This is also an essential part than the feature for the restaurant account of the food-ordering app. An admin panel is a web-based gateway of a method that supports the restaurants control the whole method right from the position of order, offers from control employees or operating the restaurant data, including any settings in the list, delivery schedules etc. Here below mentioned some basic features may vary to develop an online demand food ordering and delivery app development.
Content management
Location Tracking
Reviews Responding
Dashboard
Accepting or Rejecting Orders
Controlling Restaurant Account
Payment Security
 Food Delivery App Development– Delivery boy Panel and Features
Delivery boy panel is a very crucial part of the business to deliver food at a time and tracks the food location and the best app without delivery boy functionality is great to drawback for services. It is, therefore, necessary to keep them interested, involved, and faithful to your mobile app panel only. Below are three features to hold for food delivery app development
Push notifications
Payment claim
GPS locating
Performance history
Signup/Login
Order Accepting
Order performance
Order records/accounts
How Fusion Informatics can help you to develop a food delivery app development?
Food delivery app development may vary on the type of companies you hire, the proficient developers and the type of platform you have chosen like Android and iOS. Online Food Ordering mobile App is the best way to reach more customers and enhance business sales and ROI. It helps to add services between Restaurant Owners and Customers. At Fusion Informatics, we create extremely attractive and user-friendly design food delivery iPhone app and food delivery Android app development that combines your restaurant and customers.
The Customer will look to buy food from the food delivery app on these days and this made more scope to earn more income from food delivery services. We develop an on-demand delivery app development which suits your business and helps you to build a loyal customer for a long time. Our online food delivery mobile applications, restaurant app, and food collection design come with standard pieces along with critical extremely innovative and excellent features. We create an app for you, the restaurant partners and your valuable customers. Also, we create a powerful platform for you and restaurant owners to maintain their actions, menus, orders, distribution, amounts, and location tracking.
Being the best food ordering app development company, we have developed a similar app likes Zomato, Swiggy. We understand all that it demands to perform a good food ordering convenience. Our app developers, research and analyzes the advanced trends in the food industry and continue the food library modernized with advanced features. This supports us strive custom food ordering app development with richest solutions.
We allow customized on-demand delivery app development solution for restaurants and customers and allow your business to obtain profits. Within our best online food delivery app services, we develop your food delivery app to handle simple and easy without any tough times. We allow you the comfort and popular ways to deliver the orders customized to your restaurant demands.
Conclusion
Hire Best Food delivery app development companies and will provide detailed information on the cost of building an app for the perfect timeline. Now you have come to know how much does it cost to develop a mobile app like Zomato, Swiggy, Uber Eats and features are determined above ultimately and based on mentioned above features the cost of online food delivery app development may vary.
Therefore, before beginning an on-demand food delivery app, it is necessary to start research about mobility based on the mobile app development company you hired the price or cost May depends and Top mobile apps development companies like Fusion Informatics are adding extra advanced technologies for best serving in the market and for successful online demand food delivery app.
Each and every feature mentioned above have been combined into the apps generated by our company. If you have something innovative idea to be united, we hold the expertise to combine that as well. We maintain both knowledge and expertise when it is regarding food delivery app development. We have implemented the latest technologies for the before famous app for potential clients and we are immune of experience to develop an app as you prefer.
Contact us or send mailus at sales@fusioninformatics.com today, to get Attractive apps like Zomato, Swiggy, and Uber eats!