About – Tinder like Dating App Development Cost
The online dating market is awash with applications and continues to evolve. Among the hundreds of applications, who could have guessed the brilliant success of Tinder? In today's world, people must constantly reconcile career, friends and personal life. Unfortunately, the last is less and less time. With the growth in the number of smartphones, mobile dating apps have begun to gain popularity, allowing you to communicate as soon as a free minute has just fallen.
If you are ready to create your own Tinder like Dating clone app script and eager to know How Much Does it Cost to Develop App like Tinder, Bumble, Happn, Badoo, Woo and Hinge, then this article meant for you. We cover the costs, time and resources needed to create a dating app like Tinder. We hope you find answers to all your questions.
Some common problems prevent dating apps from succeeding. The biggest hurdle that dating app owners may face is lack of trust. Users, especially women, think that online dating is not serious. You will find helpful tips on how to avoid the common pitfalls of dating apps in our article about dating success.
To answers for your query on How Much Does It Cost to Build App like Tinder depends largely on the complexity of the project, the features to integrate, third-party integrations, platforms (iOS, Android or both), experience and competence of the Dating App Development Company, Team and the region chosen for development goal.
In this article, we will examine in more detail about the Tinder like Dating App Development Cost in order to give companies and businesses an idea of ​​the Cost of App like Tinder.

Cost to Develop an App like Tinder and its Business Model
The Cost of Creating Dating App like Tinder depends directly on its type and all the features it has. Tinder is a location-based application, while other dating apps use personal information and traditional surveys. It starts with a simple question of how to develop a dating app and ends with a Cost to Create App like Tinder. Therefore, we try to give you all we can on your plate in terms of features and affordable cost estimates. Below you will find the users, features, and cost of any dating application like Tinder, but it may vary on a case-by-case basis depending on the needs of the business.
The total Cost to Making Dating App like Tinder clone or a similar Tinder app on the Android and iOS backend platforms will be $ 15,000 to $ 25,000. Let us look at the detailed bifurcation of this cost and the corresponding features. Tinder is the market leader in social dating applications.
From ordinary people to celebrities, hundreds of thousands of users use the app. Tinder's fame can easily inspire any startup to launch a similar application. Developing a similar application with more advanced features can cost between $ 40,000 and $ 60,000; however, the final Cost to Make App like Tinder may vary depending on the basic and advance features added in an app.
Therefore, we are at the main point of your investigation into the Cost of Developing a Dating Apps like Tinder. To sum up all aspects and get a rough estimate, a dating app like Tinder can cost you based on:
UI / UX Design
Development of applications
Quality Engineering
General budget
Even though Tinder was in many ways the mark of the Flagship mobility-dating world, a number of applications quickly followed the trend created by the brand.
If you want to create your own dating app and ask, how much does an App like Tinder Cost? Then get ready for a big budget. The functionality of Tinder-type applications requires a rather complex architecture and a long development. Even a simple version for a platform can take more than 700 hours.
Discover How Dating Apps like Tinder Work
Tinder is a free dating app available for Android and iOS devices. Unlike traditional old-school applications, Tinder relies on geographic proximity as a key feature, making it easy and fast to connect with people for both short- and long-term relationships. Just look at the potential match and slide it to the right (Yes) or to the left (No).
Using Facebook accounts, the app analyzes user data and offers matches based on geographic location, common interests, or common friends. Mutual rubs give a match. Users specify the age range and gender of those they are looking for and alert Tinder if they are in their area.
Now, let me make a real conversation that you are wondering…
Basic Features affecting the Cost to Create App like Tinder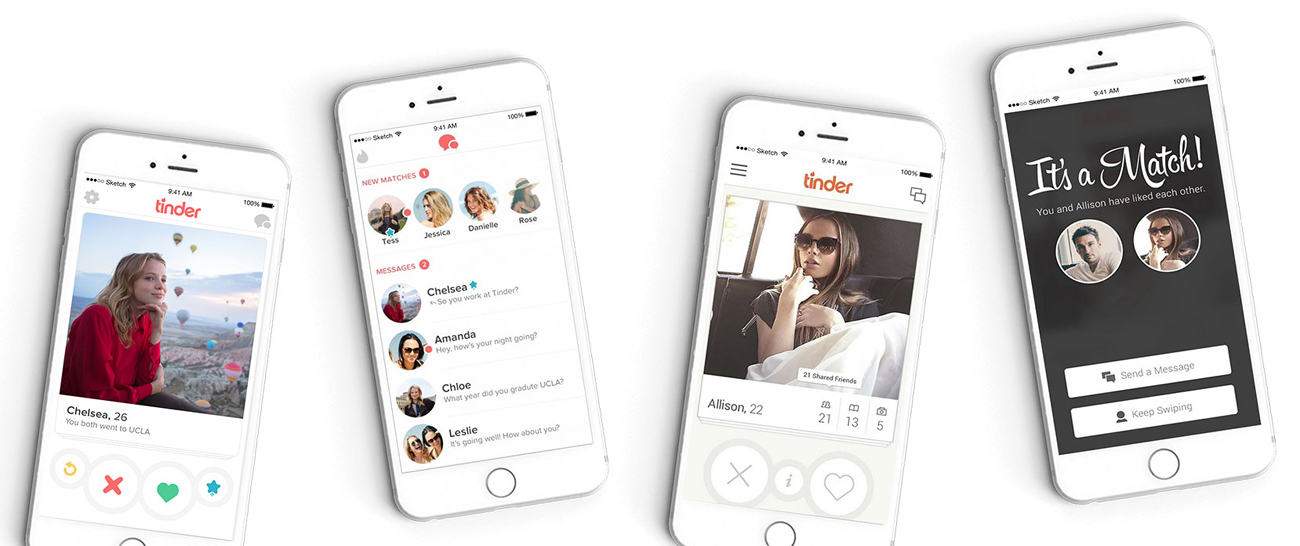 From Idea generation to application development, it is important to define what exactly you are in touch with the design and realization. If you plan to design an application such as Tinder, you must include these best-rated and most user-centric features in your scheduled application. More than a Development Cost of Tinder App, Security is one of the most important because that is where the common problems you may encounter when creating an application similar to Tinder apps.
Check the profile of the user
The offers allow millions of people to check their profile with their name and photos. Facilitate the exploration of the user profile with the correct information.
Chat option
More than sliding to the right or left, you can communicate via an implicit function called chat option.
Functional activity
The user can perform several specific and general functions as needed, including geolocation, search distance, filters, and so on.
Feedback system
Nowadays, this functionality must be present in all applications in order to consistently consume more customer loyalty rates.
Social integration
Sharing facilitates to cover millions of users. Like Tinder, you have the third-party option available like Instagram and Facebook.
Additional feature
In addition, Tinder is not stopped here! Tinder has a unique feature that he does not want to disclose. However, features such as password, payment via the application, etc. can be pronounced as an additional feature.
Advance Features that affects the Cost of Making App like Tinder
The cost to create an application such like Tinder depends on Tinder like Dating Mobile App Development Company and the features it has. The other types are applications containing traditional personal information, applications based on user surveys and niche applications for selected groups of people. Let us explore some advanced features:
The most important aspect of a dating application is that of proximity. Geolocation is the most critical feature because the application is based on the location of the user and seeks to provide you with the profiles of your choice.
Profile creation is provided for your default search when you install the application. But not only, can you also tweak your search by setting up gender, age, and distance filters.
You must create a sliding map interface. This option is the UVP of all dating apps because it is the highest level of innovation
This is called the server side of application development. You cannot start a discussion if there is no match. In addition, a match is only possible if the boy and the girl slide to the right.
Real-time chat implementation:
When users of your app match, they exchange texts before setting up a meeting.
Push Notifications:
Push notifications are essential because they provide you with updates on any messages you receive, a new match, or a similar message in the offer.
Super-Like:
A person's profile can be optimally created by scanning their profile. If you correspond with someone you loved, a blue star will appear next to his profile in the list.
Are you looking to Build Dating Apps like Tinder? Share your requirement to "Get a Free Quote"
How To Choose Dating App development Company and Cost?
To create an application similar to Tinder and know the approximate budget required for its development, you must Hire iPhone/iOS and Android Dating App Developers and choose all the features. It is impossible to estimate the time required to create an application without knowing its functionality in detail. By the way, if you want to choose your own features for the application and get them estimated, try our application cost calculator and Hire Dating App Developers.
If you are ready to work on the project and are looking for a reliable Dating Mobile App Development Companies, do not hesitate to contact us Fusion Informatics. We have solid expertise in the development of social media and lifestyle applications and can provide you with professional consulting as well as a personalized estimate of a project.
Now that you have gained a complete understanding not only of the market potential of the Tinder app clone, but also of the solution to create a dating application like Tinder, as well as Tinder like Dating App development cost in Bangalore, Ahmedabad, Mumbai, Noida, Delhi and Gurugram, India, USA and Dubai. It is the right time to utilize this information. For in depth information, contact our team of experts at sales@fusioninformatics.com and get your Tinder clone app today.