About – Naukri like Job Portal App Development Cost
In this digital era, no one wants to visit every company to provide their CV, because it is such a tedious task. Indeed, the Job Portal apps like Naukri helps users find the job they want but in the end, technology generation is now looking forward to a faster and more reliable mobile solution.
Yes, the mobile application industry landscape covers all domains and therefore people look for such options to benefit from the right business organization. However, some entrepreneurs looking for answers to How Much Does It Cost to Develop an App like Naukri and hence it is always recommended that you start with a service that cannot wait to be used by users.
Job portal applications can easily bridge the gap between recruiters and candidates. Therefore, if you want to create your own job searching portal mobile app, you need to understand the basic architecture of the application along with the technology, the best features, and application development costs that we are going to discuss next.
If you are much interested in knowing How Much Does It Cost to Build an App like Naukri and want to have that taste of the success by building an apps like Naukri then this is the right blog for people like you to get broader insights on the same.
Fusion Informatics is one of the top Job portal app development company. We provide free consulting and exclusive Job portal development services. The overall cost of developing apps for job portals depends on the basic features.
We will provide and assist you with a comprehensive in depth guide on how to create apps like Naukri and Cost to make an App like Naukri. So, let us together dive in much deeper…
Cost to Develop an App like Naukri and its Business Model
Well, before knowing the Cost of Creating Job Portal App like Naukri, we will let you know about this job-searching app.
After a brief explanation of the process and features of job portal application development, because there are still many factors to consider to determine the Cost to Create Job Portal App Like Naukri such as the data storage, type of interface, app size, application features, mobile application developers and company locations and much more.
What is the Cost to Making Job Portal App like Naukri? This question is the first to be asked when an application development projects such as a job portal starts. Estimated application costs are at the bottom of any application development budget. Quite often, the company owner finds himself trying to answer a number of questions – How much is the Cost to develop Naukri like app for my business by hiring a professional versus and designing cost to create his own application.
The average Development Cost of a Mobile App, Website like Naukri ranges from $ 5500 to $ 15000 and there may be additional benefits for advanced features such as artificial intelligence, blockchain, and IoT solutions. Maybe the price is higher, or lower depending on the features and functionality of the application.
Now, the Cost of Developing an Job Portal mobile Apps like Naukri is a pretty daunting task. Recruitment software for agencies is primarily designed to maintain productivity, and profitability. All features, designs, and complexity of development determine the estimated cost of developing a job portal application.
Discover How Job Portal Search App like Naukri Work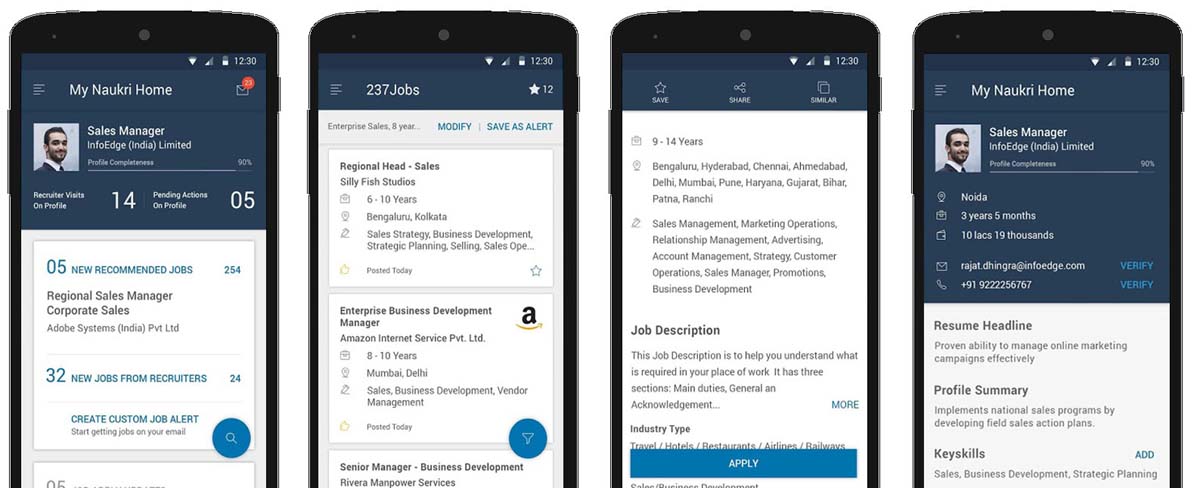 The Job Portal Website or app is a platform that joins recruiters and job seekers to complete their goals and requirements. Recruiters look for the right candidates who have the right qualifications to handle responsibilities efficiently. On the other hand, job seekers want jobs where they can apply their skills and knowledge to grow their professional careers. Sending job applications through employment portals is a faster way to get the right candidates.
The increasing need for work has led to great competition in developing the best and superior job seeker mobile applications. Cost of App like Naukri can rise in the expected period. So, take a skilled and well-known Mobile App Development Company for developing job searching mobile app that fit your business ideas and concepts. So to make it a profitable and productive investment, you are required to spend more unique features that did not exist in the previous application version to get superior profits.
Along with the increasing need for jobs, this has contributed to the increasing competition between various job portal mobile applications. Therefore, it is very important to Hire Naukri iOS/iPhone and Android app developers to develop applications that can survive in this competitive environment. Therefore, you need to recruit a team of expert and expert mobile app developers to create your job portal application.
Most people want to know the exact answer for How Much Does an App like Naukri Cost. In order to help such audience, who want to know the cost of developing application like Naukri, We Fusion Informatics, arrived to guide them in the right direction.
Basic Features affecting the Cost to Create Job Portal App like Naukri
While you step into the world of mobile application development outlining the basic costs of building a job portal app is very tedious. Application developers may not be able to estimate total costs from the initial stage because prices vary when the number of features increases. Hence, the process of Developing a Naukri Clone App is a long and complicated process and can take longer. Job Finder mobile app development Companies usually charge per hour fees according to the complexity involved and the timeline mapped. Let's us see some basic features and benefits ok Naukri like app.
Reducing Job Marketing Costs
Instant Job Warning
Customized Functions
Advanced Search Facility
Easy to use dashboard
Job Recommendations
All Browser Compatibility
Strong Testing to Guarantee Performance
Multi-Language Options Available
Integrated Payment Gateway
Advance Features that affects the Cost of Making Job Portal App like Naukri
Job portals are places where candidates from various streams can apply for the job. It consists of a catalog of work from each sector and industry that provides profitable opportunities for individuals and allows users to transfer resumes to their chosen companies that meet their requirements and options.
Access to Employer Profile
This allows employers to register and display their company profile for job seekers. This allows candidates to gain access to complete company profiles and get the information needed. Hire Job Portal App Developers in order to have these advanced features and remember the cost of development increases as the features increases.
Job search software provides unlimited job posting option. This allows people to find many jobs while providing an opportunity for recruiters to send unlimited job posts.
Integrating with secure Payment Gateways:
Integrating secure payment modes is the highest priority for any Job Portal App Development Company. While development ensures to add a leading payment gateway to make it more secure and reliable
For all online recruitment software, it must secure data significantly. Implementing the latest technology is necessary to secure data. The job portal keeps all data related to users, recruiters, uploaded resumes, and organization data securely protecting business integrity.
Are you looking to Build Job Portal App like Naukri? Share your requirement to "Get a Free Quote"
How Much Does it Cost to Develop App like Naukri?
There are several other people involved in developing your application from scratch. You need a very highly skilled mobile application development team, expert designers, expert testers headed by several project managers. As an employer, you must check whether the website has a strong job application tool.
This is important so you can choose the right candidate to develop you tool. The challenge is; how do you hire a job portal app development company. There are many of them out there, so before you hire one, make sure they are experienced and trained. Companies must be able to show you a project they did in the past.
You need to worry; Hire Fusion Informatics and we will take care of your Job portal app design and development. We are a Top Job Portal App Development Companies in Bangalore, Ahmedabad, Mumbai, Noida, Delhi and Gurugram. For details of development cost and features contact sales@fusioninformatics.com , we will tailor your dream job portal app.