About – Venmo like P2P Payment App Development Cost
Raise your hand if you think you live in an extraordinary world today with a future without cash that may not be as close as some people think. However, some are already here in the form of various payment services that allow people to send and receive money in real time – no need to check books or cash withdrawals from ATMs. Things began to change rapidly with the advent of Venmo, a mobile payment app that, over the years, became very popular with a large number of users.
This blog contains information for those entrepreneurs, who want to know How Much Does it Cost to Develop App like Venmo and Square Cash app, Zelle, Discover
s. The universal popularity of mobile devices has helped several types of payment.
If you have the ambition to make the daily lives of thousands of people easier, you should consider improving their payment experience by creating P2P apps like Venmo. The intricacies of the financial world can be more annoying, so if you have to deal with them every day for ordinary reasons, they become a nuisance.
Speaking about How Much Does it Cost to Build Peer to Peer Payment App like Venmo along with the best peer-to-peer payment app, Venmo has made it easier for people to make payments. This has hidden the need to save cash or cash cards at once. What is not needed is an active internet connection and payment is as easy as cutting a piece of cake.
It is easy to make payments now compared to the early 90s. The reason this digital payment is recommended and authorized and it has inspired paperless transactions and therefore environmentally friendly. Many documents have cut down and reduced and the feeling of borrowing and owning one's money is no longer scary because payments are fast and easy.
The Cost to Make Peer to Peer Payment (P2P) App like Venmo also depends on the costs of hiring Venmo like P2P Payment mobile app development company, because they are in great demand. Developing p2p payment apps is an expensive journey and requires a lot of expertise and experience.
Therefore, the Cost of Creating P2P Payment App like Venmo can start depending on the features that will be included. Development costs depend on factors such as number of mobile application developers, team size, and location you hire.
P2P apps like Square Cash App, Zelle, Discover grew quickly and today we want to look at one other peer-to-peer payment apps like Venmo in detail.

Cost to Develop an App like Venmo and its Business Model
The peer-to-peer payment application allows customers to access their bank accounts only with pin access, without the hassle of actual login via user ID and password. This application facilitates transactions, with lucrative discounts and cash back, so that more people want to use it. Money sent or received through this payment application, can be sent directly to the customer's bank account or can be left in the P2P payment application wallet, which can be used in the future for more transactions.
The Cost to Create P2P payment App like Venmo depends on various factors, including how big and skilled the team is, what kind of services they provide and from which location they are. If you are interested in building apps like Venmo or Square cash, contact us and find out all the necessary details!
The increased use of Peer to peer transactions has given users the necessary freedom and has eliminated the need to add recipient accounts before entering into transactions. In addition, users have the option to select from countless services. Some applications even provide free movie tickets or profitable cash back after completing the required number of transactions.
People use peer-to-peer payment applications to pay utility bills, refill and pay bills, gifts and cash-back, health care, banking and insurance, taxi bookings and food orders, etc. One reason for the increasing popularity of the p2p payment application is that this has reduced physical ATM visits. This is the reason the Cost to Making P2P Payment Apps like Venmo slightly expensive and because of these features in Venmo people have gotten rid of the restrictions on transferring a large number among themselves without bank intervention.
Discover How Peer to Peer (P2P) Payment App like Venmo Work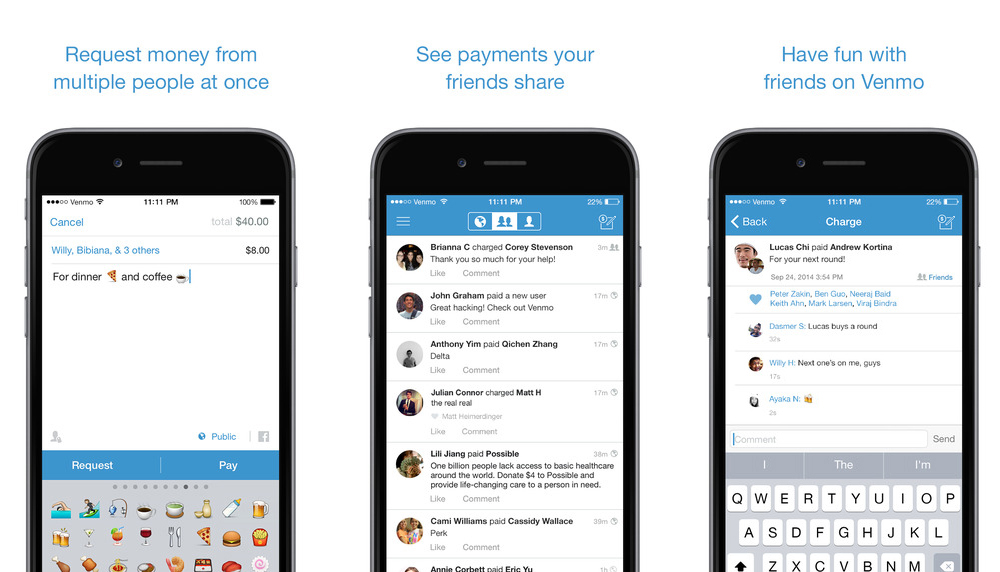 The Venmo service allows friends to send money instantly to each other and allows companies to accept card payments. In short, this is a very convenient peer-to-peer payment application: sending money through Venmo is almost as fast and easy as paying with good old money.
Venmo is not the only software product made by Venmo: they also have Venmo Register App (a free point of sale application for iOS and Android mobile devices), Venmo App Marketplace, and other applications that allow business owners to integrate Venmo features. By releasing such applications, Venmo has been able to create a complementary ecosystem of software products and has supported that ecosystem with strong customer support.
Now, you may be wondering about the Cost of Developing a P2P Payment Apps like Venmo, Square Cash and how to make an apps like Venmo, you know what you have to take care of from the start. People need a peer-to-peer payment application to transfer and receive money in the fastest, most convenient and maybe even the safest way. If you feel, you can provide them with quality applications and want to know the Cost of App like Venmo, go ahead and start by forming a development team. We are ready to provide you with professional solutions and guidance on the way. Our software developers will translate the requirements and ideas you have about what your P2P payment application looks like as a workable product. Do not miss your chance to make your voice heard in the FinTech industry!
So, now is the best time to invest your time and money to develop a powerful P2P payment application to get the first mover advantage. P2P payments are still a special segment that will undergo a major transformation in the coming years and you must want to be the first to adapt to these benefits.
Basic Features affecting the Cost to Create App like Venmo
To build applications that facilitate P2P payments, the P2P Payment mobile app development companies must include several important features that will make their applications successful. Without these features, it is almost impossible to survive on the market today. Let us have a look at basic features, which affects the Venmo like P2P Payment App development cost.
Unique ID / OTP:
A unique ID or OTP must be registered with the application and start any transactions.
Notification:
To notify users when a transaction has been carried out, when money has been debited from the sender's account and when the money has been credited to the recipient's account.
Transaction History:
The application must have a feature that allows users to see a summary of all their past transactions made through the P2P payment application.
Send Bills and Invoices:
There must be a feature that allows users to scan bills to people who have to make payments.
Amount of transfer to bank:
Generally, users like it if the P2P payment application gives them the flexibility to transfer money from the application to a bank account.
Fingerprint security lock:
P2P payment applications are very vulnerable to risk because they contain important bank account details and credentials.
Advance Features that affects the Cost of Making App like Venmo
You must think of How Much Does an App like Venmo Cost when you have planned to add advanced features. Venmo comes with a number of advance features that make it one of the market toppers. This is the fastest way to share money with friends and family, and users can shop using Venmo MasterCard. In addition, Venmo is very concerned about the safety of users.
Unique identification:
At the time of any transaction, the user will receive a one-time password. He must validate the password to allow transactions to occur.
Digital Wallet:
 Information is stored in the cloud and you have the facility to access it with your ID and password from anywhere at any given time. You only need to maintain a certain amount in your digital wallet. Therefore, Cost to develop Venmo like apps depends on features and if you want to know how to create applications like Venmo, make sure you consider this feature.
Notification Alert:
Use this facility to notify users every time a payment is made or received. Users will be notified of these activities, as well as any changes made to their digital wallet.
Bank A / C Synchronization:
Even though the purpose of the P2P payment idea is to change the traditional monetary system, we can always provide them with the facility to combine the two.
Chatbots:
Virtual assistants must be implemented to save users during disputes in transactions. Before even making a simple purchase, users might want some questions answered.
Exchange Rates and Conversions:
Currencies vary from country to country and currency values ​​Plus, we also need to convert our money whenever we want to trade on foreign land. If you can provide application facilities for this, then people will not have to rush to the currency exchange center every time they land in some foreign country.
Therefore, the Development Cost of a Peer-To-Peer Payment App like Venmo relies on the above-mentioned advanced features and being your payment application must be original according to design. In addition, native applications are preferred all over the world. It will be designed in a native structure for Android or iOS. Users feel more comfortable navigating through native applications than others do.
Are you looking to Build P2P Payment Apps like Venmo? Share your requirement to "Get a Free Quote"
The peer-to-peer payment application is redefining the way we make payments in many ways and it will continue to do so in the coming years. Therefore, you need to be very creative if you want to develop Venmo clone app Script and more usage shows that people are slowly migrating from the physical form of money to digital money, which may be the future.
Hire Venmo App iOS/iPhone and Android app developers because this is the best time to invest your time and money to develop a powerful P2P payment application to get the first mover advantage. P2P payments are still a special segment that will undergo a major transformation in the coming years and you must want to be the first to adapt to these benefits.
So now, we know P2P payment applications are actually the latest application trends on the market, you will not go wrong to go ahead and take the opportunity to develop money transfer applications, but you might need help with that.
At Fusion Informatics, we have a team of trained developers, experienced enough to provide sophisticated solutions on the market. Hire P2P Payment App Developers and as our developers have the direct industry, exposure for year's guarantees quality service within the desired schedule.
Fusion Informatics is the solution for all your queries like Venmo like P2P Payment App development cost in Bangalore, Ahmedabad, Mumbai, Noida, Delhi and Gurugram, India, USA and Dubai. Our team helps with every step and keeps you up to date with the process.
Do you have a P2P payment application idea? Feel free to connect sales@fusioninformatics.com and engage with our team of experts to get help.