How Much Does it Cost to Develop a Mobile App like Lime/Spin?
About Lime
Lime is an advanced mobility service providing the shared scooters, bikes and transit automobiles for rent. The users can book and ride the vehicles for their destination they want with the help of a smartphone app in the iOS and Android devices. Founder Toby Sun has launched a mobile app for both Android and iOS to offer and facilitating public movements in cycles of a lime scooter rental policy, allowing users to select and book the various electronic scooters, e-assist bikes at any time and the company is serving more than 50 locations in US countries.
About Spin
Spin is one of the rental scooter provider for users in the community and they offer with the dockless bike, scooter, and electric-assist bike in the rental policy to accept you where you require to travel. The Spin app was launched by Euwyn Poon aiming to help users to get a rental scooter for their travel purpose in their intention to use for their convenience. With the help of a Spin app, users can select and book the nearest vehicle using a map and can fill the form for payment and receives an automatic free trip. The app facilitates the QR code process to unlock vehicle for riding
Transform Your E-scooter App Concept into a Successful E-scooter app like Bird/spin/lime?
Lime app is one of the largest rental scooters providers in the USA. Moreover, according to the recent story Lime newly operates 11.5 million bikes and e-scooter drives. The user can locate a vehicle on the app by searching nearby scooter and can tap the "Reserve" tap. Lime and Spin has become most popular and extending their mobile services globally. This development influenced many other business peoples, and looking to develop a similar app like lime/ Spin. In addition, business peoples are searching in the search engines to know the exact cost details to invest and develop the mobile app similar like Lime/Spin. So How Much Does it cost to develop an IoT app like Lime/Spin.
Features Implemented
Registration and Login
Finding nearby available bikes
Tracking for rides, miles, time and route
Reserving scooters in advance
Customer Support
Managing profile account
Payment features
Find and scan a Lime code to unlock
Safety guidance
Locking e-scooter for end ride
Are you looking to know the app development cost like Lime? Get a Free Quote
Share your requirement to
Factors affects to develop an E-Scooter Sharing App like Bird and Lime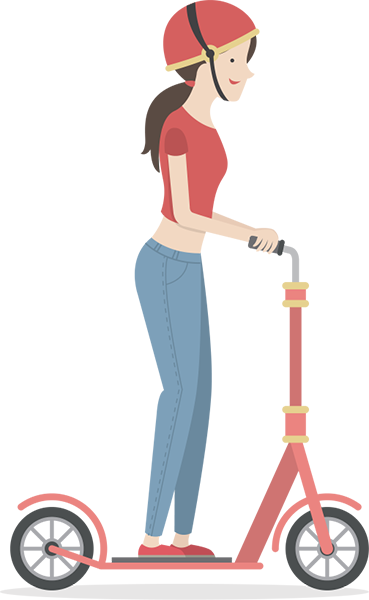 The E-Scooter App development like Lime and spinvaries, based on different platforms such as Android and iOS. The cost of android app development platform is comparatively less expensive than the iPhone platform because iOS devices need more testing tools.
The E-scooter apps like Bird and spindevelopment cost varies on advanced technologies implemented in the application to locate bikes, unlock the bikes and payment process. The app like lime needs basic features to impress users and it charges more expensive.
The e-scooter app development like lime and spin needs more accuracy to locate nearby scooter, customer support and direct the ride and this type of features need to lot of size and its cost vary of different features implemented in it.
The online scooter sharing app development cost like lime and spin varies on the type of e-scooter app Development Companyhired. This type of IoT app needs a lot of expertise and experience developer, where the expertise Development Company charges more than less expertise developers, because the app needs proficient skills to build IoT app like Lime.
Building a Scooter Sharing App Like Bird, Spin and Lime need administrative divisions i.e. add/block feature, handling, reporting, data, a good and experienced developer location affects the development cost of the app. including mobile wallet innovation catches more costs, but clearly comes with its benefits.
Contact us today! For more knowledge about the development process and the cost of an app like Lime/Spin. Our involvement and expertise will support you in devising and executing the development method of your mobile app.