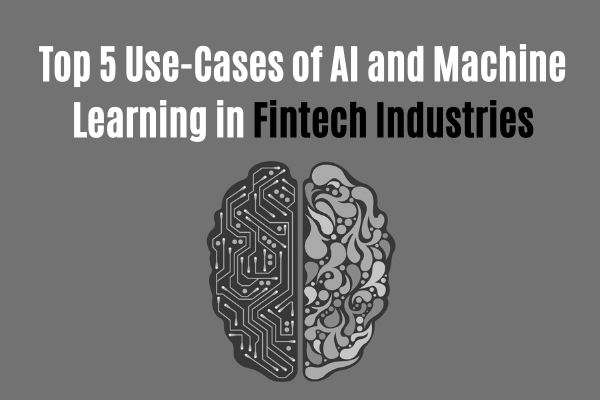 With the current situation, the Fintech domain is gaining significant traction from the market. The crisis created by the pandemic has effected a lot of companies, but they are adapting well by enabling trending technologies like Artificial Intelligence and Machine Learning into their systems.
Since most of the systems are now moving towards more app-based processes, these technologies are opening gates to numerous opportunities for people interested in this domain. From SMEs to large-scaled Fintech companies- all are adopting these technologies into their systems.
How can these AI and Machine Learning help Fintech Industries?
We know that early adopters of mainframe computers and relational databases have been Fintech companies. They were always keen to understand how technology can smoothly solve human problems, thus increasing the companies' efficiency. These companies started adopting methods that included AI and Machine learning that was derived from various aspects of human intelligence. Varied, deep, and diverse datasets can be crunched easily by using these technologies.
In the olden days, bankers used to assist customers better with their connections, but with digitalization, this personal touch has been lost. So, the main question here is, can technology bring back this personal touch? The answer to this is quite evident with the current advancements in AI and Machine Learning. These technologies can process large pieces of information about the customers that are practically impossible to do manually. This data that is retrieved can be used to provide better and suitable services or products to the customers. This will ensure that companies find whats right for their customers and gain customer loyalty.

Top 6 Usecases of AI and Machine Learning in the Fintech Industry
We conducted in-depth research and jotted down the best five use cases of AI and Machine Learning in the Fintech Industry.
1. Accurate and Improved Decision Making
As our world is quickly growing in the new technological ecosystem, it also becomes prone to several financial cybercrimes. So how do we deal with this? Thanks to AI and Machine Learning, companies can now secure their accounts and provide their users with a safe environment. When we talk about cybersecurity in Finance, we often come across cryptocurrency and blockchain concepts. However, we expect to incorporate Artificial Intelligence and Machine Learning into digital security.
These algorithms enable us to detect any suspicious activity and also notify users regarding the same. They help us to monitor all sorts of patterns continuously and notify whenever there is anything unusual. This way, users can keep track of all the aspects, even if they aren't available. These technologies also help us to identify any kind of illegal activity like money laundering or detect any corruption network in any institution.
2. Fraud Detection and Security Management
Several analytics tools help us to collect and analyze data that is necessary for conviction. After this, AI tools learn and monitor a user's behavior and pattern to identify any warning signs of fraud attempts. Machine Learning concepts can be adopted in different stages of the claims management system. Artificial Intelligence can be used to handle a massive pile of data in a short time. Thus it reduces the overall processing time. This results in better customer experience for the users.
3. Automated Customer Care/Support
Chatbots are one of the most popular AI applications. They have started to receive considerable attention due to the involvement of Machine Learning. These chatbots can interact with customers at any given time and hence are quite handy. Fintech Industries use these bots to solve a significant number of customer complaints at the minimum expenditures. Since COVID-19 has given us the new normal of social distancing, Finance companies may soon adopt more of this technology to solve their customer problems.
4. Insurance Management
Artificial Intelligence will automate the underwriting process and thus use more crude information to enhance customer decision making. This technology can help insurance management by providing automated agents that can help customers online and guide them with all the requirements. Usually, people opt for insurance when they have suffered a loss, and for a faster process, automatic underwriting can be used. For example, if you feel some treatments may be expensive for insurance, it is better to detect these risks for better prevention. These risks can be calculated by using a Machine learning algorithm that will consider historical data.
5. Predictive Analysis of Stocks
Predictive analysis can serve as a game-changer in various financial services that most affect business strategy, revenue collection, sales, and resource optimization of a finance company. It will help in enhancing different operations and refining internal processes, thus transcending all the competitors. This analysis can help in the calculation of credit scores and hence help in the prevention of bad loans.
Final Thoughts
The current situation has given us the opportunity to explore what technology is capable of. It is time that the Fintech Industry adopts these technologies and makes the best use of it in the near future.