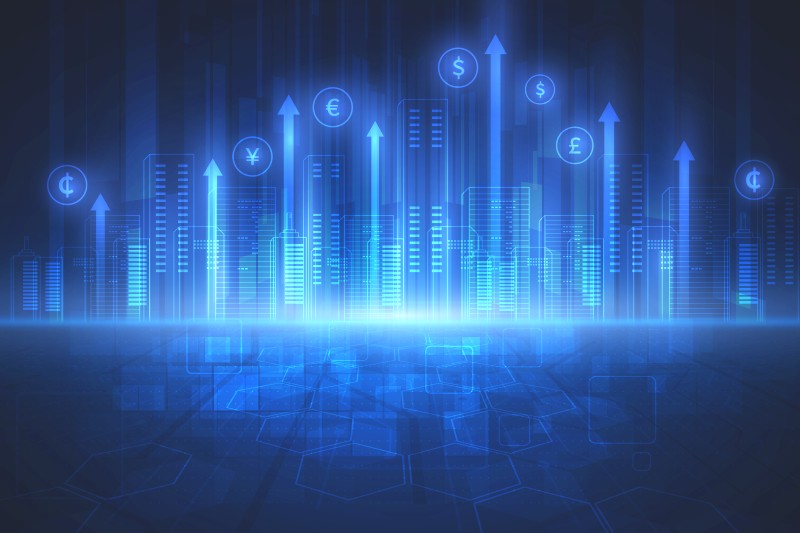 Digital Transformation is the transformation of industries using ace digital technologies like AI, ML, Blockchain, Robotics, IoT, Clouds, etc., and integrating them with their respective structures, as per specific company requirements. New platforms and applications are integrated to fetch that ultimate seamless experience for the end-users and customers. The fintech industry does not take much time for a complete digital transformation/makeover as compared to other industries like retail, healthcare, or education. The reason is that financial services are mostly dealing with structured, quantitative data that facilitate easier digitizing and automating of varied processes involved. Fintech brings innovation, transformation in all sorts of financial services. The massive surge in demand for mobile apps, digital payment systems such as cashless, e-wallet, mobile-banking, chatbots handling customer financial inquiries, all have led to the rapid shift in consumers' demand and preferences. Whereas if we compare the quantum of digital drive in other aforementioned industries, it is not as fast as that in the fintech. Rather, fintech has some inevitable roles within the integrated functioning of other industries like retail , education or healthcare.
State of Digital Transformation for Key Industries
Retail
The Retail global digital transformation market stood at 143.55 billion USD in the year 2020. It is expected to touch 388.51 billion USD by the year 2026 (source – Mordor Intelligence report).
In the retail industry, digital transformation covers three major aspects –
Customer- Experience
Supply-Chain
Enterprise-Agility
As per PWC's study, just one bad experience would cause 32% of customers to stop interacting with a brand. According to Business Insider, due to a shift in consumer behavior and several other challenges, the retail industry saw 70% failure of digital transformation projects in the year 2017. On the other hand, Gartner says that 77% of retailers would like to consider adopting AI while 87% indicated that Robotics for warehouses will be the top use case by 2021.
2. Education
COVID-19 has changed the face of the education industry. The learning and development have taken a complete digital makeover. However, the digital transformation process has not been a smoother and easy one for the industry. Widespread virtual mode of learning, teaching with no access to real-life libraries, have created a frustration-led environment for teachers, educators, students, staff, and the entire industry. In fact, students are unwilling to pay the whole fees, and higher education seeing partial refunding of fees, too. This is just an example of several challenges in the sector where digital transformation is facing tough to take-off.
As per GPE report–
Due to the pandemic effect, 126 million children have been cut-off from their schools in lower-income countries.
GPE supporting partner countries by US$500million on the sector as a response to the pandemic crisis. Digital means remain the viable options, too!
3. Healthcare
This year, a significant revelation in healthcare has been about consumers' priorities –better and convenient access to all the healthcare services, and, more price transparency.
One notable impact of technology in the healthcare sector is the scope of digital transformation as follows-
Telemedicine
AI-enabled medical devices
Blockchain-Electronic health records
Web and mobile apps and solutions
Streamlining physicians' jobs
Improvement of patients' outcomes
Optimization of systems
Reduced cost operations
Low human-error
Medtech firms having specific consumer-focused products & services are likely to create a foothold post-pandemic. Moreover, as per the recent 9th annual Industry Pulse survey, the valuable insights from 185 healthcare leaders for 2021, 32.2% said that retail companies, the big tech will greatly impact the current business models deployed by the healthcare industry.AI and ML were the preferred choices of the healthcare industry respondents while RPA was the highest chorus among them for 'NO'. Once the pandemic effect abates, it's expected that there'd be a greater level of demand for testing equipment as well as online pharmacy use. Contrarily, the demand for elective procedures that are hospital-based and shifting to outpatient settings, will see a permanent lower side. As per Digital Authority Partners insights, the US healthcare market is going to see $5.7 trillion in national health spending by the year 2026.
How Fintech is Shaping Other Industries
The Healthcare industry is though undergoing a slow pace of digital transformation, the role of fintech within its business models is unparalleled. Fintech serves this industry by revitalizing and modernizing healthcare networks as it brings some improved, digitally oriented, financial service-models into the very sector! Several fintech solutions such as digital payments, do simplify varied payment processes for patients, as well as processing volumes of healthcare-related data on a much faster scale and speed. The retail industry is equally impacted by fintech, viz. role of digital capabilities like websites and mobile applications are mostly catering to the payment stream because customers are preferring digital payment modes and carry digital wallets in their mobiles 24*7. So, we can see the ubiquity of fintech in almost every industry as finance as a service plays a major integrated role.
Why Fintech is leading in Digital Transformation?
High Investment from all businesses
Fastest digital adoption
Diversified projects at pilot and advanced level in Innovation
As per a recent IBM study, engaging unique customers with smarter experiences anytime and anywhere is the need of the hour. A massive 84% of customers consider the overall experience provided by a company is as valuable as its products and services. Hence, to meet this kind of rising customer-expectations, a company needs to digitally transform all the lines of customer services for delivering a better-unified experience. Not just customer-centric approaches but companies need to intensify approaches towards smooth relations between business partners and employees.
Conclusion
Fintech is impacting industries such as retail, education, and healthcare where consumers want convenient transaction solutions in every financial interaction within the structured systems. As per the Global Fintech Adoption Index, before the pandemic, fintech was doubling every two years. The industry grew from 16 percent in 2015 to a striking 64 percent in 2019. The reason behind this growth is not just the fintech's agility but it has become an essential survival tool for businesses across the industries , especially from 2020 onward. Acting as a core enabler for the fast migration to digital payment, it has become a mandatory part of everyone's life – consumers and businesses, alike. While 2020 was merely about survival, 2021 and beyond will see convenience, structured inclusion as well as sustainability factors leading to the adoption of financial technologies.
Whether you belong to FinTech or any other Industry, digital transformation is here to stay and evolve into new dimensions. Connect us to explore the new possibilities for your Industry.