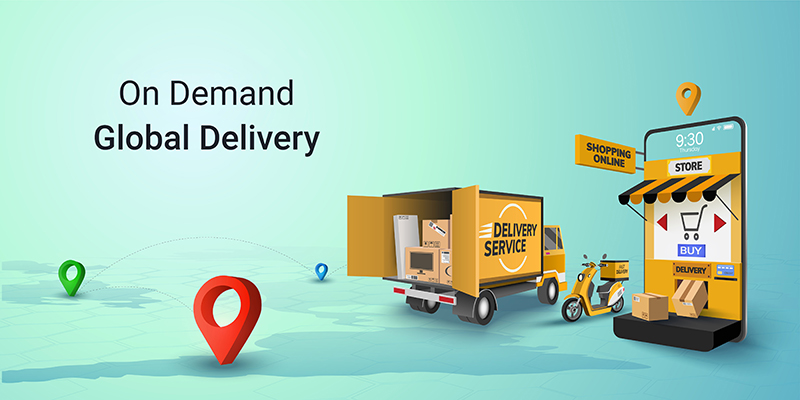 What's one common link among Zomato, Ola, Uber, UrbanClap, Grofers, BigBasket, Dunzo, Swiggy? All are popular On-Demand Delivery Applications (Apps) that are mobile-based customized applications catering to their specific services. In other words, you can understand it as on-demand service apps that live on your mobile phones. Exactly, you got it right! When you are hungry and not in the mood to cook, you order pizza on Swiggy. What do you do? Download the 'Swiggy' app into your mobile phone, and order your food from your favorite restaurant listed under Swiggy. When you place an order, the app connects you to the restaurant and you pay online via a digital wallet or card payment. All is done online. And yes, you are notified about your delivery status and can track your order (delivery boy)and see whether it arrives on time as notified. A typical on-demand service app works like this. For an Android-based platform, your app location is Google play store while if you have an APPLE device, you need to download from an iOS platform. Then, there is also a Cross-Platform that exists in the ecosystem where your device is compatible with both platforms. If you are a start-up or business owner and want to develop a specific on-demand service app, your future is bright. Customers want app-based services for their daily needs as well as urgent medical attention like telemedicine where on-demand doctor's consultation is also possible. The universal pandemic-led disruptions are another factor that triggers the growth of business prospects in this sector.
Basic Characteristics
Three important players –
On-Demand App
On-Demand App Consumer
On-Demand App Service Provider

On-Demand Delivery Apps – Their Types
Business to Business (B2B) –  Business transactions between Start-ups, SMBs, or Enterprises
Business to Consumer (B2C) – Transactions between service providers and consumers
Consumer to Consumer (C2C) – Transactions between consumers
Few Popular On-Demand Delivery Apps
Instacart
Ola
Zomato
Lyft
Grab
Bigbasket
Dunzo
Byju's
Amazon
ebAy
Walmart
Medlife
Pharmeasy
Bright Future Is Here
The On-Demand Delivery Mobile App Market-Revenue is expected to reach a massive 335 billion USD by the year 2025. It stood at 14billion USD in the year 2014.
Angel investors are happily willing to invest in app-based Start-Ups catering to varied sectors.
In fact, US consumers are lavishly spending,57.6billions USD, in the On-Demand economy.
In the US, the market value for mere on-demand food delivery app increased from $8.7billion in 2015 to $26.5bilion in 2020 (As per BusinessInsider)
5 Trending Industries for On-Demand-Delivery App Market
Transportation &Travel
Transportation & travel app is considered a big revenue generator and venture capitalists' favorite investment sector for the same. With the arrival of several travel apps like Ola, Uber, Airbnb, Lyft, all are making travelers' and commuters' lives so easy, comfortable and convenient. Even the businesses are basking in the glory of the success of their transportation apps which also take care of the safety parameter of passengers due to digitally-enabled mobile app inherent features. It works like, your customer will book your taxi or cab on the Ola or Uber-like app, will get 'booking confirmation' notification, and can track the driver's location on his Google Map. Even the time is notified by which driver or rider is expected to arrive at the location. Even, the booking can be canceled from either side. On the other side, the driver also has a specific app where he sees his updates of the passengers, payment system, etc. Security feature like OTP or CODE gives end-users a seamless experience .
2. Food Industry
Restaurants have suffered a lot due to the Pandemic effects and are in the resurrecting and survival mode. One striking reason for their rebirth is the availability of digital-technology enabled On-Demand Delivery Mobile Applications like Zomato, Swiggy, Dominoes, McDonald's, etc. Platform-to- Consumer businesses such as UberEats, DoorDash, Grubhub in the US have propelled the food-delivery market lately as per Statista, McKinsey reports.
While on-demand food delivery apps like Swiggy, Zomato are an all-time favorite among people and even small and big food brands have come out with their unique brand-based apps developed by themselves. Consumers like the comfort-zone where ordered food home-delivered and businesses get the opportunity to expand larger avenues. Even this mode is proven to be highly cost-effective for the restaurant businesses where the app does the work.
3. Education
The COVID-led pandemic has impacted the education industry to a greater level where students, teachers, staff are shifted to the virtual mode of operations. Online learning has become the only way today for students and on-demand delivery app for e-learning, coaching, tuitions, school, etc. are dependent on the system. App-based e-learning platforms are a great opportunity for businesses to go for specific on-demand mobile applications. This industry is ever-growing with an estimation of a huge $319.167billions by 2025(source – Statista).
4. Healthcare
The Healthcare industry is seeing a massive surge in the development of on-demand mobile apps across the globe. The reason being a valid one – people are home-bound due to corona scare and critical patients need emergency medical attention. Even normal people need online consultation for check-ups, prescriptions, or any other medical requirements. Unnecessary queue waiting is avoided while being a time-saving affair. Telemedicine is another reason where this form of an app is motivating businesses going forward to develop[ one. Online appointments, purchasing medical equipment, medicines, etc, are taken care of. All these ordered healthcare products are delivered at doorsteps. Some notable apps are Pharmeasy, Medlife, Netmeds,1MG, and so on.
5. Home-Services
This sector has seen an immense rise in the development of the on-demand delivery app. Beauty salon services, home cleaning, and the likes have attracted consumers and businesses alike. These services are maintaining company-specific protocols for providing satisfactory and safe measures at the doorsteps. Corona-related precautionary measures are adequately followed by all the services concerned. The online global home-services market revenue is seen to be growing up to $1574.86 billion by the year 2024.
Digital Technology is the Core
On-Demand Mobile Apps are making a spur across businesses around the globe. People are experiencing a comfortable life because the app-based system takes care of their daily chores. All they need are mobile phones and respective apps which they can download and install in easy-to-follow steps. Besides, the very idea of creating an on-demand delivery app is seen as a  lucrative business prospect for entrepreneurs, SMBs, big brands. Digital technologies like AI, ML, Blockchain, etc. are the mandatory tools one needs to adopt and integrate within the existing business models. However, if you want to launch an on-demand delivery app for your business,  you need to find out first, which platform might suit your requirement, viz., Android, iOS, Cross-Platform. So, you should consult a professional mobile app development company for recommendations.
The future of On Demand apps looks promising and it's scaling new heights across industries. Reach us to know more or ask for a free demo.