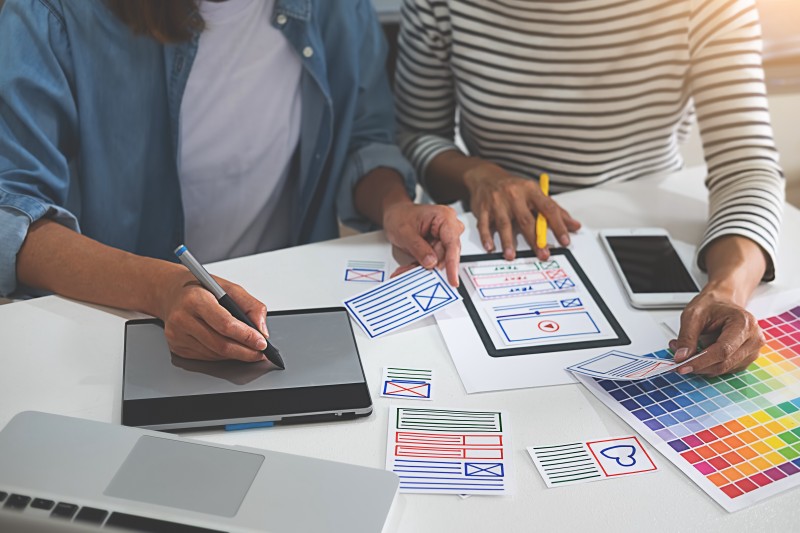 "What's in a name?"
William Shakespeare had said this in one of his legendary classics.
Had he been alive today, his take would've had a different note –
"It's all in a name!"
Well, that's how the digital world behaves today. Even he'd have had this influence of mobile apps and most of his literary works would bear digital makeover! Any more guesses?
Yes, All the apps and tools are known by specific 'NAMEs' only.
No Names.No Identity.No Business.
Today, I am taking you to the world of Mobile apps and tell you what are the top 'Names' that are trending this year,2021. We will discuss some top tools used for mobile app wireframe design and their basic features.
A little Intro on Wireframe Design Tools
Mobile App Wireframe design tools help business clients, prospects of a Mobile App Development firm to get a basic understanding of the proposed app, how it will work, and what way can serve the purpose. Wireframe tools allow UI/UX designers, developers to work in coordination and mock-up the basic look of an app- headers, texts, labels, graphics, and the likes. Thus, Wireframe design is dedicated to easing the process of mobile app development by providing the preliminary outline of the very app. Some of the popular Mobile App Wireframe Design tools that are widely being used in 2021 are:
1.Axure RP
Axure RP 9 is a powerful tool that instantly designs an advanced level of click-through wireframes, site maps, visual diagrams, user flows, and is developers' favorite as it is all without code. You can download a free trial and find out why developers choose Axure RP. Its robust, broad interface makes this tool unique, popular among users. It has a big collection of built-in widgets, varied UI elements, and documentation tools that facilitate choice-making for designs and documentation of wireframe designs. It lets developers adding annotations to wireframes to store project-related information as well as specifying the functionalities. The easy-to-use, drag-drop interface facilitates the smooth transfer of elements from the already available inbuilt library. What more, you have a choice for its usage – either use it on-premise or Cloud, all these attributes make Azure RP a convenient choice for team projects.
Features –
Projects are password-protected
System of check- in/check-out
Unlimited animations
Views in adaptive mode
Annotate diagrams & prototypes
Has conditional flow
Platform – Mobile
Development Cost
Pro Plan– $29
Team Plan– $49
2. Pen and Paper
This type of wireframe tool is provided for free. It's a free, open-source, Graphic-User-Interface prototype tool that anyone can use easily. It's just like pencil sketching and guarantees an incredible user experience. Because everybody knows what simple pencil sketching is. Yes, that's the crux.
Features –
Open-source tool
Easy to use GUI
Suitable for small projects
Easily available
Platform – Mobile, Desktop
Development Cost
The free version is free to download
3. Adobe XD
One of the most favorite design tools for wireframing!
Features –
Viewing & inspecting of sub-range texts
In shared links, grid view
For development links, unified share
Presence of document
Commenting option available on mobile web prototypes
Platform –Web MacOS, Mobile, Windows, Android, ioS
Cross-platform Creative Cloud integration Advanced features
Development Cost
Adobe XD – US$9.99/mo
*Other Creative Cloud plans and Pricing available.
4. Justinmind
JustinMind is a prototyping tool that is capable to create a high-fidelity wireframe for mobile apps. Its responsive prototyping allows adaptation to varied screen resolutions. Its plus point is that it comes with various guided videos and tutorials from beginners to advanced level learners and allows them to work even offline. It is compatible with both platforms – mobile and desktop.
Features –
Drag & Drop Interface
Highly Customizable
Responsive designing
Android.iOS platforms
Exclusive gesture operations
Compatibility of 'View on device' with multi-user accounts.
Sketch & shapes.
Pre-built vast UI Libraries.
Responsive design.
No coding knowledge required
Platform – Mobile, Desktop
Development Cost
The free version is free to download
Paid versions for prototyping users –
Professional plan– $19/user per month
Enterprise plan– $39/user per month
Server on-premise plan – Specific quote
5. Moqups
Moqups is an online tool, a complete web-based platform, and is widely used for creating a wireframe design for web applications as well as mobile applications. A great advantage of Moqups is that you can work anywhere, can access across all operating systems, and as a user, you are connected throughout the app-design process.
Features –
Remote collaboration
Surf diagrams without switching platforms and apps
Ready-to-use stencils for all use-cases
Built-in-library of 1000+icons
Drag&drop images import
Scalable page management
Platform – Mobile, Web
Development Cost
Pro Plan — $16/month
Unlimited Plan – $49 annually (30%off)
6. InVision
Developers using this tool can create a vast, interactive prototype. It's easy for them to create a clickable and interactive Mobile App Wireframe faster.
Features –
Work-flow tools
Idea -Management
Team-Collaboration
Can integrate with other tools like Axure, Maze, Dropbox,etc.
Responsive designs for multiple screen sizes
Platform – Mobile, MAC
Development Cost
The free version (up to 10 active users)
PRO Plan – $7.95/month per user(up to 15 active users)
Enterprise Plan – Per seat pricing. No user limits.
Conclusion
Mobile app wireframes are an essential part of a mobile app development cycle. It helps determine how a particular app will be developed, which technology can support it, what'd be the structure of the app, etc. Mobile app developers can create better, user-friendly layouts for the final designs using wireframe tools that ultimately decide the fate of an application developed.
Not sure which wireframe design tool can deliver a better experience? We can help you to decide on a better one.