The artificial intelligence has become more significant for many business processes such as natural language processing, machine learning, deep learning, and chatbots. It plays a vital role to assist customers and helps to increase the conversion rate. They have become the advanced computing to every marketer's preference of approaches as holding an initial adopter can provide you significant benefit from customer support to reach more productivity.
What is chatbot technology?
A chatbot is a computer program developed to automate the conversion tasks, enabling devices to chat and interact with customers, as it helps in making devices to respond with customers via written text. It can answer questions formulated in natural language and respond as real humans would. Chatbots are developed with combined scripts and machine learning models.
It can learn on its own by repeated multiple conversions in the gain scope and relevance. The complexity of chatbot determined by the sophistication with underlying software, and data it can access.
 Chatbots in Human Resource Department
Chatbots are essential for every business to solve customer problems and provides product information. Many companies have arrived with the customer services division to help their customers by answering their questions. The customer services industry has transformed with chatbot technology and considered the future of customer support management.
At present chatbots, technology has occupied in every business along with Human Resources. Chatbot maintains the capability to perform the function of HR more important than being a little support role. Although chatbots have been successful amongst the consumer-facing businesses that accept them for necessary customer-service purposes, a number of HR solutions and service providers have also recently focused most of their aims on building chatbots.
Human Resource is the main department of any organization, as it maintains all employees' leaves, reimbursements, salaries and more. The HR administration is constantly overwhelmed with the responsibilities of hiring with the employees, correcting their complaints, conducting studies, accepting feedback and much more. There is a vast demand for advancement to make easy of workflow in the complete operations.
A chatbot can operate a significant performance in the human resources department to support the HR team in hiring employees. Developing chatbots can sort many problems in the HR department, as it helps to enhance productivity and make better operations with employees.
Advantages of deploying Chatbots in Human Resources
Chatbots helps HR departments by reducing the necessity to address explanatory emails and developing reminders to make follow up from HR. With the help of chatbot technology employees obtains company policies and access the relevant information.
HR chatbots help increase productivity and performance by promoting a particular query analysis. Chatbots learn from experience and interactions with users, the accuracy of the replies only allows up with time and consequently, the demand for human operators to move in decreases.
HR chatbots present objective, yet customized employee data about bonuses, wages, and company procedures. By acknowledging every basic question of employees directly and correctly, HR chatbots are increasing transparency and accuracy, thereby, impressing a sense of liability
Through HR chatbots, employees can ask instant feedback from their superiors and peers on presentations, records, and issues they have presented, on the very same day. What's more, they can also support unknown feedback to guarantee its authenticity.
HR chatbots can perform a vital part in making new employees informed with company procedures and culture. No matter how pleasant your onboarding method is, seeing infinite videos and performances in a span of a few days will not result in high retention of information.
Chatbots Technology Disrupting HR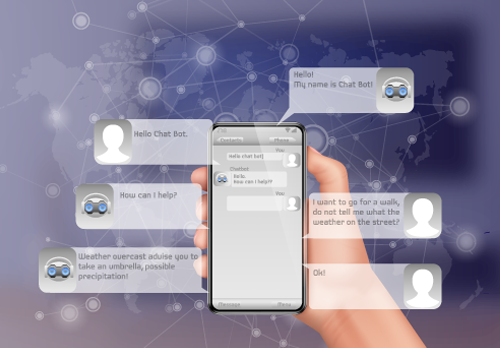 Recruitment
Integrating chatbot in the hiring process helps to make recruitment easier and speed up the hiring process by eliminating the bad candidates from the process. It saves time for busy recruiter by taking all the heavy jobs and a boring task can perform in an efficient manner.
Employee Training
The learning management systems can benefit from chatbots by providing additional data about employees. It can use that data to enhance the effectiveness of programs and store the content back to present updated information to users.
Benefits Enrollment
Chatbot technology is used in various ways in the Human Resources department. Benefits enrollment can be done more effectively with the help of chatbot technology, as it understands the process more easily and executes the required information exactly.
FAQs and Company policies
An Employee Portal is an inclusive avenue for employees to obtain and look up relevant organizational policy updates, and FAQs. A chatbot can support employees search for certain information at a much faster rate than sorting through records and data.
Onboarding
Chatbot in HR can request related documentation and onboarding stuff through a list of topics in a conversational interface. HR employees spend a lot of time allotted in onboarding, and a chatbot would encourage them to concentrate on how the employee is changing to the new job alternatively of dealing with the paperwork.
Conclusion
Based on the above points discussed, chatbots in Human Resource will be effective helpful support to the HR. It is clear that chatbots are incorporated in all departments and undoubtedly helps to enhance the efficiency of employees by allowing them to learn to experience and boost the productivity of the HR sector. Artificial Intelligence helps to improve the current business and chatbots becomes more popular around employees.
About Fusion Informatics
Fusion Informatics is a leading chatbot development company in Bangalore India. We develop chatbots for various industries including the HR department that brought significant transformation for their services. Being one of the top chatbot development company, we have implemented advanced techniques that made our customer business more advanced and it added a valve for industries.
Our chatbot developers are experts, have a capacity to build personal assistant that is ready to collaborate and operate with company needs. We develop an intelligent chatbot for your business that can interact with your customer on a real-time basis and can handle complex situations in a simple manner.
If you are looking for a reliable chatbot development company in India, Reach us at sales@fusioninformatics.com