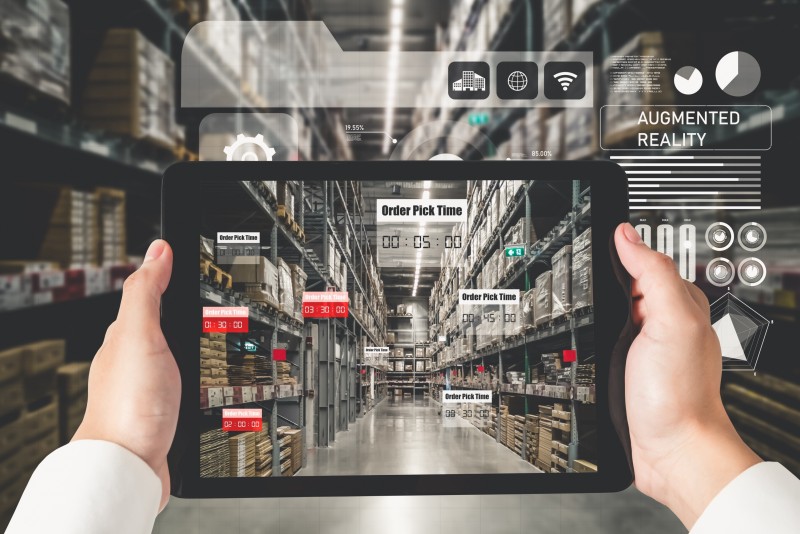 The retail industry is constantly innovating because it is primarily ruled by consumers' ever-changing behavior. When it comes to adopting new technologies or integrating within existing systems certain models, the result is an entirely new incarnation of the older version. Despite intermittent challenges, retail has seen a spurt in business over the years. In 2019, the global retail sales had reached $26.29 trillion, while in 2020 the global retail e-commerce increased by 27.6%, a massive $4.280 trillion (source: e-marketer, 2021). Today, advancements in technology have created greater avenues and innovations in the retail industry. We will see what are the latest innovations within the industry that were not existing till a few years back but are creating waves in modern times.
1. Facial Recognition Technology
Facial Recognition in retail has the capability of scanning multiple reference points on a particular person/shopper's face. Just like each person has unique fingerprints, similarly, this technology helps create unique 'faceprints'. This way, the technology identifies their unique attributes via respective 'face prints' whenever they enter shopping avenues. Like, until the advent of this technology, retailers could identify customers using loyalty cards, for example, at the point of sales only. But today, using facial technology, they can know beforehand the information about people when they come in-store. This way, they can deliver to them a personalized shopping experience.
The technology helps in-
Identify requirement in advance
Know customers' spending
Distinguish high-value shoppers
Loss prevention as it decreases shop-lifting
2. Geo-Location Technologies – GPS, IPS, and IoT
Another innovative addition is the location tech, the geo-location technologies like IoT, GPS, IPS, that are greatly helping retail in-stores today. These location-based technologies help to boost customer relations with intensely personalized communications leading to satisfactory business outcomes. They allow customers to select and order right on their mobile phones, and when they reach the store, they can get their purchases right there (staff waiting for them with those purchases). Customers receive them, try them ( apparel, for example) before finally buying the stuff. So, the tech allows staff to be alert as their customers enter the store. Combined with data analytics, the very location tech helps retailers to identify trends in specific geographical areas. This enables them to expand, position their stores in the proximity areas. Customers can navigate easily and find the exact shop they want to visit.
3. Robotic Store-Assistants
Autonomous delivery robots, or robotic store assistants, are finding rapid inroads towards the retail segment. Yes, robots have started interacting with customers in retail stores. This innovation has caught the eye of the entire industry such that in the global robotics market, which is expected to reach 87 billion USD by the year 2025(source: BCG), half of the share might go to the retail market only. These robots helping b2c and b2b retail business both. In the supply chain, these robots, who are laced with inbuilt 3D scanners, can check stock, can identify errors, if any, in pricing, as well as locate items that are misplaced. This facilitates retail businesses to optimize store layouts and processes (based on the data gathered by robots) leading to enhance customer experience. Further, they help customers navigate through stores and connect them to human staff members over video-conferences in case of emergency.
4. Augmented Shopping
Phygital is the newest version of retail innovations. Augmented Reality (AR), and Virtual Reality(VR) are some of the recent digital technologies that have come as an innovative inclusion within the retail ecosystem. As per one survey report, 61% of US adults feel that AR has greatly influenced their decision to choose where to shop. It works both the ways, live in-store retail experience, as well as online app-based and smartphone-camera based live in-store experience. For instance, this innovative retail technology is allowing customers to try outfits in an apparel store standing before the 'magic mirror' or the 'smart mirror'. No need to go to trial rooms now. Similarly, the very augmented shopping allows retail app allows shoppers to access products from a shop's inventory and, view them live, on their mobile phones, and try items virtually. For this, they have to install the very shop's app to capitalize on the augmented shopping experience. Customers don't have to physically try on outfits they want to buy, just superimposing items and sharing images with friends on social media, all these things are immensely helping gain a superb customer experience.
5. Cashierless Check-Out Stores
This is the latest entry to the innovations in retail and can be understood from Amazon's 'Just Walk Out Sytem' on Amazon Go retail stores.COVID-19 has further given an impetus to this retail innovation because the entire concept entails a touch-free shopping system. Customers can now walk out of a store after purchasing their stuff, and those items are automatically scanned, and the amount would be debited from their respective accounts while checking out. So, this retail innovation talks about the contactless, Cashierless, automated self-checkout options. As per a report by McKinsey, the very innovative, IoT-enabled retail checkout system, or, Cashierless stores, can help retail businesses to save from $150billion up to $380 billion every year, by the year 2025. How? Because 75% requirement for cashier-staff will be reduced by the automated check-out system.
6. Voice Commerce
Voice Commerce is one of the most favorite and usable retail innovative technologies ever as of now.APPLE's product called SIRI or AMAZON's ALEXA, Google Assistant, all are enabled with voice technology. This voice-enabled technology allows users to give voice commands for retail shopping searches, price comparisons, product searches, etc. over smart speakers, and not just smartphones or mobile phones. As per a survey, nearly 60 million people own at least one smart speaker system in their homes. And as per forecasts by Juniper Research, voice commerce technology will grow beyond 80 billion USD, by the year 2023.
7. AI-Powered Product Recommendation
Retail innovation is incomplete if we don't mention the massive inclusion of Artificial Intelligence in varied domains. AI-powered chatbots, conversational bots can now directly converse with businesses, customers and facilitate a seamless customer experience. As per Servion Global Solutions, AI will empower 95% of customer interactions by the year 2025. Currently, retail is being powered with product recommendations, Scan & Go Shopping, Facial-Recognition, Voice Commerce, all are using massive AI capabilities for their unique functionalities.
Conclusion
Thus, technological advancements have always triggered innovations in the retail industry from time to time. Adopting digital tools and technologies, retail has always been upbeat about the latest innovations that would empower them with massive capabilities to soar in the market. Physical in-stores, digital space as well as Phygital are the apt words that can describe the way retail is existing today.
Interested to know, how innovations in retail can empower your business?Contact our Experts.