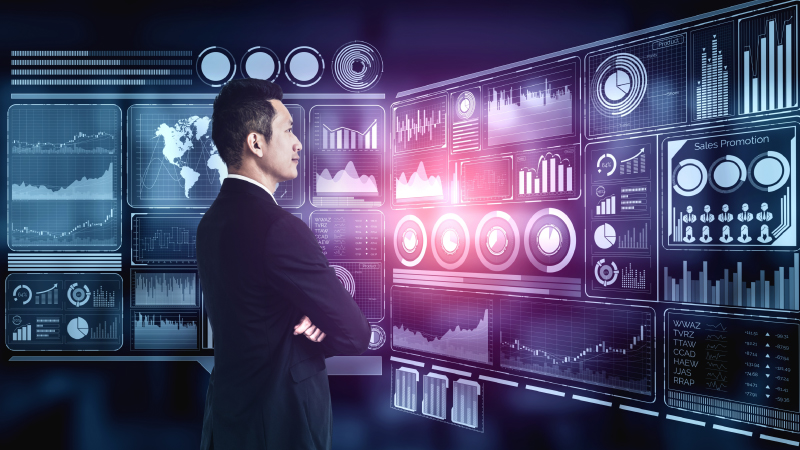 Data is the most important asset of the retail industry. Data is useless if it does not help companies to make smarter decisions for business growth. As consumer behavior is evolving with time, it depends on how data are helping retail companies to get relevant business insights, improving customer experience leading to enhanced business outcomes. Predictive Analytics is the AI /ML digital tool that works on data to derive valuable insights and predictions, forecasting sales thereby helping retailers to plan 'What Next' moves. How Predictive Analytics can boost the retail industry? How is it helping retailers to generate sales and have a competitive edge in the market? We will discuss all these points in this blog today.
1. Product Demand Forecast
As a retailer, you want your business to expand and products to connect with your target audience. If you know what does your target audience demand and their preferences, your products will never be out of stock or understock, right? To keep your business running smoothly, predictive analytics helps to forecast the demand for exact products your target audience wants. The technology helps to ensure that you have enough items stocked to sell and can meet demands adequately and can predict your profitable months as well as sales deficit. It means predictive analytics helps retailers to assess demand and sales performances. Product performance can be gauged by indicators such as sales margins, the number of units sold besides other metrics. It helps to improve consumer engagement and satisfaction.
2. Pricing Forecast
Pricing forecasts is a major functionality of predictive analytics that uses real-time capabilities of machine learning, and data science technology, to bring out adequate answers to questions that as a retailer you'd like to know in advance. Few sample questions that predictive analytics can forecast regarding pricing elements are:
For maximizing sales what's the right price point?
What should be the frequency for running price-based promotional activities?
What should be the optimal attainable price of a customer?
How the competitive pricing will impact sales?
Apart from the above factors, weather forecasting, real-time sales data also help to alter as well as induce the most perfect pricing part (best pricing ).
3. Managing Inventory
As we have mentioned earlier, too, how predictive analytics helps in estimating product demand and what your target audience wants, it also helps towards managing your inventory properly and up to the mark. A poorly maintained inventory leads to a loss in sales. As a retailer, you will never like to hold on to those products that are not yielding sales. Moreover, you will always want to replenish stocks that your consumers want to buy. Predictive analytics helps to predict demand for products that help you to manage your inventory.
4. Marketing Campaigns
As a retail business, you need to prioritize marketing campaigns from time to time.  Your business needs a powerful marketing plan that helps to boost your business potentials driving the best ROI. An inefficient marketing campaign management leads to a poor ROI because you cannot estimate the right budget and varied inaccurate calculations done on your part.AI-ML digital capabilities of predictive analytics help you to gain actionable marketing insights, and suggest you adopt individual campaigning for a specific target audience and be more budget efficient leading to maximum conversion of leads.
5. In-Store Optimization
Predictive analytics helps in online monitoring of shopping activities, as well as in-store data analysis. Varied digital tools & technologies, IoT sensors, and surveillance cameras that are installed in retail stores, on product shelves, help to monitor the shopping activities of varied consumers. The technology helps you in the following ways:
You can identify your shoppers' favorite routes throughout the retail floor
You can identify and distinguish popular, most searched products on varied shelves
You can count the total number of visitors in your shopping zone at different times per day
You can adequately calculate the average visit time of customers
You can genuinely monitor queues
Predictive analytics helps you to gather these valuable insights. Using these insights, you can configure store layouts, plan the schedules of your staff, can distinguish the ideal opening hours of your retail stores, reduce customers' waiting time in queues, and increase the high level of security.
6. Shopping Cart
 If you own an e-commerce retail store, you can leverage the massive capabilities of AI-ML-powered predictive analytics to optimize your online store, product categories as per existing online shopping carts of consumers. For instance, your customers while browsing your online shopping stores may come across products they like so much. They save them, add them to their shopping carts. When they don't buy them,  predictive analytics tracks them and lets you know why they didn't buy and how you should respond to this kind of situation in the future.
7. Social Media Marketing
Social media marketing, online advertising are important segments of retail marketing. As a retailer, you'd think social media marketing involves greater expenditure than offline advertising. But using predictive analytics, you can manage these upfront costs and invest in social channels where you gain the maximum outreach and visibility. Predictive analytics can help you maintain a strong social media presence. You don't have to stress regarding unreasonable expenses because the digital tool helps you to invest smartly on those social channels where you get the maximum ROI and prospect of acquiring new customers.
Conclusion
Predictive Analytics can help to predict the future of your retail business. Whether you are an online retailer sharing an online marketplace with bigwigs or small start-ups in the offline retail space, predictive analytics helps you to extract valuable actionable insights for your business outcomes in the right direction. The aforementioned AI-ML-powered digital capabilities of predictive analytics are just a few significant use cases in the retail industry. There are many more benefits yet to unfold. Stay tuned to this space and we will have further elaboration on this topic with detailed analysis.
Are you a retailer in the e-commerce industry or a physical retail store and changing consumer behavior bothering you? Want to know how predictive analytics can help you solve this challenge and grow your retail business?? Reach us.