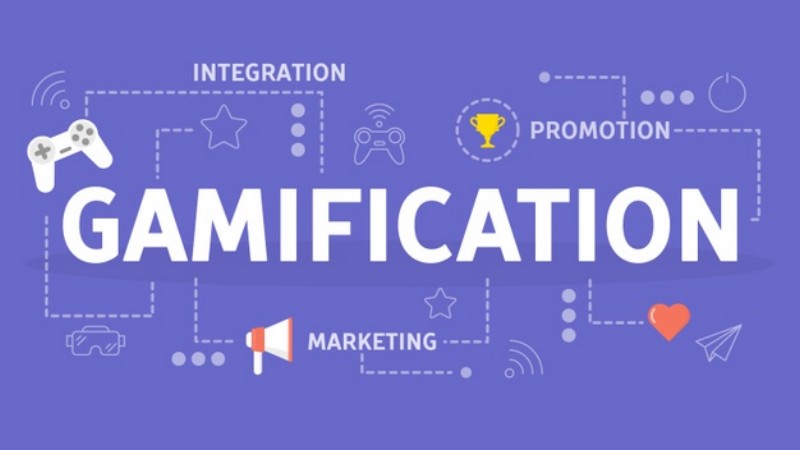 If you are an entrepreneur or an SMB vying to build an app, you need to focus on varied aspects that can fetch you the desired bottom line. One important aspect is to attract, and retain users' attention! How? Don't let them feel bored. Attract, hold, and keep them hooked, forever. Millennials and GenZ need varieties in their platter. They just don't want to stuff their mobile storage with unwanted apps. To find a permanent location on their mobile, you give them out-of-the-box entertainment and rewards. That'd certainly help to boost user's engagement as well as retention. This is called the gamification strategy, which involves your customers' engagement as the prime objective. But how can gamification boost your users' engagement? And their retention as well? We will discuss this now.
What is Gamification?
Gamification is a concept and as the name denotes, some sort of interesting, captivating 'games' and 'game-like elements' are associated with it.
How do you reward your employees when they perform well? Don't you give them accolades, rewards, awards, incentives, paid holidays, and a lot of surprise gifts? Do you think they will leave your company? No way. That is the strategy to hook your employees to you, pepping up their spirit and retaining them, and focus on your business goal. A similar concept applies to your app strategy when it comes to attract, engage, retain your app users. Thus, gamification is an important marketing tool that intends to drive a higher value quotient for your applications. Be it a web app, mobile app, native or cross-platform apps, or website, boosting the engagement levels is the key task of the developers. It is not actually playing games and subsequently gathering points, but the underlying 'gaming thematic' aspect is used for the overall application advantage, to drive users' engagement leading to retention.
Top Ways to Use Gamification
1. Contests, Giveaways, Rewards
Attracting new users is your ultimate goal. As an app business person, your goal is to attract new customers, new users who will download your app and install the same. With contests, giveaways, and rewards you can attract multiple first–time users encouraging them to install your app onto their mobile phones. You offer them rewards if install the app, and then extra rewards if they suggest referrals. Moreover, you can also offer them a first-time buyer reward. Could be a 20%,40% discount if they sign-up, or, on their first order? Creating some contests kind of gamification strategy will compel them to give their email address, name, place, etc. to use the app!
2. Elements to Educate
Why don't you use gaming elements to attract and educate your potential customers? Means, your app users. Suppose you are a financial service provider, you want to attract new customers. So, instead of creating a full-fledged advertisement to allure them, why don't you create a compelling online game aligning your business area(finance-related)that will allow users to play? The very game might involve applying minds making some appealing investment decisions, build a financial empire, and so on. This game will help educate your users in the process of playing. Thus, gaming elements are used to educate your app users in whichever business domains you belong to. You can promote engagement by rewarding them with more points, discounts, on using your app frequently.
3. Fun, Informative, Promote
If you are a retail company, you'd want your product to reach your potential users who will download your app and use it. But, is that easy? For instance, if you want to promote your shoe brand, and you offer a gaming app that incites users to play following instructions, in the game, users or the players will come across the type of shoes and which one is the long-running pair of shoes that can make them run faster in the game and win. And once they win, they will score points! That's the key gamification strategy here.
4. Building & Engaging Loyal Customers
You can think to apply gamification theory/strategy that if users are shopping with you, you can reward them by allotting certain points to them. This is a way to keep them upbeat about your offer and become your loyal customers, leading to their retention. Just do not rely on loyalty points for retaining customers or app users, use certain gamification elements that'd create excitement and fun for users to engage with your app. Digital lottery games, for instance, and scratch & win competitions can be hugely implemented, by just sending a link to your customers in your loyalty program.
5. Winnable & Easy To Play
When you are planning for gamification, make sure the games you deploy are easy to play in nature, as well as someone does win! Users should feel engaged and want to finish the games and in return win something. The underlying tone should be efficient enough to engage the existing app users and reactivate the lapsed ones.
6. Social-Media Friendly
Incorporating your social media pages within the games deployed can boost your app usage and brand presence over the social media channels. There are so many games on social media that lead users/players to share results online. This makes your users engage and follows instructions automatically. You can reward certain points to them if they follow, share your brand through your apps-based gamification strategy.
Conclusion
Thus, by determining what your users get out of your gamification process, you can increase your users' engagement and boost retention down the line. Gamification elements have a simple motto – Making your conventional platform, the very app, more fun, more exciting, and of course engaging by adding a gaming edge to it.
Interested to know how gamification can boost your app business and retain your app users?Contact Us.