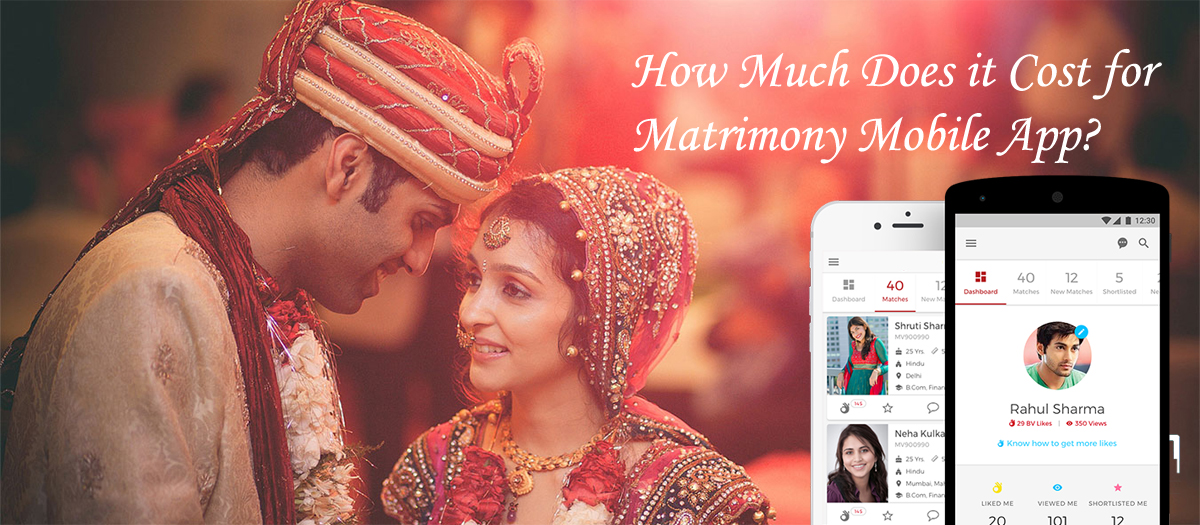 About – Matrimony App Development Cost
There is no doubt that we are truly heading towards the future, as a proof we can see we humans are very much dependent on smartphones and application. So when two people really fell in love, they definitely want to stay together for the rest of their lives and this in another form is called marriage.
As we can remember our parents used to hire agents or brokers to find a suitable match for their son or daughter, but now they don't and don't have to give their money and waste their valuable time on these time consuming things because there are several marriage sites, matchmaking mobile apps, and best matrimony apps to help you in this way and this is the reason why matrimony businesses are increasing and want to know the cost of matrimonial app development to make themselves as a best matrimony app service.
To provide a definition of love, people tend to tie the knot as a bond with their loved ones. So, in this world of technology where everything is available online, why isn't marriage also on the list? The Matrimony website and the Matrimony mobile apps have all the necessary information about brides so parents get every little detail what they are looking for. There are a large number of profiles to look at.
In order to register for a marriage website and the cost to create a matrimony mobile app is too simple. You can find matrimony websites and mobile apps that provide free membership while some other sites provide free and paid membership with both gold and premium packages. You can also register on behalf of the bride or groom or parents can register on behalf of their daughter and look for a partner who is suitable for their son or daughter.
Matrimony like app development cost is estimated on many factors that we will discuss later. Fusion Informatics is the best matrimony apps development company, known as matrimony app development service provider and around the world offered to leading matchmaking companies and prospective internet startups.
Matrimony app – Does it Worth to create a matrimony mobile app?
We are living in 2019, and today the matrimony mobile apps have taken the whole world by storm because of their favorable features.
There is no doubt in the fact that it requires a lot of searching and decision making to find that 'perfect partner made in heaven'. This seemingly easy process can give someone a very difficult time, especially if he has no feeling about how to go through this whole process. Marriage applications can be the best choice.
With the help of such applications, anyone can find all the information needed about the match that caught his attention. With every detail, every minute of the candidate matches available at their fingertips, decision making on their part will be easier than before. But the cost to make a matrimony mobile app with such advanced features might cost you more if you have planned to get one matrimony app for your matrimony business.
One of the best parts about these marriage applications is that this application is very easy to install. Registering on a marriage website is also not at all difficult.
When did these Matrimony Apps begin?
These matrimony apps have started in 2014 – 2015, the initial concept of the matrimony application have seed in India and now it has become a giant tree, when a well-known market research and analysis firm named Frost & Sullivan reported that several online matchmakers in India produced more than 4 million marriages in the past decade.In that initial stage the cost of matrimonial apps development and cost to build a matrimony website were very cheap compared to the present scenario. Of course the current matrimonial apps are equipped with more advanced features, making it pricy compared to 2015.
In fact, seeing the ongoing demand of these applications, it can be said that there is a very bright future for those who have planned hire matrimony app developers to invest in the matrimony business. Now, if you want to make your own mobile app for matrimony, then this blog will take you through various stages of Matrimony app development cost or matrimony app script. So, let's move to the next part.
Why matchmaking business should create a matrimony mobile app
By developing a Matrimonial mobile application, you can allow your audience to find their matches easily by signing up for a wedding application and filling out forms for profile creation. Thus, the application will start functioning, displaying profiles that are suitable for application users. There are various significant benefits to developing the application, such as:
With this application, you can make it easy and convenient for your customers to find partners in their castes and communities.
Having an application will attract more viewers because here they will be able to browse so many profiles at once.
Profile security & security can be ensured with a feature-rich mobile application.
Apps offers a good source of advertising and marketing.
Leading and Best Matrimony apps in the market
Jeevansathi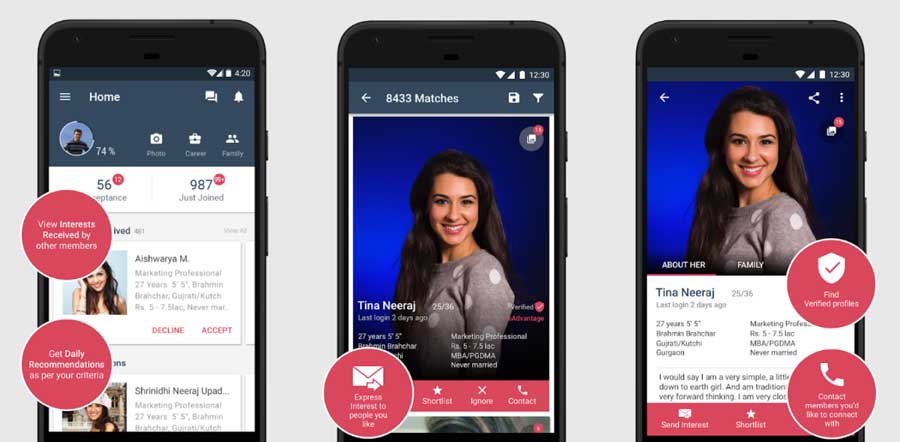 Jeevansathi is the oldest and most trusted marriage service in India. The website exists for around 12 years and has a presence on all leading mobile platforms. You can create your profile, upload photos, enter the Desired Partner Profile and then start looking for a partner. You can check photos, profile details, and telephone numbers to call.
Shaadi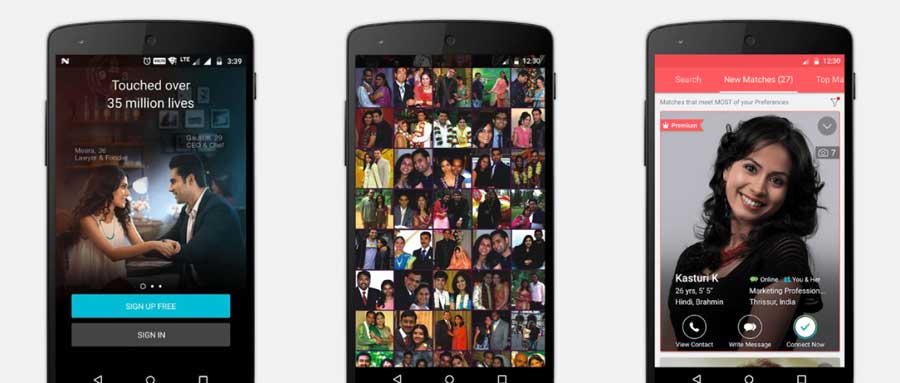 Shaadi.com is another popular matchmaking service that claims to be able to make new matches in every 2.4 seconds and produce 5 million success stories. It even offers services same as to Jeevansathi. This application allows you to create profiles and browse profiles based on several criteria. You can control your profile data too. This application has instant messenger to talk to someone you think is interesting. The cost of matrimony apps development is entirely dependent on the features like basic and advanced. Shaadi has equipped some advanced features, making it a more expensive kind of matrimony like app.
This is an India based site and is the largest in the world. It has branches in Canada, the United States, UAE and the United Kingdom. Besides their online support, they also have more than 100 centers to solve their problems related to marriage. This matrimony application is available for iOS and Android users.
BharatMatrimony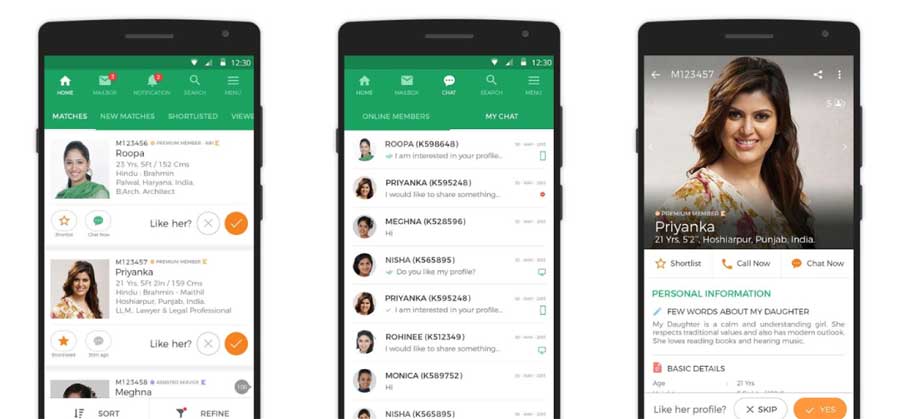 The BharatMatrimony application is the official application of BharatMatrimony.com. This is also a popular marriage portal in this country. With this application, you can register and create your profile. Then you can search for matching pairs, filter results, and save favorites for future viewing. This application uses GPS to find people close to your location. You get a notification when something matches your criteria.
The mobile application is available for this site that will help you search and stay in touch with the partners you find on this site. This site is available in various languages ​​such as Kannada, Telugu, Tamil, Hindi, etc.
ZindagiMatrimony
This is also a matrimony application that has been serving Indian viewers for a while now. You are given free time to find attractive partners through their sites and choose from activities and text plus offers various types of packages. People from various backgrounds are available that increase the chances of a match.
Way To Nikah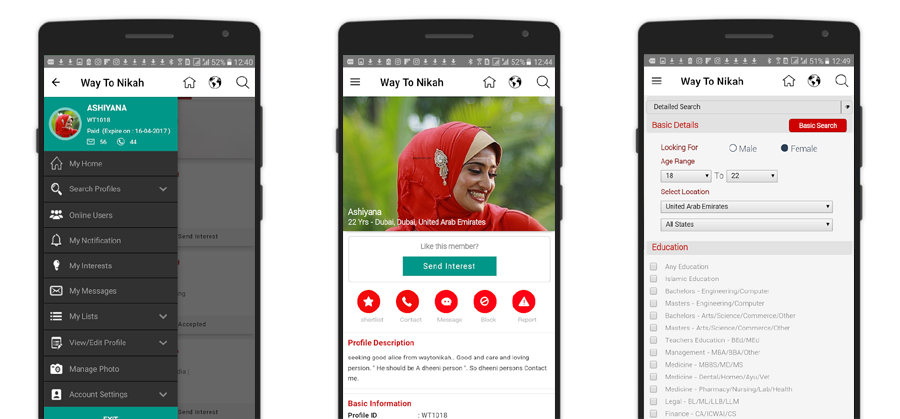 This site and its application suit well for you if you are a Muslim and are looking for an Islamic matrimony, Muslim matrimony to help you. Not only India, but Islamic matches around the world are available to choose from. If you are looking for halal which means being certified by the Quran dictates this site will be very helpful. And this site also offers 100 percent privacy of your personal details that you will share with them.
Chavara Matrimony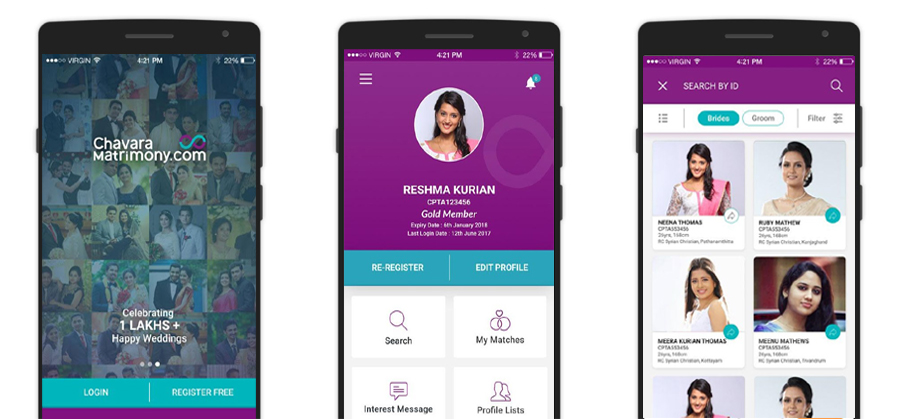 This site and its application perfectly suit for you if you belong to Christianity. It was looked after by Christian priests. This became very popular across in South India.
Features to be added if you make a matrimony mobile app of your own
There are plenty of features that are played considering the accessibility of matrimony app. Choosing the right features is one of the main determinants when considering the overall success of a match finder application.
Basic Features
Some of the most important basic features to add to your matrimony application include username, login, horoscopes, upload pictures, partner preferences, profile verification based on contact number / email ID, personal details, astrological compatibility, customer profile verification, profile management, notifications, application program management, gateway payment integration, reporting, etc.
The cost of matrimony app development depends on the features added and marriage app developers, here's a list of features based for the user and admin panels:
User level:
Sign in
Profile Creation
Create a Partner Profile
Set Compatibility Preference
Upload your image
Add Horoscope
Browse Profiles
Advanced Search
Check Horoscopes for Selected Profiles
Real-time Chat with Contacts
Membership Package
Notification/Alerts
See Success Stories
Admin level:
Sign in
Making Customer Profiles
Dashboard
Manage Customers
Manage New Invitations
Manage Affiliate Programs
Manage Success Stories
Membership Package
Promotion
Smart search
Secure Payment Gateway
Manage Notifications
Advanced Features
Looking to maximize the engagement of your matrimony mobile app user? Then you have to adopt these advanced features, but the matrimonial website development cost or matrimonial app development cost with advanced features will be more than the basic version of the application. It's time for you to include some of these advanced features in your application.
Upload Images: One of the most important features of the matrimony application is that it allows users to add images from the library. In this way, users will be able to upload their photos on their profile and also share them with profiles that have caught their attention.
Search and Filters: With 'search and filter', you can help users find partners that match their personal preferences and needs.
Save Favorites: There should be an option to save favorites in your matrimony application. This feature will help users save profiles of prospects that have won their interest.
Chat Integration: Integration of the chat API can be a great way to allow users to communicate with other users to reach a level of understanding.
GPS integration: Actually, there are several advantages of combining GPS integration in a marriage application. By using an option called 'city search', users can start searching in and around their chosen location or city.
User Blocking Feature: The user blocking feature is important because it allows users to block profiles of other users who will try their patience with unnecessary interference.
In-app cameras: With a feature called a camera in the application, users can directly click on their images and share shots with other profiles.
Push Notifications: Include push notifications to keep users updated.
Data Security: Data security is a feature that must be owned to maintain the security of your user data.
Multiple Payments: The ideal matrimony mobile application must have several payment modes, including PayPal, Credit / Debit Cards, Braintree, Stripe etc.
Apart from the features mentioned above, you can also include some more sophisticated features for your matrimony app clone such as third-party APIs, activity feeds, ratings, social sharing, news, reviews, etc. And the cost of making a matrimony mobile application that is equipped with the above-mentioned features may cost around $ 30,000 to $ 35,000.
How much does it cost to create a matrimony mobile app?
There are various factors that influence cost to develop a matrimony app          and here we areing to discuss everything in detail, so you get a clear understanding of the budget you will need to develop your custom matrimony application. Pay attention to the below points.
Matrimony App Development Platform
If you plan to develop a marriage app, you must choose the ideal platform first. Decide whether your application needs to target Android users or iOS users. If you have a very good budget, you might get an application developed on these two platforms. In addition, cost of matrimonial app development for iOS app is relatively cheaper than the cost of developing the Matrimony Android application, because the iOS application requires fewer devices to be tested.
Application Design
It is said like design is the King where Feature is a Queen, so with the matchmaking application, you must desire to serve a large number of viewers. For this, you have to make your application really interesting, so pay special attention to the design of the application and besides making it attractive, it also ensures that it's easy to use. Now, combining attractive designs will certainly add to the cost, but it will definitely be feasible.
App Development Team
So the development cost of a matrimony app will also depend on the geographical location of the developer you choose to develop your app, their level of experience & expertise, etc.
The strong development team is very important to make the application stand out in the competitive market. To choose the best from an application developer, you might need to increase your budget a little, but it's definitely worth it.
Payment integration
It is the best feature, if the integration of mobile wallet into your application will certainly increase costs, but will also remove all the hassle associated with payment. This offers a number of real benefits to the user.
Stack Technology
It is recommended to choose the right technology that can always help you improve the overall efficiency of your matrimony app.
So I hope that you got an in depth information about what matrimony apps are and cost of matrimony apps and so on. There are a lot of opportunities if you want to build an amazing matrimony mobile application. To develop matrimonial mobile applications, ensure that the company has dedicated a team of developers, Project Managers, designers & QA Examiners and uses the latest technology to develop matrimonial app designs. This is very important to ensure the success of your application.
Fusion Informatics can be your best choice as a matrimony application development partner. Our development team, designers and testers for iOS and Android matrimony app developer are equipped with the latest technology trends that you can expect from us. We are leaders among the list of matrimony mobile app Development Company in India, Bangalore, Ahmedabad, Mumbai, Noida and Gurgaon.
Get your dream come true Matrimony apps with Fusion Informatics. Contact us at sales@fusioninformatics.com