Fusion Informatics is one of the leading mobile app development company located in USA. The development of mobile apps comes from a creative idea where our developers are capable to develop any complex mobile app structure with a simple design that makes your customers attract and install. Fusion Informatics is one of the top mobile app development companies in the USA in developing and deploying advanced mobile apps.
Our expertise places in creating mobile apps for various devices such as Android and iOS. Being a best mobile app developer in the USA, we partner with many startups that come in with several impressive designs for mobile apps. We have over years of experience and a noticeable name for implementing mobility solutions and generating exceptional mobile app.
Top Mobile App Development Company in USA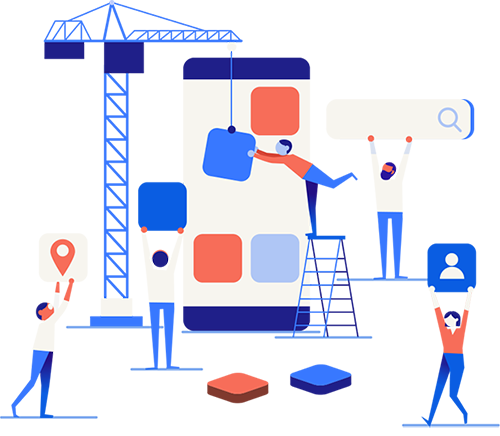 We are specialized in developing a mobile app that creates higher visibility and branding for your business. Our development process is held to design feature-rich and elegantly created mobile app can make an effective brand model for your industry.
Our app developers build mobile apps that provide an effective target location for specific users with the help of Geo-location technology. The distinctive design of our mobile apps can support markets to bring customers into the business.
As we know that customers are always looking for a responsive design and user-friendly navigation without errors that our mobile app allows the user to experience the responsiveness while interacting with the mobile app.
We are the best and top mobile app development company in the USA that we are capable to build a mobile app that helps your customer to reach your business without any failures for any queries, issues, and feedback from their living place through chat messages.
Mobile App Development Services
Android App Development
Our experts capable to create customized solutions for Android app solutions that are robust and reliable in functions. The team is proficient in implementing innovative ideas for our clients, they perform with deep research and analysis to reach customer demands and market goals. We will support you to develop an Android application that is scalable and strong and is created with a UI that matches the best apps in the business.
iPhone App Development
iPhone App Development solutions delivered by Fusion Informatics are leading throughout all the advanced technology in iOS. We are the best iPhone App Development Company in the USA serving various industry areas with our excellent iOS services. We are specialized in delivering the custom iOS app development services to enhance your business and boost sales. We are experts in providing solutions for multiple business verticals whether they are startups, medium and large enterprise.
---