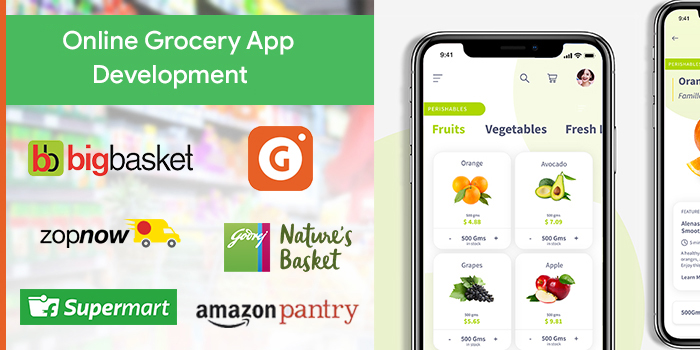 Online Grocery App Development Company
Mobile apps essentially changed nearly in every viewpoint of our experiences. From ordering food, cab booking, checking bank account balance to renting cars, etc has become everything mobility. The daily activities of human beings have changed by 80 % because of mobile apps that affected to make things easier. Peoples started using smartphones to get the information from the internet and use to socialize, learn and play games. We'll also need a look at what a prospect with mobile apps strength looks like.
As per the survey report from statistics, there are more than 5 million apps are available in the store and still reaches more within 2020. Ecommerce famous apps like Amazon, Flipkart, and Myntra, Grocery famous apps like Big Basket are expanding the business by using mobile app technology that helps to reach a wider audience globally.
Presently, the retail grocery business is on the edge of digitalization and market divisions are now being distributed among the ones who replaced to perform the advanced technologies to allow greater customer service. The business can adopt mobile apps that achieve huge profits and builds strong customer loyalty.
As award-winning mobile app development companies, we hold the expert developers to leverage extensive app strategies to perform analysis on food retail industry app expertise and recognize ideas to develop grocery store apps. As being the best grocery app development company understands the intention of every client demand and draws the plan that suits for better customer conversions.
How can a grocery shopping app improve your business?
In the modern age of mobile technology, it has become essential for all e-commerce stores to adopt mobile apps for user convenience. This extends the scope of your business and performs it simpler for users to buy from comfort living. This is what grocery stores ready to spend in expanding a mobile app for major devices such as Android and iOS. In the system to be expected and to stay in the competition, an online grocery clone must hold mobile app.
The hassle-free shopping experience is a clear idea for the popularity of grocers apps between users. It is very easier to browse through an app to choose and place an order all the grocery items rather than to reach the store physically.
For developing an online grocery mobile app, companies must analyze the user's demands. Users spend most of the time with a smartphone, where it helps to increase business visibility if the business adopts mobile app. Businesses should concentrate on developing such a mobile app where users get all the necessary information in the least time. Companies can send coupons, discounts, and offers in their mobile app directly user inbox. It will encourage users to collect money and also they would prefer to allocate more time on mobile apps.
The Grocery mobile app development services help to collect user behavior that helps companies to sell the best product in which users are looking for by recommending products through display Ads. A grocery store app will render you with all insights that can make better decisions to improve business sales and productivity.
Customers have choices that they prefer to store in mobile apps. These decisions could be storing a username/password, only seeing certain brands, buying at a particular location, and so on. It helps to provide more personalization by implementing mobile apps in the business.
In the competitive market mobile apps definitely plays a vital role that offers tremendous opportunities to expand the business. This might also derive from the experience that the customers are ordering on mobile app by experiencing user interface. Not only user looking app for ordering but also expect to a simple structure with user-friendly features.

Grocery app features User panel
Registration – Users can register and login in app entrance in simple methods with social media accounts and email accounts seamlessly.
Search Option– User can browse the particular products they preferred based on categories, prices and brand names.
Schedule Delivery: The app allows the user to order the products they required and can make scheduling the particular time for receiving products as per convenience.
Deliver Tracking– The grocery app development creates an advanced feature to track the delivery details of arriving with real-time tracking.
Order Management: This appears as a prominent device for putting the orders in a highly favorable direction. Customers can simply tap their previous order and can repeat the order when they required.
Payment Features– After ordering the product and can collect in the cart to make payment within their mobile app securely without any disturbances of errors.
Customer Review -Each product contains relevant reviews that help users to make shopping safely to buy after reading reviews and ratings in mobile apps.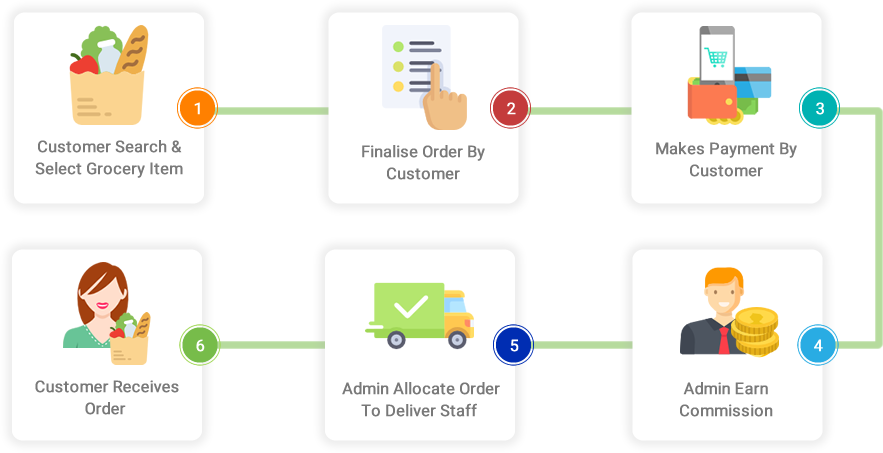 Grocery app features Admin Panel
Dashboard – The admin can manage every activity done by users and delivery boys securely. This is a platform helps to drive the performance of each order and can obtain insights.
Store Inventory– This panel helps store peoples to inspect every product availability and can make an order to replace the existing one.
Task Managers: This feature helps store managers to ensure the progress in the store is in a manner of operating smoothly. This helps to build customer loyalty reliably.
Allocate Order: It enables the supervisors to distribute distinct commands to the grocery markets and secures that all the methods are performed in a smooth direction.
Payments Control– It helps to manage and accept the payment models that are transparent to new discoveries for expanding sales.
How Much Does it Cost to Develop an Online Grocery mobile App?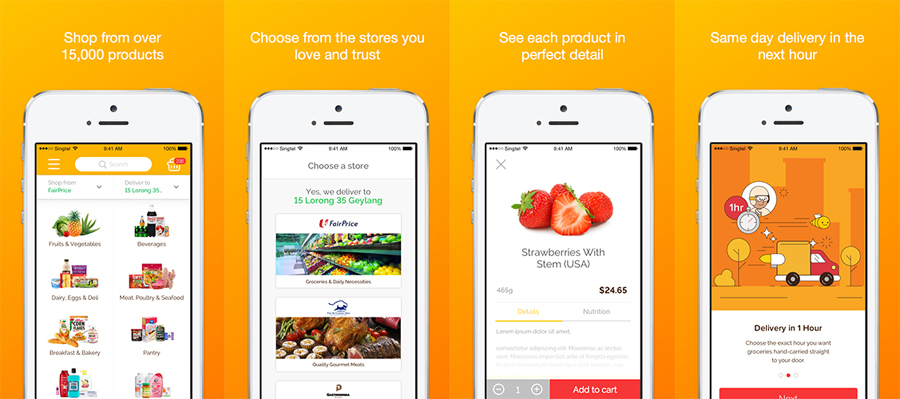 The development cost of the grocery delivery app essentially depends on many factors and functions. The detailed estimation of grocery app development cost comes with various designs and features involved in it.
The Grocery App development cost varies based on different devices; Android grocery app development costs approximately higher than the iOS grocery app development, it mainly has more things to be examined.
The Cost of App development for the Grocery store varies on the type of design choice and it is significant to choose a unique design that helps with business, users engage more and make more purchase.
Grocery like App development cost varies with a skilled and qualified developer is important as his location and expertise also affecting the development of the mobile app
The e-commerce app cost for Grocery varies on the user profile, their shopping carts and order records, ratings and reviews, are the basic innovation that obtains time and affects the overall expenses of developing an app like this.
Cost of an app like Grocery differs with hallmarks like data sync, geolocation, booking/delivery calendar, push notification alongside OTP evaluation, data travel, in-app calling/messaging.
Conclusion:
On-demand grocery apps like big basket are in demand and reaching a wider audience globally to target in multiple regions. However, emerging, such an app is a challenging task, if you do know how to start with an idea. Choose the right app development company that provides the best solutions for your business needs.
Fusion Informatics is a leading mobile app development company provides complete mobile app development services for both Android and iOS platform. We are a crew of extremely passionate mobile app developers, directors, UI/UX designers, and Quality team. We have an experience of 18 years in developing apps for grocery stores and ecommerce business.
Hire our best mobile app development company that we are creative and provides best solutions for grocery store needs. We provide services in various countries such as India, USA, and UAE. We provide top-notch services for on-demand grocery apps with unique expertise implementing our experience in generating various on-demand solutions with the latest technology combined.
Being the best grocery mobile app development company, we help our customers in providing Solutions with innovative technology with the relevant app development process.
Reach us at sales@fusioninformatics.com , If you are looking for a reliable grocery app development company in India, USA, and UAE