About Grab Taxi
GRAB TAXI (formerly known as MyTeksi) is a Singapore-based organization offering On-Demand Car Rental services and logistics benefits through its mobile applications in Singapore and neighboring southeast Asian countries, for example, Malaysia, Indonesia, Philippines, Vietnam, Thailand and many more.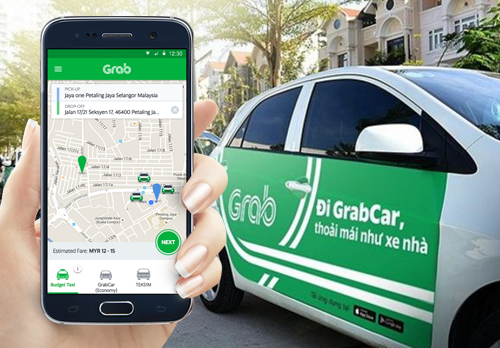 No more telephone calls, no more compulsory money payments to drivers – you pick your driver, you pick unique or special requirements the driver must hold by, just in two or three taps on your telephone! Uber, Lyft, Cabify etc – this list of online taxi ordering apps is a long way from being comprehensive, and gets longer and longer with the time for sure.
About the Indian market, Uber and Ola (Grab's rival) have effectively set up their benchmarks. Additionally, in Asia, Grab is having a similar status like Uber. Without a doubt, it is soon going to compete for Uber-like apps in taxi booking services. Besides, Grab is perceived as a solid Car-sharing App Development Company in Asia and known as GrabTaxi by Techinasia. Grab declared on their official site, it hits the 1-billion achievements on 26 Oct 2017.
Fusion Informatics is a worldwide best app development company for developing an app like Grab Taxi, which helps new companies and associations in creating innovative and exceptionally advanced features applications like Grab with the most recent drifting technologies.
Without a doubt, this information from Grab appears to be intriguing for the individuals who want to develop and know the Cost to create an app like Grab Taxi.
Uber like App Development Features Grab Implemented to grow its Car Rental business
The online taxi-booking apps considered as a standout amongst the best mobile application development. Like with the most of the applications of this sort, working with Grab is exceptionally basic for the client, and can be continued in two or three taps on your telephone screen:
Book in Just 2 Taps: Key in Your Pick-Up and Drop-Off destinations To Get Your calculated Fare.
Book a Driver: Grab Will Scan and Find You the Nearest Available Driver for you just like rideshare services like Uber
Track Your Driver: Know Your Booked Driver's Location along with Estimated Time of Arrival in Real-Time Car Rental Services.
Arrive Safely: You can Share Your Trip Details with anyone as an added safety Or Even Just to let them know you are travelling or on the way to home or office.
Key Features of the Grab App – For Customers
Charge Estimates
Payment By Cash
You can opt Cashless Payments
Your Travel Route In Real Time and secure
Customer Profile With Ride History
Contact The Driver Via Grab Call/Chat free
Ongoing Tracking Of Drivers With ETA
Simple and Quick Signup Using Mobile Number
Select Your Pickup and destination And Request A Cab
With this Self-drive car rental service one can Access to Coupon Codes For Discounts
Can share experience through Review and Ratings For Drivers
Conveyance/Shipping With Grab Express
Bookmark or Save your Favorite Locations For Quick Access
Can share your Route With Family/Friends For Safety
Key Features of the Grab App – For Drivers
Rides Invitation
Begin and End Trips
Speedy Signup and Enrollment
Begin/End Duty For The Day
Payment Collection (Cash/Cashless)
Accept /Reject Trips
Review back The Customers
Ride History and Collections
Can Apply For A New Mobile Phone
Pickup and Drop Items through GrabExpress
EMI Management option For The Grab Mobile
Key Features of the Grab Admin Panel (for Owners)
Clients Management
Drivers Management
Driver Tracking In Real Time
Payments Module
Ride Tracking and Management
Reports and Analytics
Estimating Management
Offers and Coupon Code Management
Reviews and Rating Management
Conveyances Management With GrabExpress
Support Module for both Riders and Drivers
Technology behind Ride Sharing App Development and Its Cost to build an app like Grab Taxi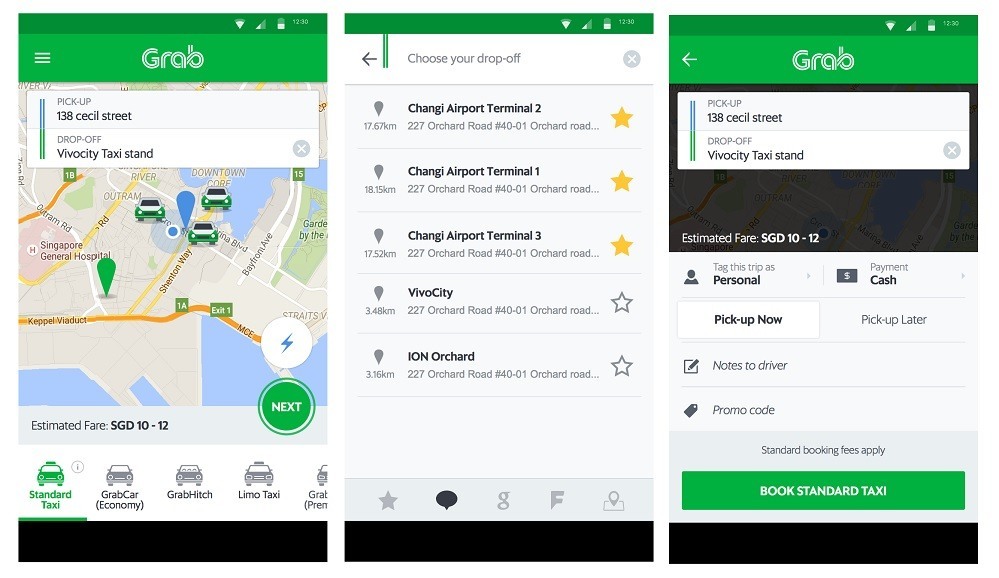 Indeed, that true! As we have just referenced that Car sharing app like Grab Taxi offers a various scope of alternatives so as to hire a taxi in a seconds. Grab also provides online food delivery app and provides the various alternatives in picking vehicle and taxi type as indicated by user's necessity and their budget –
GrabCar: Personal car rides like Grab also owns a concept in which users can have a service which is basically designed for everyday needs.
GrabCar (Premium)
6-Seater (Economy)
6-Seater (Premium)
As far as ride and vehicle choices, GrabCar offers a lot to their customers.
GrabTaxi: In this, service sets with authorized taxi services only. You as a client can book proficient and authorized taxi through the GrabTaxi application. It likewise gives adaptable i payment alternatives to clients. In this application, clients have most elevated shot of booking a taxi combined with a short waiting time. The service, car rental app like Grab Taxi incorporates three taxi alternatives further:
Standard Taxi
LIMO Taxi
Electric Taxi
GrabHitch: A social ride-sharing choice by Grab as it permits to book a taxi at the least cost. It works possibly by associating client with each other driver if the driver is going to a same direction. GrabHitch has a more extended waiting time when compared with other two services of Grab, which is GrabCar and GrabTaxi.
How Much Does Ride Sharing App Development Cost
The most important and confusing questions are – How Much Does an App like Grab Taxi Cost? Cost of Hiring Taxi App Developers? – So here are the assessed hours if you want to build up a car-sharing app like GrabTaxi. In spite of the fact that, everything depends on different factors, including platforms like Android and iOS.
It is difficult to talk about the cost of Self Drive Car Rentals apps in fixed all-inclusive costs, as this thing relies upon various components, for example, the nature of work and the speed of work of the developers, and, obviously, the cost every hour of the experts. Totally the cost of the project, it should be isolated into compartments:
Design
Native application advancement on iOS and Android
Development of the backend
Web development
Project management
Quality confirmation
Speaking about the development time of taxi app clone
App for drivers (iOS) – 140 hours
App for drivers (Android) – 145 hours
App for travelers (iOS) – 190 hours
App for travelers (Android) – 195 hours
Administrative board – 450 hours
Now, once you have taken a decision to develop a Taxi App Clone like Grab; one of the most important questions is, how much does it cost to develop Grab-Like App?
Final Thoughts
If you are in search of developing car rental app or online food delivery app like Grab Taxi for your business and you may have query or confusion related to the cost to develop ride-sharing app Like Grab or you are looking to get a quote for Grab like app along with complete features.
Then Fusion Informatics is the best choice as it is one of the top taxi app development companies in India, USA, UAE and Africa offering the most cutting-edge Grab Clone app in the market.
We guarantee that you receive the most advanced and secured dedicated apps for your Riders and Drivers along with a unique and powerful admin dashboard to help and monitor your entire business ecosystem.
So what are you waiting for? Get in touch with us to discuss how much does it cost to make a transport app like Grab taxi? All you need to get in touch with us at Sales@fusioninformatics.com and we will revert you within 48 hours.