About – FaceApp like Photo Editing App Development Cost
FaceApp – the magical app with the number of user base count standing at an average of 150 million and still growing, everyone knows that FaceApp has become an overnight sensation. FaceApp internet centric search divided between users who are looking for ways on how to use FaceApp and some entrepreneurs looking for answers to How Much Does it Cost to develop an App like FaceApp.
When we take the digital age today, the majority of people like to pay a lot of attention to their appearance and to bring perfection. There are large numbers of mobile applications like Faceapp Clones that can do this, and some of them have become part of several mobile application users. The special user base prefers the default camera application rather than their smartphone camera.
FaceApp has been developed using sophisticated software algorithms to make you look younger or older on your selfie. An application that is powered by Artificial Intelligence has become very popular lately. If you are very interested knowing How Much Does It Cost to Build an App like FaceApp and want to feel success by building an app like FaceApp then this is an article where you will get broader insights on the same.
Image sharing apps platforms along with popular viral apps like FaceApp are increasingly popular every day. This constant growth in the popularity of photo editing apps is mainly due to the highly profitable marketing media, namely social media.
We will provide you with a comprehensive guide on how to create apps like FaceApp and Cost to make an App like FaceApp. So, let us go deeper…

Cost to Develop an App like Faceapp and its Model
Before knowing the Cost of Creating Image Photo Editing App like FaceApp, First, let us know about this photo-morphing app.
FaceApp uses Artificial Intelligence (AI) to add virtual effects to the original image. You can add extraordinary or strange changes or any type of image and Neural Face Transformation achieves this. You can take photos from the application or even change the photos from the gallery of your phone. This adds a kind of realistic touch. Some cool filters that you can use in this application are present in the iOS and Android versions. Let us give you an estimate that FaceApp Photo Editing Clone App Development Company will charge a fee for developing the application version of this famous app.
Social media sharing platforms are increasingly popular every day. The Cost to Create an App like FaceApp might vary depending on how complex and ambitious the project really is. This can depend on various factors such as the number of filters to add the expertise of the development & programming team and the location of mobile app development services.
Apart from the reasons behind the sudden surge in demand for Photo-Editing software result turned out to be this – a number of entrepreneurs determined to enter this rapidly growing market. However, the main question that arises is the Cost of making Image Editing app like FaceApp. For that, let us see what FaceApp is and how it became very popular among the masses
It is quite challenging to give you the right answer to this question. However, we will try to overcome this by providing a range of average costs based on the list of features that we are going to discuss and technology stack.
If you use replica features and technology stacks, it will cost around $ 50K to $ 70K. While you might think that the Development Cost of a Mobile App like FaceApp are on the higher side, the returns may be more significant.
Know about How Image Editing App like FaceApp Work
The first screen that appears right after opening FaceApp allows users to choose the image they want to edit. Images can be imported directly from the Facebook collection or from the smartphone album. Another option is available where users can use pictures of their favorite celebrities.
After the user selects and continues with the image, it has been sent to the application server for further procedures. This application uses AWS and Google Cloud as the server. Users can use various filters that are available in the application. Use filters, users can
Enter the smile effect on the image
Imagine what someone would be like in his old age
Create an image that makes the old look young
Change Hairstyle, Skin Tone, and Eye color
Gender Transformation etc.
Now, the Cost of Developing an Image Editing Mobile Apps like FaceApp is very dependent on the complexity of the project, such as the number of filters that need to be implemented, how experienced and knowledgeable the programmers and your development team are and what location you decide for mobile application development services
Therefore, if you want to create face-editing apps like FaceApp, we are happy to tell you that this is the right place for you to see. Time to Hire FaceApp Photo Editing iOS/Android App Developers from Fusion Informatics, we will be happy to help you.
Artificial Intelligence and Neural Network Face Transformation
However, before we continue and see all the technical parts that will determine the Faceapp Photo Editing App Development Cost, let us look at the current position of the technology adopted by this app.
Until date, we can find many face editing mobile apps like FaceApp available on the market, but what makes FaceApp different from them is the technology they use. They utilize Artificial Intelligence and Neural Face Transformation to bring out the best in an image. Artificial Intelligence helps in detecting faces while Neural Face Transformation improves facial features such as body skin color, color, hairstyle, etc.
This article is for all entrepreneurs who want to enter the market with the idea of ​​a successful application that guaranteed like FaceApp and wondering How Much Does It Cost to Develop an App like Faceapp to get the same overnight but the steady success of FaceApp
Let us take you through various elements that will come together to determine FaceApp apps development cost.
Basic Features affecting the Cost to make Photo Editing App like FaceApp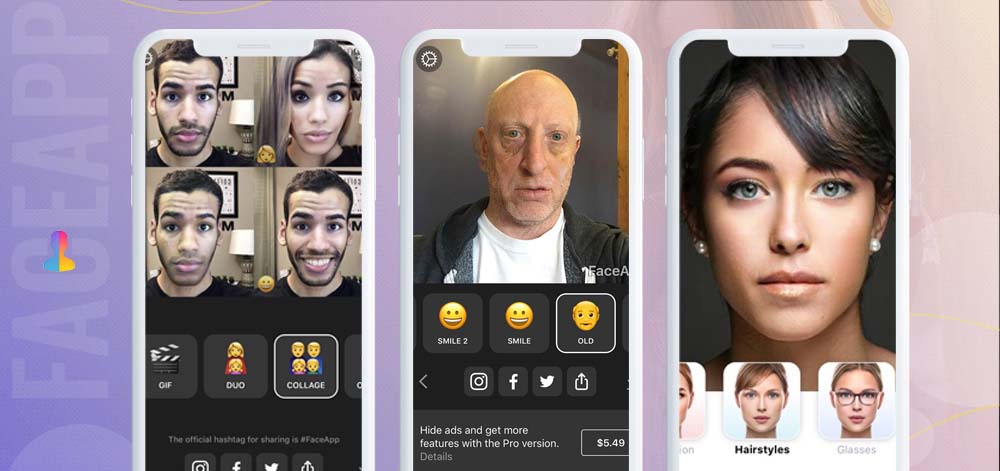 FaceApp is an amazing application with many features that you can use in real-time. This application offers a number of features to add a touch of design to your photos. Below, we have given you the main features of FaceApp, so here we discuss them one by one.
This is one of the significant features integrated in most of all applications today therefore, your integrated AI photo editing application will function with user data, so the registration and entry aspects allow you to use that data.
Such photo editing applications will require access to your mobile camera, to work with photos in real time. However, you can also edit your photos later from the phone gallery.
This application offers a camera filter with a wide range, you can try to enter as many tempting and new camera filters as you want.
With this application, you can save and edit your pictures in the phone gallery, and share them on various social media platforms with your friends.
Advance Features That Affects the Cost of Making Photo Editing App like Faceapp
The first main feature that you need to have in your mobile application is the ability to take or upload images from the gallery. It should be noted that FaceApp received negative feedback, mainly because it did not ask the user's permission before uploading their photos. However, if you want to clone this idea, the best thing you can do is ask the mobile app developer company to have provisions to resolve this problem.
AI-powered filters are the basic key for your FaceApp. After you upload a picture or take a photo directly, this filter can help you change your appearance to an older / younger self. Or, it can even make you a different sex or you are made up.
Our mobile app must also be able to take full mileage of images on well-known social media networks that help like, comment, and see.
There are several free features on FaceApp, but there are a number of fees charged for premium features. These features do not include ad experience and filter updates.
Are You Looking To Build Photo Editing App Like Faceapp? Share Your Requirement to "Get a Free Quote"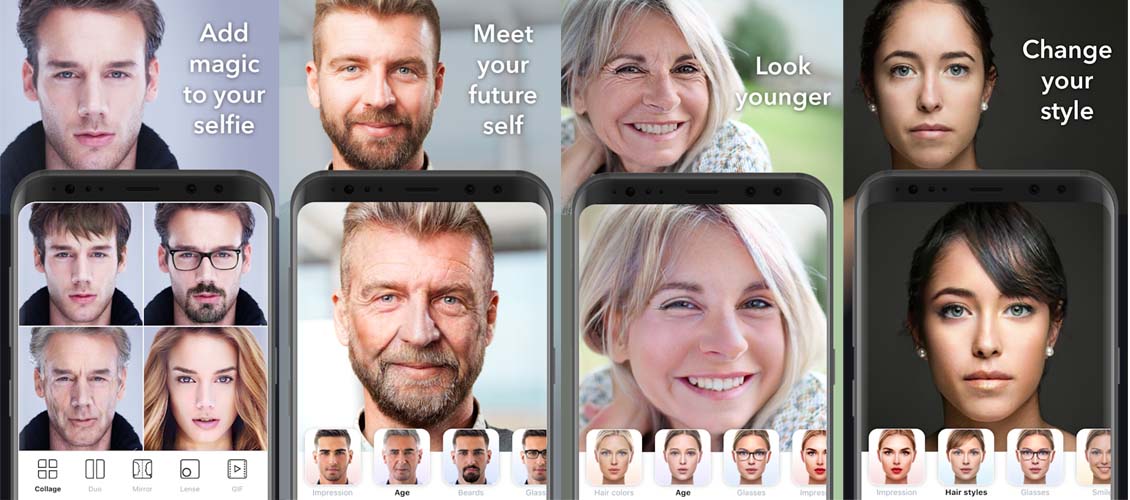 How to Choose Faceapp like AI Photo Editing App Development Company
While general restrictions on providing concrete answers to the right mobile app development cost also apply in this case, we will be able to provide a range of average costs based on the features mentioned and the technology stack.
As we discussed earlier the Cost of creating Photo Editing app like FaceApp will be varying and changing based on different geographical locations, various requirements and the position of the application development company in the market. For example, the cost of developing a photo editing mobile apps like FaceApp in India will be different than developing it in other countries. It is important to Hire FaceApp Android app developers, who excel in the field of developing high quality and seamless mobile applications.
If you decide to choose the same combination as we mentioned above, the fees that must be paid to the FaceApp team such as the creator of the application will come out to be USD 50K to USD 80K. Even though the development range as FaceApp has application demands is on the higher side, the returns are far greater.
How much Does it Cost to Develop App like FaceApp?
Meanwhile, application development work typically costs $ 40 / hour, which means you will need to spend around $ 34,000 on development costs to get a photo editor, image editing, face-editing apps like FaceAPP with basic features. Therefore, the most profitable thing is to contact Photo Editing App development companies in Bangalore, Ahmedabad, Mumbai, Delhi, Noida and Gurgaon in India to create a photo editing application with unique functions.
In short, we can say that FaceApp won its fame because of its extensive expansion. This application is a blend of smart design and unique functionality. Because there are no FaceApp clones on the market, this application will be a big hit.
Fusion Informatics is ready to help you in the development section. So contact us at sales@fusioninformatics.com and stay with us and we will arrange the process of developing a photo editing apps for your project.