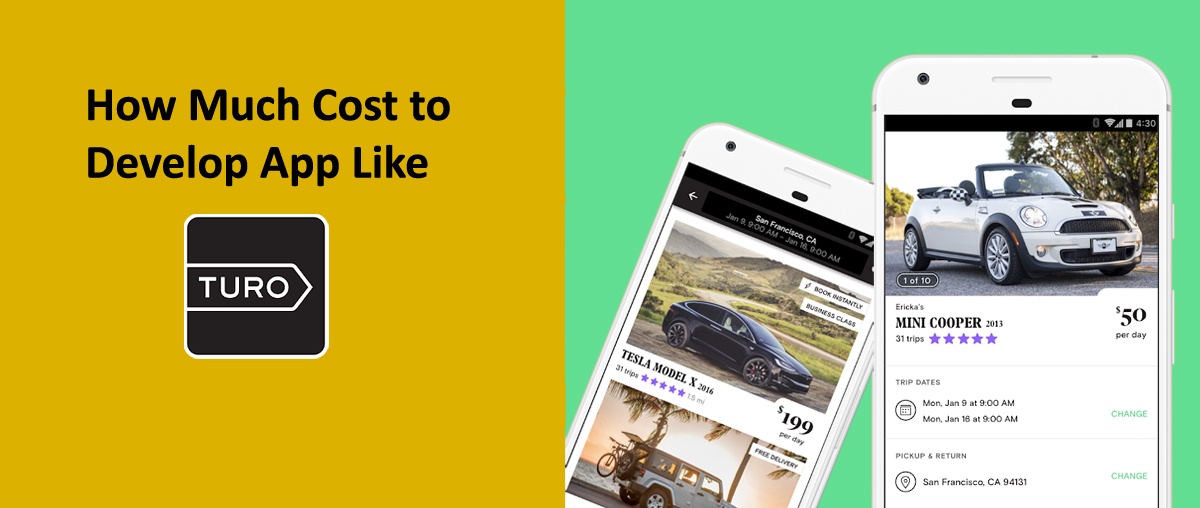 What is Turo & Cost to Develop App like Turo?
If you have a good idea of building ​​your own private car rental application, you can make money by renting your personal vehicle to those who need it. If in case you do not know how to do it, look no further, we will explain how. The following article aims to examine the car rental industry and explain how to develop car rental app and How Much Does it Cost to Develop App like Turo, Hertz, Avis, Zipcar.
After taxi and car pool booking apps, autonomous car services such as Turo, Avis or Hertz have gained a lot of notoriety in recent years. Whether on vacation or business trips, almost every person chooses to travel independently by renting a car. With a car rental application like this, you do not need to contact a travel agency to rent a car. Now you can do everything with your travel app. Now it very easy for renting any type of cars, open the application, define your needs, pay money and get out with the keys of a car.
With online booking systems and modern, convenient and easy-to-use mobile apps, the car rental industry is now a win-win for car owners and business travelers alike. 'Get the desired result of mobility.
Unlike creating taxi apps, you do not need to manage drivers and worry about the best driving experience. All you need to do is add interested car owners to your car rental application database and / or associate with offline car rental services like Turo, Hertz.
Apps like Turo and Hertz are now a trend in many cities and are working hard to boost their revenue and reach their goals, especially in the United States. The following article examines the area of ​​car rental and clearly explains how to make car rental app and Cost to Build App like Turo, Avis and Hertz.
Therefore, if you plan to build on demand car rental apps like Turo – Go Ahead – people are waiting for you. First, do some research on how these applications work and Development Cost of Car Rental App like Turo.
To get an answer to the same thing, let us start by understanding how car rental applications work and business model.

Average Cost to build App like Turo and its Business Model
To create an application, you need a technical team for Car Rental Mobile App Development. You can engage such companies to create, maintain, and periodically update your mobile application.
Developing a Car Rental Apps like Turo will benefit your business in such a way that you would never have seen it before. Turo works as a private car rental company and such a business model, the owner of the car hands over the car to the user, who uses it for a given period and returns it to the owner. The application comes with several features to make it easier to use and more attractive.
The beauty of application creation lies in the fact that these applications are very similar to existing online taxi service applications such as Uber and OLA, so that a Turo like Car Rental App Development Companies in Bangalore, Ahmedabad, Mumbai, Noida, Delhi and Gurugram, India, USA and Dubai can be easily transform and modify, as per your needs and specifications.
These Turo-Clone apps have the basic structure of an ideal taxi service application. With appropriate adjustments, you can create your own on-demand car rental application today.
The Cost of Creating Car Rental Apps like Turo based on the services or features you need to integrate with the mobile application. In addition, it depends on where the application is being developed and after examining the different parameters, we arrived at the result, that the application would cost about $ 25,000.
However, if you want to create an app for both platforms – iOS and Android, as well as high-end features and technologies, including all panels, then the Cost to Make App like Turo cost you around $ 30,000 to $ 40,000.
Find Out How Car Rental Apps Like Turo Work and Its Competitors
It is very similar to taxi services and yet easier. When users only need one vehicle for short or long journeys, without a driver, they opt for a car hire model. Most of these car rental services are for traveling with friends and family, which means that holiday seasons are the busiest time of the year for this industry.
We will discuss different aspects of the car rental field and clearly explain How To Create Car Rental Apps like Turo , Avis or Hertz.
Top 5 – 10 car rental apps
Turo
Hertz
Notice
Zipcar
Car rental
Car2Go
Skyscanner
RelayRides
Silvercar
How to build or how much would it Cost of Making Car Rental Apps like Turo, Avis or Hertz? this question often arises when it comes to Building a Car Rental Apps like Turo. In addition, creating a car rental application or a stand-alone application has never been an easy task. Even the founders of these applications had been facing fierce competition but still they dominate the market by offering a number of benefits and comfort.
You have just offered an online portal to these tenants and tenants so that they can communicate and for this, you receive a commission on each transaction. You and the vehicle owners decide on the percentage of commission on rentals.
If you have an idea of ​​your own car rental application, but do not know where to start, look no further, we will help you make it happen. Developing a Car Rental Apps has tremendous potential to grow and prosper as an independent business.
These car rental companies offer cars ranging from family cars for a big family to high-end and even sports cars as well, all for private use. That does not mean you have to own all these cars. Starting your car rental application simply requires having a database of car owners and rental companies offering these cars. You work as a mediator through your car rental service application.
If you are looking for the Best Car Rental App Development Company to turn your idea into reality, contact Fusion Informatics. We can build the ideal solution for you, without compromising on technology, quality and time.
Basic Features Stirring the Cost to make app like Turo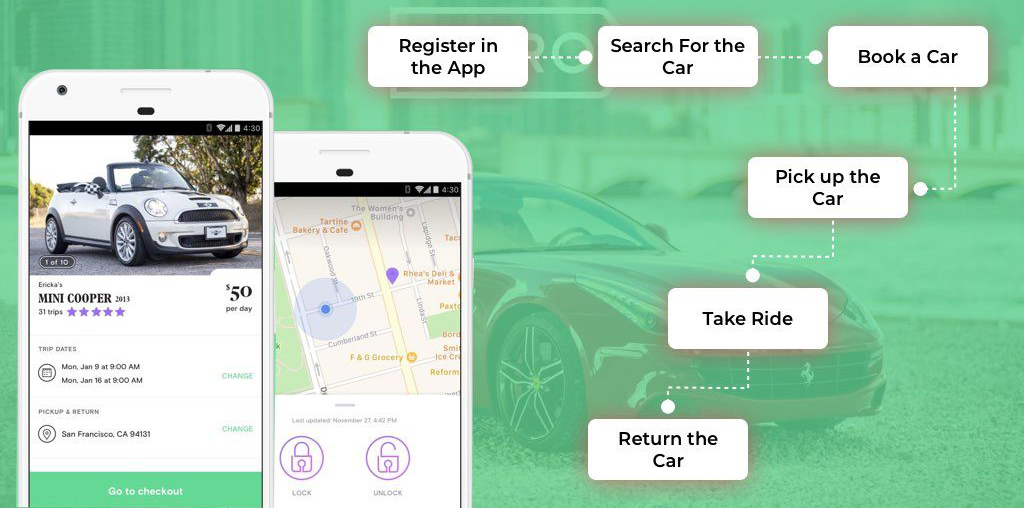 To give shape to your ideas and to help you had better understand things; let us find the necessary features without which your car rental applications like Turo will not survive. So let us go:
Vehicle user
Registration / Login to manage user accounts
Tenant's profile
Search option with advanced filters
Place of collection and removal of the vehicle
Never updated car list
Details about Car Model, Looks, Comfort
Several payment gateways for the user
Review of vehicle conditions by users
Vehicle owner
Registration / Login to manage the vehicle owner's account
Tenant Profile
State of completion of the trip
Trip Cancellation Status
Travel price
Payment received
Push notification (for both parties)
GPS integration in the car
Admin panel
Admin Dashboard to View and Operate Activities
Payment Management
Reporting and analysis of all offers
Fee and commission management
Interactive statistics to stay up to date
Full control of user and owner profiles
Leading Features affecting the Cost to Create Turo like App
There are many advanced features that you can add based on your car rental apps requirements and some of these features go like this
Find and unlock available cars directly with wireless technology
AAA Roadside Assistance Service
Give card points to gas stations and motels nearby
Now that we know all the essential features of a car rental application and the technology stack that supports the operation of such an application, now is the time to consider the most significant part – the Cost of Building a Car Rental Apps like Turo.
Looking for Car Rental Clone Apps like Turo? Please Share your requirement to "Get a Free Quote"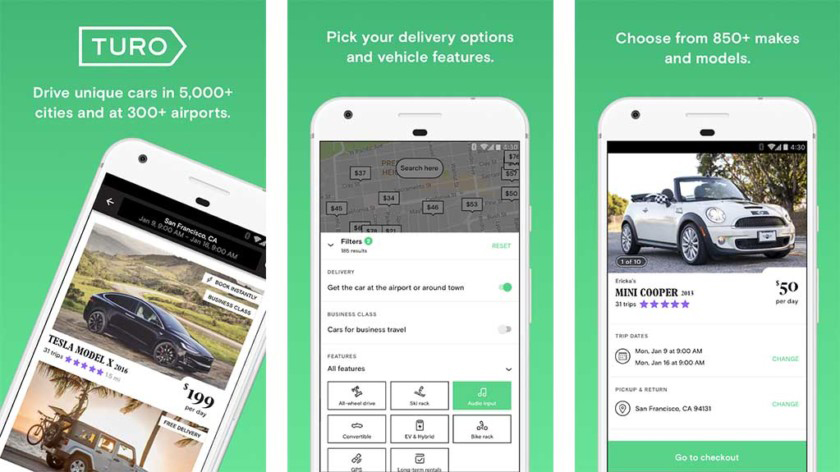 What is the Cost to Develop Apps like Turo?
The Cost to develop Turo like apps depends on the type of platform you choose. The above car rental applications developed on iOS and Android. Building an application on a single platform gives the impression that most of the work has been done. You should consider both platforms to reach the maximum of users. However, developing an application in iOS is much higher than Android.
Starting a car rental business is a brilliant idea that, if built properly, can be very successful. Once your business configuration has evolved, you have more time to improve your business model instead of trying to keep the current model.
To work on your application, you need to consider experienced developers, rich in skills and experts in Car Rental Application Development. Thus, Development Cost of Mobile App like Turo varies depending on the type of development team you have hired, the complexity of the project, and the scope of the work.
Ready to Create Your Car Rental App for Your Business
If you want to create a car-sharing marketplace, think first about your mission. Remember that not everything is about what you do, but why you do it.
If you find an excellent team of Car Rental Apps Developers, half of your work is done. Your search for the Turo like Top 10 Best Car Rental App Development Company in Bangalore, Ahmedabad, Mumbai, Noida, Delhi and Gurugram, India, USA and Dubai ends.
How much does an App like Turo Cost? Well it depends on the features or services that you want to adopt in your car rental mobile application. In addition, it depends on where the application is built. After discussing the different parameters, we arrived at the result: the application would cost about $ 25,000 (basic apps) if it was developed in India.
Hire iOS/iPhone and Android Car Rental App developers if you want to create an application for iOS and Android platforms, as well as advanced features, as well as technologies, including all panels and the dashboard, it will cost you around $ 30,000 to $ 50,000. Moreover, the development time will be around 280 to 350 hours.
Do you find interesting? Fusion Informatics is a leading mobile application development company. With our proven track record and extensive experience in developing mobile carpool applications, our developers can create a private car rental application.