MyFitnessPal like Fitness App Development Cost
People are increasingly concerned about their bodies, taking time out of their busy schedules to go to the gym or to follow a strict training routine. They lose a significant amount of sensation and stay healthy.
In this article, we explain How Much Does it Cost to Develop Fitness App like MyFitnessPal, Lose it, Fitbit in Bangalore, Ahmedabad, Mumbai, Noida, Delhi and Gurugram, India, USA and Dubai and which types of fitness apps are popular now, with regards to development costs and ways to monetize. We live in a time when people are starting to worry about health with more and more responsibilities. Technological advances are also helping us make this process more efficient. Today, you can turn your smartphone into a personal trainer app. All you have to do is simply go to the app store and choose the application you need.
The health and fitness sector serves people with healthy lifestyles so they can maintain a balance between health and wealth. If you want to venture into a multi-million dollar health and fitness industry with an exciting Mobile Diet & Nutrition app, the ultimate test is mobile application quality standards, customer engagement and the level of quality of profit that will push you to follow your passion even more positively. .
As fitness startup, you may be worried about How Much Does it Cost to Build App like MyFitnessPal and yes to develop the best workout apps like Myfitnesspal requires learning different strategies. Although there have been fitness apps surfacing on the sea, only a few of them have forced people to stick to their fitness needs. MyFitnessPal is the name that has recently seen hype among women for their weight reduction goals. Men also use it, attracted by a number of healthy habits to which they could adhere with the trainer app.
Mobile apps are great helpers for health, fitness, and weight loss because they are always with us, and they are private. Maintaining fitness is not child's play, it requires habits of daily living, lifestyle changes, and nudges in the discipline.
Now, when it comes to the Cost to Make an App like MyFitnessPal and creating an app that uses a niche of common topics, like the Diet Planner mobile app in our case, the end-user or consumer level of waiting is extremely demanding and the app Diets and nutrition must be up to it.
Therefore, if you run a gym, launching your own app can be phenomenal to boost your customers' morale. In fact, you can expand your clientele without coming to visit regularly. It will be like a long-term investment in your marketing efforts.

Cost to Develop an App like MyFitnessPal and its Business Model
Apparently, it would probably be difficult to argue with this statement. Throughout our lives, we try to keep getting closer to our goal, as difficult as it may be. This testimony makes even more sense if we apply it in the context of sport – where it is always a competition.
Of course, the Cost of Creating Diet Apps like MyFitnessPal may depend on the time and features you want your product to have. We will take a version of MVP as an example of activity tracking. When you are looking for a MyFitnessPal clone to develop, you need to engage fitness application developers, including iOS and Android developers, a business analyst, a UI / UX designer, a project manager, and a quality assurance engineer. All of the above would require a certain amount of time to develop a layout application.
Although physical activity has changed a lot since mobile technology took a hasty development course, it is a new branch of the mobile application market – fitness and training apps. Therefore, what is the Cost to Create App like MyFitnessPal and how to develop a fitness app like these fancy businesses?
Analysis and specification + design prototypes – contract for time and equipment, but up about 50 hours.
Part of design – from 80 hours
Stage of development: from 400 hours for iOS to 470 hours for Android
Back-end development: 400 hours and more
Test phase – Up to 70 hours
Everything we discussed above depends on the idea and the features you want in your application. In addition, Cost to Develop Myfitnesspal like App for Mobile App Development In Company in Europe, US and Canada is much higher than in Asian countries such as India. The region in which you develop your application makes a big difference.
Discover How Calorie Counter Apps like MyFitnessPal Work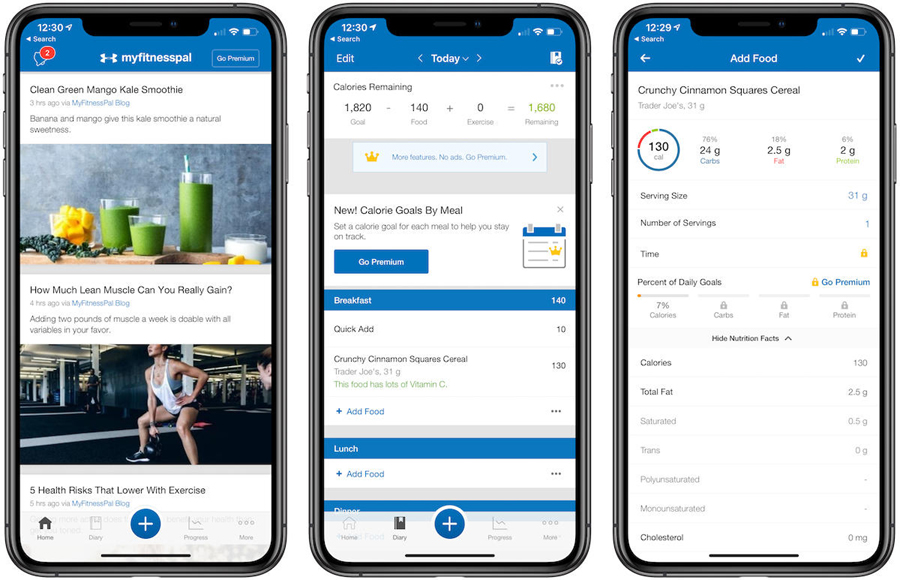 The question is how much does an App like MyFitnessPal App Cost and how does it work?
Before you begin developing a formatting application, you must perform a business analysis. Business analysis gives you more information about your target audience, their needs, and their habits. This information helps you evaluate an idea taking into account a specificity of your buyer personality. In addition, a marketing step depends on business analysis because you have to promote your product in places where your target audience is gathered.
Every day, many fitness and workout apps are appearing on the market, you may want to know some of the best workout apps and features that you can consider when creating your own app fitness.
Basic Features affecting the Cost to make Diet App like MyFitnessPal
We have carefully researched and analyzed various nutrition apps to find the most best and essential features that will help your app overtake the current market leaders. It is obvious that different applications offer different features. Let us see what features affects the Development Cost of a Fitness Apps like MyFitnessPal and must offer to meet the needs of most customers.
With the app developer having some basic knowledge of fitness app, he has to choose the right features in the application. Some of the basic "must-have" features for developing fitness app include:
For User:
login/sign option and social networks integration
User profile/Body values (e. g. gender, age, height/weight, activity level)
External device connection
Various signals (vibrations) for different push-notifications
For Admin:
Dashboard
Accounts section
Payment Section
Marketing & Promotion Tools
As people become more health conscious, they are looking for more mobile fitness apps. Developing a fitness smartphone app means investing a lot of time and effort. This requires research and partnerships with professional trainers and doctors. Make sure to collaborate with a good mobile application development company and Hire MyFitnessPal iOS/iPhone and Android App Developers for your beauty and wellness app.
Advance Features that affects the Cost of Making Fitness Apps like MyFitnessPal
In order to stand out from the crowd of formatting applications, the mobile application developer can incorporate a number of small features into the application, among others. To improve your application, you can implement the following features, which affects the Cost of Developing a Calorie Counter Apps like MyFitnessPal.
If you want your mobile app to be even more useful, add personalized dietary recommendations. To generate suggestions, your app should primarily analyze the user's healthy eating habits and goals. Another solution is to add a live chat feature where users can connect with nutritionists.
First impressions are important so therefore, to make your application attractive from the first seconds, facilitate the integration process. You can create beautiful animated tutorials to help users quickly understand how your application works.
Dashboard and Registration
A first-order tracking application should consist of a huge food dictionary, a diary, and some input fields. Think about the ingredients that should be available offline. However, food journaling is nothing without a dashboard containing the most important information about user progress and helpful nutrition tips.
This is encouraging when users know that there are other people who can accompany them in their diet journey. A blog is a great opportunity to share useful information about fitness and diets within your app. MyFitnessPal has developed a strong community of users who are always ready to help each other.
A recipe book is another feature that can be beneficial to both users and owners of apps. Employ a section with healthy recipes and allow app users add their own recipes.
Almost all apps have push notifications because they are a powerful tool for increasing user engagement and retention. What is the purpose of using push notifications in diet and nutrition applications? First, they motivate users to continue by sending calls to action or information about current goals.
If you want to know the Cost of App like MyFitnessPal that meets the needs of users, contact Fusion Informatics. We will do our best to translate your ideas into reality.
Are you looking to Build Personal Trainer Apps like MyFitnessPal? Share your requirement to "Get a Free Quote"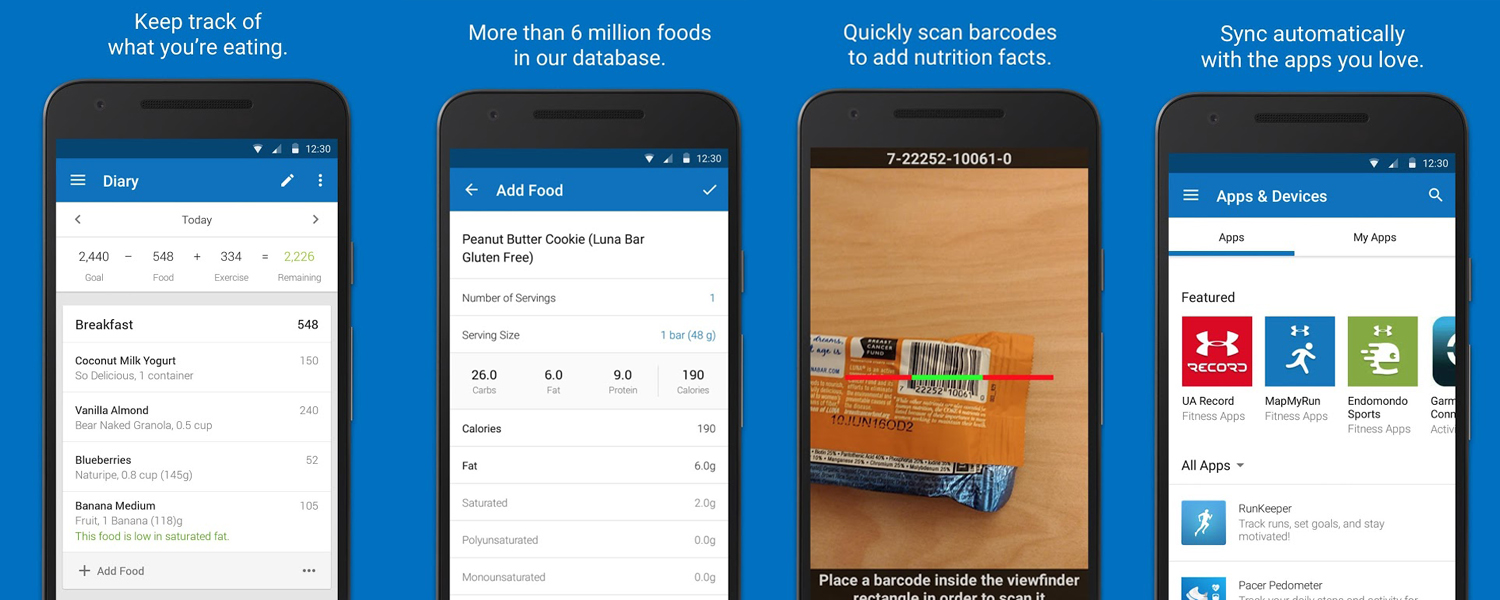 Cost to Develop Diet and Nutrition App like MyFitnessPal
How much does the development of a diet app cost? Several factors will affect the Cost of Making Fitness App like MyFitnessPal. However, you can get an approximate cost by adding up the cost of the key components.
The development effort depends on the complexity of the application, for example, the number of features you want to include in your "Minimum Sustainable Product" (MVP). Send an overview of your project to a development company so that it can give you a detailed estimate of the development costs.
Your geography and local labor market influences your development labor costs. Hiring some of the skills required for development can sometimes be difficult because of local labor market conditions.
To create a superior application, you may need a mobile app development company, a group of people who will develop strategies, designs, developments, and tests. It is therefore very important to choose the right potential candidates and evaluate them from time to time. Here are the key personnel, the ones you should hire with certainty.
Project Manager
Developers
Designers
Test Engineers
Time Duration
The Cost of Building Health and Fitness Apps like MyFitnessPal depend largely on three factors: the complexity and the size of the application, the number of platforms on which you want to run your application and the country of the center of development. In fact, different countries have different hourly rates, for example:
USA based developers: – $ 60 to $ 260 per hour
Developers in Eastern Europe: – $ 40 to $ 170 per hour
Developers in India: – $ 10 to $ 70 per hour
Well, there is no exact amount to know MyFitnessPal like Fitness App development cost of cost. The cost of developing a MyFitnessPal clone app Script depends on four main factors: the first most important is the Fitness Mobile App Development Company, the complexity of app and availability of basic and advance features of app, the duration and cross-platform functionality.
Key Takeaway
Below we have mentioned the basic estimate in the ideal case (An average application with average features, developed for the Android). If you add all the costs, a health and fitness app costs between $ 15,000 and $ 30,000 on average for a single platform (Fitness App for iOS or Android).
Therefore, choosing a cross-platform application or adding additional features can increase costs by as much as $ 60,000. However, spending around $ 50,000 guarantees your app will stand out from the competition.
Creating apps for physical trainers is in great demand. We have the excellent opportunity to have a piece of the cake. People who do not have time to go to a gym or fitness center will depend more than ever on this app. However, you have to be very clear before adding features to the application.
Developing a health and fitness app can be a difficult task. However, it gets a lot easier with the help of a good Fitness, Diet, Nutrition App Development Company in Bangalore, Ahmedabad, Mumbai, Noida, Delhi and Gurugram, India, USA and Dubai.
So, when you want to develop your own formatting application, think first about the features you want in your application and then Hire Fitness and Nutrition App Developers. If it is a complex application, then expect it to be expensive; however, if the application is simple, the cost will certainly be lower but choose an expert development company like Fusion Informatics and mail at sales@fusioninformatics.com and get the best return on your product investment with us.