Advanced technologies are playing an important role in all industries and helping businesses and users to get their services done with simple clicks and saves money & time as well. The world has become more competitive with the latest technologies that come with customers' expectations. In the recent revamp in the fintech technologies are regulating financial sectors such as banks, insurance, payment providers. Etc. as it changing the financial ecosystem and digitally transforms the core process of payment methods.
Nowadays everyone is aware that digital transformation has changed the way of services providers in the financial industry targeting the customers with mobile apps without any challenges. There had been a consistent perception of technology-driven mobile apps in almost every section of Financial Services. The crossing of finance and technology had managed to a sensation development that has begun to expedite the speed of development and has transformed the financial industry's situation.
What is FinTech?
Fintech is a term referred to describe financial technologies such as blockchain, mobile apps, IoT and Artificial Intelligence to provide hassle-free financial services from users to businesses. This essentially uses digital technologies to get work done that is centered on start-ups and new business players starting to innovate products and services.
As per CBI insights, globally as on the date of the report, there are more than 45 fintech companies with a total value of $187 billion in the United States. And the report says the fintech ecosystem has risen too fast growth over recent years. Global advances in the financial sector diminished almost $45 billion in 2018, which was a large leap compared to the past year.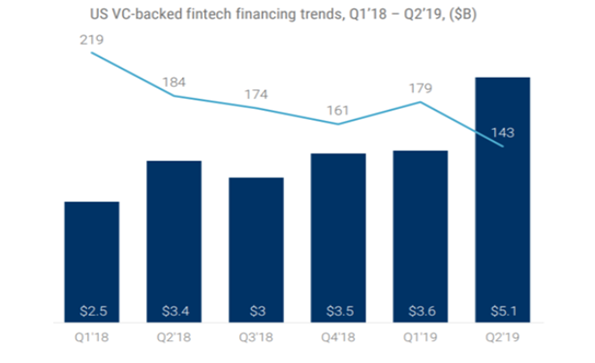 According to EY's Report, Fintech companies have earned significant value from the market. Markets with the highest adoption rates: China (69%), India (52%) compared with 62% in 2015
Fintech Challenges in 2020
Fintech companies have moved rapidly with a primary modest offering in a process into areas such as banking, insurance, trading, and investment and funding services, these direct companies are adopting in the industry.
Though the fintech change has been in a complete motion for the last some years, there are many complicated difficulties that fintech businesses are yet to decide:
Data Protection
Every financial business is trying to keep their data safe when it comes to sharing over the internet from cybercrime, as many fintech industries help to financial companies to protect their data with blockchain technologies that can help to control the issue. As modern enterprises are arising each day, Blockchain technology has to look for the most suitable solutions.
Attracting New Customers
Fintech companies are highly successful in raising investments but there are facing challenges in getting new customers because every new bank is establishing own fintech app for their operations and reducing the dependence of others. To make attractive new customers financial companies need to get their fintech technologies such as a mobile app.
Insufficient knowledge
Since the fintech companies do not obey those crystal-clear instructions that were mentioned to follow, there's a lot of difference in the specific methods which must be served in the fintech industry. Moreover, global society has its theory about relying on fintech companies rather than conventional series. The fintech change has the potential to interrupt the financial entrepreneurs, but until more users become trained about fintech, some of the errors will restrict businesses in the fintech enterprise from achieving their full potential.
Blockchain Alliance
 Blockchain is a key technology that helps to keep data safe and fight against in cybercrime. But when we discuss financial sector data security is the not only application keeps blockchain safe and also used to provide trust among users to make a variety of investments.
They work on possible measures like an advance in banks and more reliable payment activities. However, it is assumed that the industry-wide selection of the Blockchain is completely difficult. To get complete adoption of blockchain experts can help you to get in the origin.
Artificial Intelligence
Many industry analysts are working with the confidence that AI will soon change nearly every part of the financial services industry.
According to them, providers of AI systems should be able to provide resources for automated wealth management, open banking and customer authentication.
Powerful advances in deep learning technology pave the way for AI.
Also if you've been notified by the suspicious activities of your bank, you'll get ample benefits from the AI. And how does that really pose a challenge?
It's because most financial institutions say it's impossible to take advantage of AI without being a real part of it.
Conclusion
All the above challenges are researched in different ways to get solutions for those issues. Many financial businesses are facing different issues
When someone will able to recognize the business events, develop differentiated marketing standards, and incite these in the bigger timeliness, they will be able to take advantage of it.
Fusion Informatics is a leading mobile app Development Company operating on various locations for various industries like fintech, logistics, eCommerce, Education, and Manufacturing. We hold dedicated developers to build strong applications for your business that helps to reach a wider audience.