Mobile Learning AI Education App like Socratic
How much does an App like Socratic Cost? Artificial intelligence and user testing motivate a new app that can help students with a variety of educational topics.
Therefore, Mobile Learning App like Socratic is an educational technology company that provides students with a mobile app. Through offering educational resources such as videos, explanations, Q&A, and more, the app make use of AI technology in order to assist students with their homework. The stated mission of Socrates is to make learning easier.
The new Google AI Based Education App like Socratic now allows students to take a picture of a question and find answers through appropriate and reliable tools on the Internet. Students can also use voice commands to ask questions and seek web-based responses. So we will soon discuss about the Cost to Develop App like Socratic, Remind, Photomath, Duolingo in the next phase. The app also helps to understand difficult content among learners. For example, if they struggle to understand the content of textbooks or handouts, they can take a picture of the page and see alternative explanations of the same concepts.
We are excited to announce today the about Socratic apps model, Socratic App clone app Script , how it works and the Cost to Build Mobile Learning App like Socratic — and its point the camera to a question technology, and we're going to teach you how to answer it.
Math Homework App like Socratic, Remind, Photomath, Duolingo & its development cost
AI (Artificial Intelligence) app used by the Socratic app to accurately predict that theories can help a student answer their problem. Millions of real student questions have been analyzed and classified over months. The app also uses the data to speculate about future issues and provide specific content for learning.
There are many Facts to consider while developing an Educational App but this app works by allowing students to take a photo of a homework question. Using OCR (Optical Character Recognition), the app can use the technology described above to read their photo and classify it. In the app, students receive various "packages" with different learning resources such as descriptions, YouTube videos, Q&A, and original content and diagrams written by the web community of Socratic.org.
We at Fusion Informatics are the leading Top AI Mobile Learning Education App Development Company in Bangalore, Ahmedabad, Mumbai, Noida, Delhi and Gurugram, India, San Francisco, USA, Dubai, UAE, South Africa. The Cost to Make AI Based Education Apps like Socratic or simple app for children (considering that you are pursuing the same approach to conceptualization, design, growth, and performance assessments) will range from $5000 to $15,000 everywhere. If the number of modules in your app is higher and you are going to have some comprehensive features, it can shoot up to $20000 to $25,000. Hire iOS/iPhone and Android AI Education App Developers today.
Well, it is a rough prediction. Such figures are determined by different characteristics and function expectations. These include working with cloud services, incorporating custom functionality, going through high-end references to product layout, introducing the new animations and graphics. The more complex the app will be, the more work it will take, influencing Socratic like Mobile Learning App development cost overall.

Know the Cost to build App like Socratic and its Model
This app is the culmination of a year of creation involving dozens of teachers, hundreds of high school students, more than 160,000 stealth app users, and millions of pictures of actual homework questions.
We have learned a lot about what makes education so difficult on the Internet, the Impact of Mobile App Technology in Education Industry and it is about two specific issues: first, it's hard to ask the right questions, and second, it's hard to find great mobile content.
Four main subject classes on Socratic include sub-branches:
Science
Anatomy and Physiology
Astronomy
Astrophysics
Biology
Chemistry
Earth Science
Environmental Science
Organic Chemistry
Physics
Math
Algebra
Calculus
Geometry
Prealgebra
Precalculus
Statistics
Trigonometry
Social Science
Humanities
English Grammar
History
World History
Other than these factors, there are three key aspects affecting the Cost of Creating Math Homework App like AI Socratic (and mostly depending on how you choose to create your app).
Education is an important part of the life of each citizen. Many experts claim, with scientific evidence, that one-day self-education with mobile apps would substitute the majority, if not all, of classroom courses and institutions. Whether this future is near or not we do not know, but we know that learning in today's mobile market is already a competitive niche. If you have questions about how to create an AI education app or Cost of Building math answers & homework helper like Socratic, please contact us on our contact page.
Find out How M-Learning App like AI Socratic Work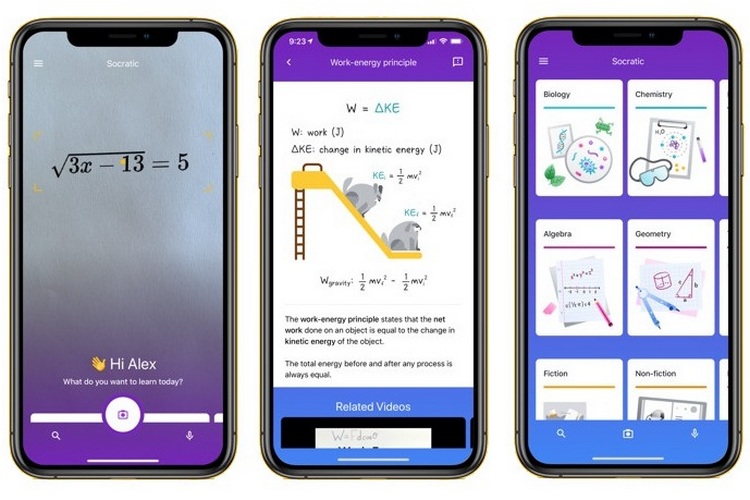 The Significance of Mobile Apps in Today's Education System has completely changed and whereas this app comes with an integrated complex algorithm that examines the question of a student and identifies the relevant underlying concepts automatically. Google's Socratic app can find videos, elaboration of concept, and online resources to help students understand without difficulty. The app breaks down the concepts into shorter, easier-to-understand lessons for students who want to learn even more. It extracts data from top educational resources, YouTube, and even includes user-in-house responses that have been given over time.
We sometimes do not know where to look for guidance or how to say if a student is stuck on a problem. They end up typing the whole question into Google and landing on Yahoo Answers, which seldom has an explanation for learning.
Basic Features Stirring the Cost to make AI app like Socratic
Use your camera to link and understand any issue with online resources.
EVERYTHING YOU NEED IN ONE PLACE
Find videos, examples step-by-step, and more to learn topics at your own pace
EXPERT-CREATED STUDY GUIDES
Socratic worked with educators and experts to provide you with visual explanations for each subject so that you can understand the principles behind any question.
WORKS FOR ALL YOUR SUBJECTS
Algebra, Geometry, Trigonometry, Biology, Chemistry, Physics, History, and Literature are currently included. More details for you to come!
Leading Features affecting the Cost to Create Socratic like App
It's stressful enough to do homework without having to spend hours looking for the right help. Help students get to content faster by easily, intuitively and flexibly creating applications.
It is not possible to overestimate the importance of loading speed, particularly on phones. Users are rapidly dumping applications that load too slowly, according to Google. During our trials, it takes more than five seconds for 40 percent of educational pages to load on phones!
Allow photo and voice input
Improvements in AI software increase the reliability of voice and image output. All allow students to get their query faster into an app, which means less search time.
Mobile phones are clearly the device of choice for students. They need to model mobile-born educational products that look and work as adolescents use the services all the time.
Students use their perceived ' return on investment ' to judge educational content and ask themselves. Students should be able to quickly assess the value of their learning content.
Put your content front and center
Try to find the answer to the question on this page as an example of what not to do.
Divide content into tiny chunks.
Ten videos of 2 minutes are better than one video of 20 minutes. And be careful about how you name stuff.
Finally, it has to be easy to learn from content. A student reading the content must find it easy, engaging, and informative, all informed by content design.
If you can just fit 150 words on the screen, content needs to look unique. A typical textbook on a mobile phone will take 1,000 swipes to read. No one wish to do this.
Highly visual are the most convincing things on the tablets. Using photos and animated gifs-they can be powerful tools for teaching. Using video if possible, but don't always presume that students are in a position where they can listen to the audio
Looking for Online AI Education Clone Apps like Socratic? Please Share your requirement to "Get a Free Quote"

What is the Cost to develop math answers & homework helper App like Google Socratic?
There are three key aspects that influence the Cost to Create Mobile Learning like Socratic (and largely depend on how you choose to build your app). In addition, these factors play a major role in determining your app's price.
Platform: The Cost of Making Artificial Intelligence Education App like Socratic on iOS will always be a bit costly compared to other platforms. In addition, it's the same here. Similar to Android and other platforms, it will cost you around $5000 more to build a full-feature custom app with complex references on iOS.
Company: The Cost of Developing M-Learning Apps like Socratic can widely depending on the company or the developer you choose to work with the price. Many factors such as the credibility of the client, portfolio, level of expertise, policies, years of experience, strategy for development and approach play an important role here.
Location: The geographical location of a company has a great impact on the of Socratic like Mobile learning App Development Cost. The country of origin decides the currency they follow, which affects the rates decisively. That's why developers from Eastern European and Asian countries offer products at significantly lower prices than those from the US and Scandinavian countries. Also, the talent pool in countries like Ukraine and India is huge, resulting in stiff competition and price war–and you get cheaper offers here.
Ready to Create Your Mobile Learning App for Your Business
So if you're interested in building an educational app for children with basic functionality, decent design, and around five different short modules–and that from India –the price should be around $10,000-$15,000 anywhere. The Cost to develop Socratic like app may lies around $40,000 if the same app were built in the U.S. If you go with value and want some complex design and functionality embedded in the app, it will require higher skills and deeper work and Cost of App like Google Socratic will be 2X-3X. In addition, this scope would be largely dependent on the company's expertise and experience with which you choose to go.
Please contact us at sales@fusioninformatics.com to get an instant quote for AI-based m-learning apps like Socratic, Remind, Photomath, Duolingo, Byju's or to know an average / exact Socratic like AI Education App Development Cost in Bangalore, Ahmedabad, Mumbai, Noida, Delhi and Gurugram, India, San Francisco, USA, Dubai, UAE, South Africa.
Visit our site at fusioninformatics.com and AI Mobile Learning App Development Company for educational app for children or would like to get a custom quote.