Advanced Technology has remodeled in all aspects of our business today, from the process we operate in the direction, we interact with customers and in the system, we utilize production every stage technology is operating and making a grand success. While almost every ingredient of our business now depends on technology, maybe no action has been considerably more done than the idea we buy products and services online. Mobile devices have produced a pleasant buying experience, and e-commerce companies like Amazon, Flipkart, Myntra and e-bay have essentially transformed the approach we think about business and commerce that serve us.
Latest technologies like Artificial Intelligence making a huge sense of manufacturing products to delivering product and interacting with customers the way it operates in every aspect in all divisions that brings valve for both customers and companies. With Chatbot technologies that bring customers, close at an accelerated speed with companies and increasing productivity and sales. The e-commerce expected to touch 20% of all retail transactions by 2020, retailers. The advanced technologies like machine learning, neural networks, and deep learning encourage huge traffic and drive more sales.
At Fusion Informatics, we serve with world's top developers, produced many Artificial Intelligence applications for retailers, and made them successful in crowd competition and We spend quite a bit of time analyzing customer's determinations and industry technology to serve solid our customers and development solutions for business challenges. Within our innovations, we have made our company as best among the top AI development companies in Dubai, UAE and aiming to serve with best AI solutions that admitting to driving engagement and revenue
One of the main reason e-commerce has developed is due to mobile that has shown tremendous growth. In fact, according to recent survey shows, m-commerce will strike an 80% estimated sales, by 2020. The customers more preferred to buy the products through online, making a purchase; it is transparent that there has been a huge fragmentation of the shopping experience via online. Customers are involved with companies across a developing set of social media channels. Above all different, customers are finding influence at varying times, and want to reduce the way from discovery to buy.
How Artificial Intelligence Is Improving Shopping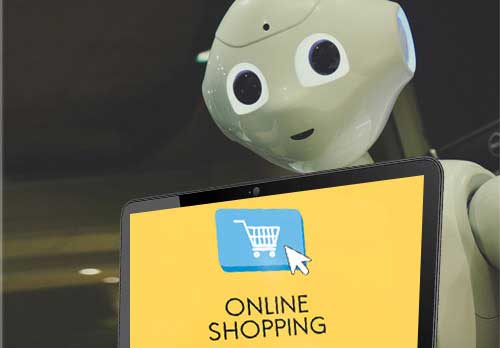 The intelligence systems and methods in the e-commerce business have completely changed the landscape. Digital Marketing has become smarter and convenient for companies to target a unique audience with the help of Artificial Intelligence.
The technology helps business to target exact users and provide the best shopping experience that stimulates with tailor-made suggestions and smooth transaction, and AI is the incentive in the center driving the sale. On the business side, AI encourages income growth by enabling us to involve existing consumers in ways that are more important. Through this type of innovations on targeting and cataloging well organized, that serves customers as well companies with driving engagement on their stores.
Artificial Intelligence is developing the digital shopping journey of customers and it illustrates the products in detail.
Chatbots
The Chatbot technology helps to communicate with customers in buying journey and complete the process of buyer purchases. This chatbot helps and offer product suggestions and provide offers 24/7 customer support. Chatbots employ in the social media channels like a Facebook messenger to provide customer goods recommendations based on their interests and account history. It can also allow customers to finish their shopping from the chat. For many big companies in e-commerce industries that are unable to handle more customers at a time, chatbot is fitted to handle multiple conversations with various customers at a time. Chatbots have become automated personal support for filling the gap of personalization that customers line in online buying.
Personalized Experience
Applying AI in e-commerce for Personalization has implied a key purchasing technique to quite retain customers, boost loyalty and develop a progressive and extensive brand association. The technology helps companies to send emails and product recommendations based on static demographic data and browsing the history of users. It displays the tailoring content, products, and services for every user, which is the best way to engage over the product and maintains loyalty. Customers prefer with businesses that respond as early as possible that manage the reliable relationship with users. The Artificial Intelligence helps to display the product information about shopping is being equipped to browse the ways, exploring comparable products until something actual. Artificial Intelligence helps e-commerce companies to take the imagination of customers in which they prefer to buy by simplifying the search process.
Analytics
Artificial Intelligence gives companies obtain to data about a customer at three various steps of the transaction. Companies now can apply the latest technology such as Artificial Intelligence that has the capability to receive information about a consumer before the buying the products and can obtain data after purchase, where this customer data is important for businesses for analytics report and enhance the customer experience by analyzing. This has benefits for companies to create and develop a highly unique, customized experience for each purchaser, reducing unrelated information and bestowing the customer with data that client information has already exposed them to be absorbed in.
The changes in customer data with past buying reports may influence in showing new products and made the customers involve in the displayed advertising. The changes will assure that customers will no longer be allowed products and services that are irrelevant. AI is making extensive renovations to the way companies deal with their consumers, growing high-speed access to data and providing the employees' ability to conventional use.
Review Tackling
AI has the ability to divide the good reviews from the bad through model verification that helps learning performances from the former issues. Machine Learning Algorithms are devised around these models that support in wiping out the wrong reviews from the truth. However, there are users with a hateful plan who can create false reviews and ratings but by implementing AI to help to solve the issues. Human intelligence coupled with AI is the best solution to control the scope of misinformation
Conclusion
With the increasing growth of the AI in this e-commerce industry, it will be extremely important that e-commerce will become a more vital, computerized and user-friendly experience for customers. Artificial Intelligence technology serves as a great platform for companies and customers. It helps to boost productivity and sales. AI will vitally display about the retail expertise, personalized fabrications of marketing, new goods and other services with a deeply interactive activity overall.