New Way to Pay Via WhatsApp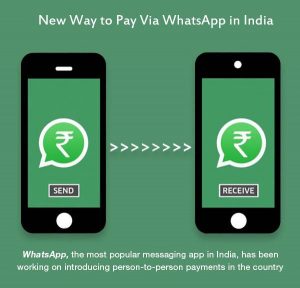 After months of numerous rumors that WhatsApp would launch peer-to-peer payments in India, the Facebook-owned company is now rolling out the feature. A new path-way to pay!
This news brings an awesome excitement to over 200 million active WhatsApp users across India, it would certainly give sleepless nights to dominating e-wallet market leaders like Paytm and Tez etc.
Like WeChat, the innovative payment system in China, the advent of WhatsApp into India's payments space will reshape the way we pay in India and it will expand beyond messaging. At its test launch with 1 million users in February, WhatsApp Pay­ received excellent reviews, intimidating the market share of incumbents Google Tez and Alibaba-backed Paytm, which lack the benefits of a social network.
"WhatsApp has a great starting point: a monopoly in chat," said Vivek Belgavi, leader for financial technology at PwC India. "High engagement makes it a credible competition."  More than 200 million smartphone users in India already have WhatsApp messaging platform and it is estimated that WhatsApp online Pay's growth and access will be 20 times higher than Paytm's.
India is one among the first countries to get WhatsApp Payments feature. It will be interesting to see how the app rating and consumption shoot up once the rollout is complete. However this feature may offer a more convenient way to send and receive money, it may also call a lot of fake issues such as spam chain letters duping people into sending money.
Put Pocket Penny @ Pal's WhatsApp & Treat and Great the Day!
The Good Morning messages are an annoyance on WhatsApp. It fills the phone memory, but not the pocket! With the latest WhatsApp Pay feature that uses India's UPI network, it is made easy to use chat app to solve the over-flood of Good Morning messages to your WhatsApp account.  All who are sending Good Morning notes are left with one more option of attaching some money to the message, like Rs 25 that will truly turn the morning to good morning.
Every special occasion mornings, 90% WhatsApp users, get greeting messages in India. Such messages overflow in the groups we are part of. They come from people whom we have not even met once.  Some are Gif files; some video files. Some have leaves and flowers as their image background. Some use sunrise. All say Good morning. A senseless, futile, e-greeting!
In this digital era, change the way you greet a friend on his/her birthday. It adds more flavor when you e-wish your birthday buddy with WhatsApp Pay.
Recently, the Wall Street Journal discussed the current trend of sending "good morning messages" in India and highlighted how these messages were blocking smart phones, and affecting its speedy performance.  This problem is under the radar of Google engineers, who are trying to find a fix on unclogging the phones, cleaning these messages and avoiding the performance problems. To deal with this complexity, Google engineers recently came out the Files Go app that enables WhatsApp users to delete all good morning messages in one go.
How to Merge Message to Money? 
The payment feature has been developed using India's Unified Payment Network – UPI, and hence is available to almost all smart phone users who have a bank account in India. It is also rather easy to configure and easy to use. To send money, all that you need to do is to tap on the attachment button in any open chat and then click the payment button. In less than a minute, you can transfer the money to any of your WhatsApp contact.
So, dear WhatsApp friends, here is an idea. Do not send a Good Morning message. It doesn't make your morning good. Neither has it made our day better. And irrespective of whatever motivational quote you may have attached with your "Good Morning message", it is not going to motivate others. These are empty words, and an annoyance. Instead, if you really want to motivate your friend to does something on a morning, in a day, in life, send them some money.
Gears to Configure WhatsApp PaY
Digital India is the first country to support in-app payment system on the popular messaging platform. This option has made an unprecedented way to Android smart phone users right now,
The payment feature is enabled merely by linking the app to the country's Unified Payment Interface (UPI) that lets users to link their bank account without sharing confidential details.
About one million people were tested WhatsApp's payments service in India, which is the largest base for the Facebook-owned company that has over 1.5 billion users globally. WhatsApp has over 200 million users in India.
WhatsApp spokesperson said "The Company has worked closely with National Payments Corporation of India (NPCI), bank partners, and the Indian government on these details of how its service works. WhatsApp had received permission from NPCI to tie up with banks to facilitate financial transactions via Unified Payments Interface (UPI)"
The terms state that WhatsApp collects information "when you send, receive, or request a payment, including the date and time and reference transaction number". Also, when someone makes a payment to a WhatsApp contact, the company collects the sender and receiver's names and BHIM UPI IDs. WhatsApp Company stated that sensitive user data such as the last 6 digits of a debit card and UPI PIN are not stored at all.
WhatsApp payments feature will take an advantage of UPI (Unified Payments Interface) and it also includes support by a number of banks, including the State Bank of India, ICICI Bank, HDFC Bank, and Axis Bank. WhatsApp presently shows a big list of supported banks including Axis Bank, HDFC Bank, ICICI Bank, and Airtel Payments Back as well. In order to configure the feature, users must first confirm their phone number via SMS and then choose a bank.
After the completion of the configuration, the option to send a payment becomes available.
Peer-Peer Payment Apps@ Fusion Informatics
It is our turn now to talk about integration of payment system in the chat platform applications like WhatsApp. In India, only few companies have proven their technology supremacy and skill-set to incorporate payment system in E-commerce or E-shopping application. We Fusion Informatics, take up such challenges in developing integrative apps that the current generation is in most demand of.
Being ISO 9001:2008 Certified Mobile App Development Company in Bangalore, India, our services have now spanned to UAE, and USA. Mobile app development for Android & iOS advocates enterprise mobility and is indeed essential for all the business for better engagement and customer satisfaction.
Having our signature in the fast track world of mobile app development, we promise next-gen mobile app solutions for your business requirements. We outline your entire mobile vision to be as cost-effective as possible! No doubt, enterprise apps improve business processes and increase worker productivity. We are counted at top in the list of mobile application development companies in Bangalore, India. Our services also crossed over to other major cities of India such as Mumbai, Gujarat, and so on.  Contact us today and entitle a best deal!
Connect with us or drop us your app project inquiry at sales@fusionInformatics.com. You can also call us @+91 63610 54076 .We are in a click away!