What is Paytm & Cost to Develop App like Paytm
Today, mobile wallet apps are in great demand. Mobile wallets are extremely useful for users, as they facilitate the transaction of money. The popularization of these payment options without problems led to the development of several payment mobile wallet apps like Paytm, Amazon Pay, Phonepe, Goolge Pay, Paypal, Airtel money, Mobikwik, Yono by SBI, BHIM Axis Pay, and Ola money. Users can pay their bills, recharge and even buy online with the help of these mobile wallet applications. Today, online business owners need mobile wallet applications to make transactions and entrepreneurs looking to take this advantage of ewallet payment and eager to know How Much Does it Cost to Develop App like Paytm.
Paytm is the most prominent mobile wallet application. It is the largest online portal that allows you to move money to an interleaved wallet. The reason for its popularity is the availability of different services on a single platform. As Paytm is going to register as one of the biggest means of currency exchange in the coming years, ewallet mobile app development companies strive to develop a better-customized application like Paytm. However, the question is, how much would it Cost to Build Mobile Wallet App like Paytm?
If you want your business to be more successful and accessible to the consumer, opt for the development of mobile wallet apps. Wallet mobile applications are very useful in all types of businesses for money transactions to customers without wasting time. In this blog, we will talk about How to Develop Mobile Wallet App and the cost involved in its creation.
A consumer can also use electronic wallets to pay in stores when shopping or eating out. Another fact about payment applications is that not many food and beverage companies have created their own wallet applications.
Therefore, when it comes to mobile wallets, they boost mobile payment, brand management with customers and create more infrastructures for existing companies. The best part of wallets is that it allows the consumer to use master and visa cards without carrying it.

Cost to Build App like Paytm and its Business Model
A first step in developing a mobile wallet application: Planning and Research
The first step in starting your mobile payment company or website is that you need a legal entity. The vast majority of recharge or wallet platforms such as Paytm are registered in the limited liability company. However, new companies have a wide variety of alternatives for the Registry to test their plans in the payment gateway business. In addition, since such portals act as a service provider for merchants, it therefore imposes service taxes on merchants for providing these services. Therefore, you need a service tax registration number to collect the service tax.
Therefore, it is important that you investigate the market to know the Cost of App like Paytm, the target consumers and the mobile application development company.
Here are some things to ask the mobile wallet app development company before diving into the development of mobile wallet apps:
What are the charging methods used by development companies?
The difference between the cost if it goes for the development of iOS mobile app or the development of Android mobile apps
These are some of the questions you should ask the company, in addition, it is crucial to plan and research about your company and the features you want in the application.
Cost of Making Mobile Wallet Apps like Paytm:
The Cost to Make App like Paytm varies according to the types of features you want. The most common payment applications have the following characteristics:
Link and integrate various payment methods / gateways and Includes credit / debit cards or digital currency.
It has additional features such as coupon codes, loyalty points, wallet limit, etc.
Any application that sells things can have a mobile wallet added to your application. Like Amazon, it has created its own wallet Amazon Pay.
Linking your bank account with your wallet
Find out How Mobile Apps like Paytm Work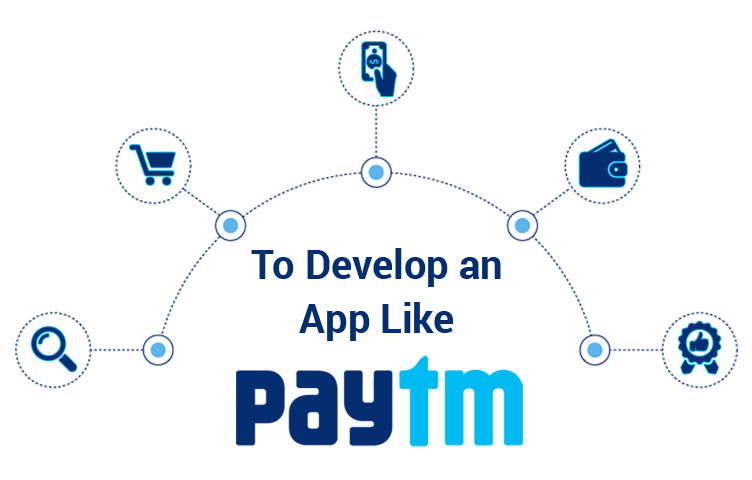 Before starting to create an app like Paytm knowing Development Cost of a Mobile Wallet Apps like Paytm will be wise decision. First, we must know how Paytm works and Paytm is the most prominent mobile wallet application. It is the largest online portal that allows you to move money to an interleaved wallet. You can make the transfer in the wallet using a debit card, credit card or online banking system through any bank. With the help of the Paytm wallet, you can pay for many goods and services. You do not need to worry about cash. The purpose of its recognition is the accessibility of several administrations in a single portal.
The Paytm application works two ways. One is the Paytm wallet and another is the Paytm payment bank. In the first way, users can add money to their wallet through credit card, debit card, online banking and banking partners. Once the money is added to the application, the user can use it to pay several bills without the need for hard cash..
Approximately $ 30k-40K is the Cost of Creating Mobile Wallet App like Paytm for your business. The time required for the development of the mobile wallet application will be around 4-6 months.
The above cost is calculated by including billing hours, not application developers, designers, API integration and hardware / software integration if necessary. The cost of developing infrastructure, hardware and an overseas office is also included.
Types of Mobile Wallet Application in 2019
It allows us to see the types of electronic wallet applications. It is possible that it happened to you while using a platform to have your own site like Paytm.com, which you begin to love the dream of owning such a site. Therefore, it is widely trusted that building a Paytm clone app of this platform should be able to prove that you are a bearer of fortune and fame for you.
A retail application like Amazon can have a mobile wallet with all the basic functionalities. It has coupons and reward points that can be redeemed. Allows all types of payment, including net banking
A dedicated payment application:
It allows P2P money transfers when storing a variety of cards online. Examples of such applications are Apple Pay, Samsung Pay and PayPal.
Payments PoS (Point of Sale):
PoS payment wallet applications are found in storefronts, which allow the user to make payments without contact (without queuing). They are very popular in the United States.
Essential Features Stirring the Cost to Make Paytm app development
Key features needed to build a platform as a Paytm application:
If you want to develop a wallet application with more features, the Cost to develop Paytm like app will be higher. If the application has NFC and iBeacon technology, the cost will increase even more as those are the very advance tech feature.
Advanced features will not affect the cost of developing native iOS and Android app for paytm. However, the time and efforts involved in the development of the application would increase
Simple alternatives to recharge mobiles, data card and DTH
Book flight, bus tickets, train, hotel rooms, movies and event shows.
To pay bills for energy, gas, landline, broadband bill, metro and education bills
Integration of simple payment options such as net banking, debit card, credit card and payment wallet.
Easy access to the purchase of appliances, smartphones, clothing, stationery, shoes, etc.
To makes the payment free and secure through the wallet.
Return offer in the use of the promotion code.
Leading Features affecting Cost to Create Paytm like App
In addition to the basic function, a mobile wallet with advanced technology will enhance the following functions:
GPS modules for location search.
Loyalty programs specially offered by retailers
The function to enable POS mobile wallet payments using NFC, iBeacon and Bluetooth technology
Authentication by fingerprint scanning
A tool that allows a user to see how much they spend on the application throughout the month
The function to use Wi-Fi or network data for real-time connectivity
Press notifications and reminders about offers
Access to Coupon codes
Online payment receipts
Integrating eCommerce to mobile e-wallet apps like Paytm Mall
The Cost to Create App like Paytm with these features may require a little more than $ 40- $ 50k.
If you want to develop a hybrid mobile wallet application, the cost will be significantly low. The cost of a hybrid application will be around $ 18-25k. In addition, the time required for Developing UPI Payment apps like Paytm would be around 2-4 months.
Looking for Paytm Clone Apps Development? Please Share your requirement to "Get a Free Quote"

Mobile Wallet and UPI Payment Apps like Paytm Cost
Therefore, before embarking on the application development strategies of a eWallet mobile application, businesses must validate and verify the previous records and the time required and invested by the mobile application development company to design the eWallet mobile app. Before you, Hire Mobile Wallet App Developers it is always advisable to compare all reputable development companies based on experience, goodwill and costs.
Now we come to right phase about the real question that is how much does an App like Paytm Cost? Most companies charge according to the hours they devote to the development of the application. In regions such as North America, for example, the price is around $ 130 per hour, in Europe it is $ 130 per hour, and in and companies located in Australia charge around $ 180 per hour.
According to statistics, India is the most affordable county to design quality eWallet mobile applications at the price of $ 15- $ 60 per hour.
The Cost of Building Ewallet Apps like Paytm is around $ 25,000 to $ 40,000 and applications that have extensive features as Paytm can cost more.
In addition to finding the Top Mobile Wallet App Development Company there are also some key people who really take responsibility for developing the application from scratch. Find and Hire Paytm iOS/iPhone and Android App Developers if they are immersed in the true passion to develop your eWallet mobile application.
Key Takeaway
With the paradigm shift towards the world of digital payment, where no more cash is required, eWallet app has revolutionized the financial and economic sector. We have seen how some eWallet applications have had tremendous success in this era of information and technology in which everything is changing at a rapid pace.
Many do not prefer cash payment and not all stores accept master / visa cards. With mobile wallets, you can pay with your credit / debit cards with just one click. Therefore, for companies, it is a great opportunity to generate more income and mark among people. Cash is at risk while the mobile wallet is useful. In addition, you do not need to have cash that you can pay through mobile wallet applications.
If you still have doubt on queries like Paytm like How much is the Mobile Wallet App development cost in Bangalore, Ahmedabad, Mumbai, Noida, Delhi and Gurugram, India, USA and Dubai and then contact Fusion Informatics by sending an email at sales@fusioninformatics.com and hire a reliable and profitable Mobile App Development Company to build your next unique eWallet app.