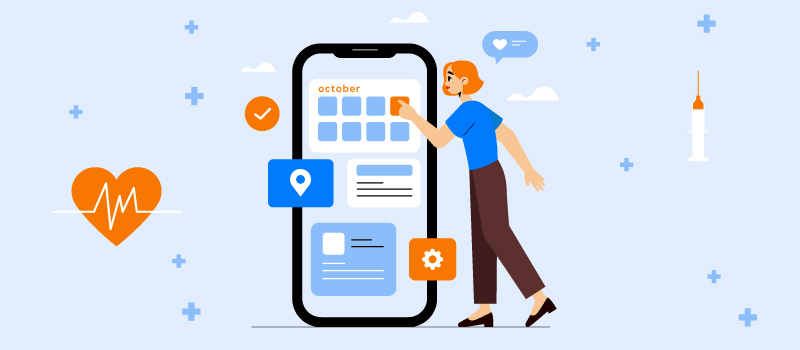 If you are a healthcare professional, you will resonate with my experience.
My friend is a doctor. She is a leading gynecologist in a tier-1 city in India. She called me one fine day, "My clinic is now available on google play store. I have launched an on-demand healthcare mobile app. Can you give your feedback?"Of course, I was happy to give one. When I downloaded and installed it on my mobile phone, the first thing that appeared on the screen was the text "Words cannot express the joy of a new life" along with an impressive image of my friend holding a newborn of a patient of hers!
The crux is- The on-demand doctor mobile app that my friend's clinic has developed is dedicated to expectant mothers, new mothers who need 24×7 attention, and monitoring by specialists, gynecologists, nurses. Similar mobile apps can be developed for other specializations and focus areas adopting digital in the ecosystem. Costs of developing an on-demand doctor mobile app vary from basic features and functionalities adopted.
What is On-Demand Doctor Mobile App?
An on-demand doctor mobile app connects users with doctors from the comfort of home. In-app messaging and online consultation through video calls are a few facilities on-demand doctor app fetches to their app users. Here, doctors as well as patients, both have installed a dedicated on-demand doctor mobile app on their respective smartphones. The healthcare/medical care is available 24*7 at any location. People living in cities, villages can equally avail of online medical consultation and treatment, prescriptions using on-demand doctor mobile app development. The process entails where app-users need to log into their app and mention specific medical issues. They can select time-slots and from just any location can connect with the doctor for a real-time virtual/online consultation. It belongs to the family of telemedicine and resonates with the real-time interactive telemedicine type.
Insights
As per Statista Report:
Online Doctor Consultations segment revenue is estimated to reach 25,115.29million USD in 2022.
User penetration is set to be 1.51% in 2022 and is estimated to touch 1.68% by the year 2025.
The ARPU ( Average Revenue Per User) is ­­­­set to amount to 218.92USD.
Benefits
Improved Brand Reach
Instant Medical Services
Availing of medical services from anywhere
Easy Scheduling of Appointments
Reduced Overhead Costs/Transparent Costs
Reduced Paperwork Hassles
Less Crowd in Hospitals
Key Features
An on-demand doctor mobile application consists of features separately for the three stakeholders:
Doctor Panel Features
Manage Appointments
Video Call/Live chat
Earnings-Tab
Push Notifications
e-prescriptions
Patient Panel Features
Sign-up & Login
Search/Filter to Search Doctors
Schedule an Appointment
Audio/Video Call
In-App Chat
Upload Test/Lab Reports
Payment Gateway
Review/Ratings
Admin Panel Features
Managing Profiles
Add Bookings
Rescheduling/Cancellation of Appointments
Generating notifications
Marketing Tools
Advanced App Features
Appointment Reminder
Navigating In-app Clinic
Cost-Calculator
Reminder for Medication
Push- Notifications
Multiple Online Payment Options
Real-Time Analytics
Making Health Insurance Claims
Sharing Documents
Marketing/Promotional tools
Multi-Currency Payment Option
Multilingual User-Interface
Factors Determining Costs
Major factors that determine the overall costs incurred for developing an on-demand doctor mobile app are:
Technology Stack Adopted
Mobile App Development Platform (Android, iOS, Cross-Platforms)
Number of App Features
Total Functionalities
Geographical location
Skills/Expertise of Developers
Integrating Payment Gateways
Third-Party App Integration
Post Launch App Maintenance & Monitoring
The complexity of UI/UX designs
Countrywise Cost for App Development
The cost of on-demand doctor mobile app development varies from one country to another.
In the US, it'd cost you around US$150- $250 on an hourly basis. In Eastern Europe, the costs for mobile developers would come around US$120 -$180 per hour. But if you outsource your mobile app development projects to India, the costs would be further reduced to US$40 to $80 per hour! So, it is quite a good idea to go for the best and affordable telemedicine app development or on-demand doctor mobile app development in India. You can consult a credible mobile app development company in India to get started on your app journey.
Costs for developing an MVP version of your app may start from US$30,000. If going for rich features/functionalities and multiple platforms, it might cost you up to US$80,000.
Bottomline
The healthcare industry is expanding through online ventures and the wider adoption of digital tools and technologies in the ecosystem. AI-ML-powered telemedicine solutions,on-demand healthcare mobile app development are a splash in the big ocean. The rising Omicron cases and related COVID-crisis have led to the massive surge in mobile app development businesses across the globe. People want healthcare on their mobile apps. So, whether you are a clinic, doctor, healthcare organization, investor, hospital, this is the perfect time to go for your specific on-demand doctor mobile app development process and get started.
If you are a healthcare organization, hospital, private clinic, doctor, and want to know how much it'd cost to build your unique on-demand doctor mobile app, and how the app can fetch you profitable returns, Contact us immediately.