About – Zillow like Real Estate Website, App Development Cost
The emergence of on demand market has been like the Tsunami flood over one industrial sector after another. Real estate app development is rapidly booming now. What could be the Reason? Modern people are more addicted to mobile than before. By saying that I mean that, you might not be surprised to find out that someone you know moves to another city or even a country. In addition, I am not talking about moving to another apartment – this happens to almost everyone and makes to use of this perfect situation some big real estate builders, businesspersons had leaped to get their own real estate apps and their only concern is about How Much Does it Cost to Develop Real Estate App like Zillow.
When you are looking to develop an application to register real estate properties, I am sure you are very familiar with the American real estate market and you must have heard of Zillow. Today we are talking about How Much Does It Cost to Build Real Estate App like Zillow. At present, this kind of application meets demand. We explore why this application is so popular and what to do if you have ideas about to create Real Estate Zillow Clone app script. In this article, you will find out what steps you must take to avoid burning funds and receive success in the real estate mobile application field.
If you want to build your own Zillow like app, it is important for you to know the important features that build a real estate mobile application like this. This is how you will be able to maintain a focused approach to conceptualizing and building applications and will be able to achieve most of them and in a guaranteed manner. To better understand the solution and doubts like what is the Cost to Build Real Estate App like Zillow, we need to focus on selling and leasing the most followed applications produced by the company – which turns out to be like Zillow Real Estate.
Plenty of companies you can hire for the development of real estate mobile apps. All companies have a price, but usually developing real estate apps costs depend on features, which we will discuss later. Real estate applications are important applications that is in demand today, so creating such applications will definitely help your business. In addition, this helps real estate agents to make their business exclusive, and users can easily find their dream home.
With this, we are all ready to move to the core section of this article, namely, to find out How to Make Real Estate App like Zillow. Ok, let us go deeper…

Cost to Develop an App like Zillow and Its Business Model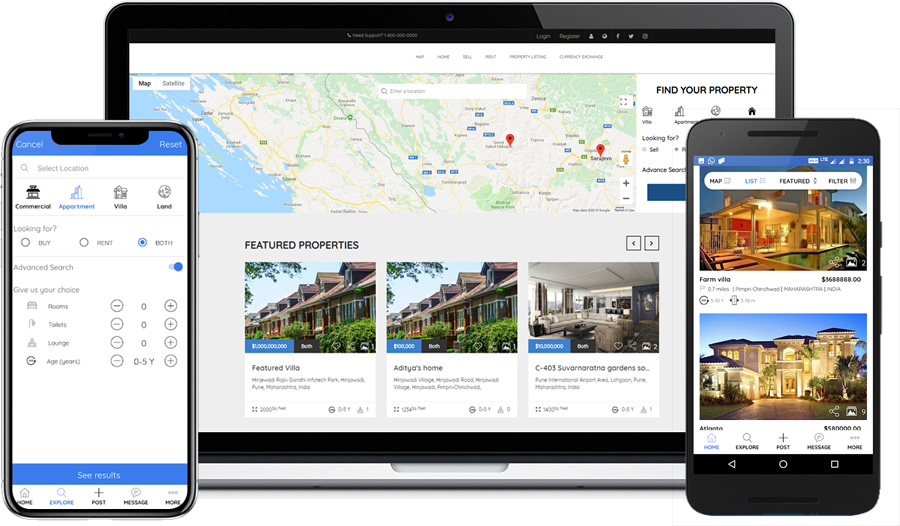 Let us explore Zillow's business model before knowing the Cost of Creating Real Estate App like Zillow. When developing real estate applications, it is important to have the right people. Buying a home is not a small thing in people's lives and therefore something that helps the process must be developed with the most sense. This means that only having a developer employed will not be of any use to the project. To carry out development correctly, you will need a team led by a project manager.
You will need a Zillow like Real Estate mobile app Development Company with front end and backend developers, application interface designers and QA engineer to handle project updates and changes. If you want to create a real estate website and apps like Zillow, it is very important to know the development costs used to develop real estate mobile apps. This will allow you to have a focused approach to conceptualizing and building applications and you will be able to achieve them in a guaranteed way.
At that time, we were approaching the idea of ​​real estate apps and Cost to Create Real Estate App like Zillow. I believe that it is very clear to readers, that the cost of making applications such as Zillow in the USA, Canada, UK or Australia will cost a lot. For example, the estimated hourly coding price in this state can range from $ 70 to $ 110 per hour. You might agree that it is not the most acceptable variant if you do not have large financial support. However, there is an opportunity to use the brains of Indian developers.
The Cost to Making Real Estate App like Zillow will depend on the type of features you plan to include in the project. The development process, as well as the team you will choose to carry out project development, will all add to the costs. Based on hourly fees for members of the development team and timeline, it will be possible for you to get an estimate of ​​how much you have to spend.
You must remember that Development Cost of a Mobile Apps like Zillow change based on location too. This is something that you must have in general, to carry out the development process. You can even plan to build a team that is not based on your random choice.
Discover How Real Estate Apps Like Zillow Work
To be honest, the answer to that question can be very easy. Mobile app agents like Zillow to achieve all the same goals as with brokers but with their own goals. As a result, Cost of App like Zillow can rise in the expected period people save their money. In addition, if you are a seller, usually if you use agent services you are required to give them a 5% portion of the purchase, what is not good, frankly.
In addition, apps like Zillow can make things very good. They may be able to help people overcome the problem called "brokers" or just talk, adventurers, who usually cheat on those people, who while considering them as real agents tend to give them money, time and, as a result, property. Therefore, it is very important to Hire Zillow iOS and Android app developers to develop applications that can survive in this competitive environment.
The Development of Zillow like Real Estate apps can help people rent or sell property and make them meet people who are looking for accommodation but the ultimate question arises is How much Does an App like Zillow Cost? Well, we will discuss that that next. Application users can even search for accommodations using smart filters that help determine their accommodation requirements. Users can have a list of rental properties based on budget, location preferences, facilities and more. Therefore, you cannot let users connect with you but also give them real-time help to find the best property for their needs.
Basic Features Affecting the Cost to Create Real Estate App like Zillow
When you plan to develop a real estate application that focuses on iOS and android, you need to look at a few things first thing that is Zillow like Real Estate App development cost, now, this is important because this step will make you come up with a successful process to develop the most appropriate application. For this, some of the features that you should include in your real estate application are:
Database
Advanced Search Function
Graphic List Appearance Details
Increase Save Search for Retaining Users
Selling and Buying Applications
Mortgage Extension
The development of real estate mobile applications has gained popularity in recent years with more and more companies entering this domain. The Cost to develop Zillow like app, as well as the time of development of real estate websites and mobile applications, depend on the various features mentioned above.
Advance Features That Affects the Cost of Making Real Estate App like Zillow
Some advanced features make Zillow Real estate Property app what is today. This means that if you plan to develop real estate applications like Zillow, you need to think about including features that can help it grow. Therefore, when you make an application concept, you have to remember these features.
When we talk about the basic features that will be added to real estate applications, then this is certainly one of them. It is possible for you to offer a better user experience by having a better search event and sorted for users. Now, this is something that you will find in every other competing application on the market.
Whatever the application is questioned; it definitely comes with a registration page. This feature must also be included in the real estate application. After the user registers to the application, there must be a brief on-boarding process that can be used to introduce the application and its features clearly.
Search and filters can be applied based on different factors such as type of property, location, square foot, price, type of list, year of development, additional facilities, etc. The more valuable data you have, the better the filter can be applied to assist in search.
When searching for properties, users always have several options. This must be based on their preferences and by looking at the images listed in the application. After narrowing down the search, they can request a tour of the property and all you need is to Hire Real Estate App Developers to have this features in your Zillow like clone app successful.
Video tours can now be done in the best way by relying on streaming technology and imaging available on the market. Well-written and professionally developed videos can be developed to display properties using interactive tools.
Push notifications said to have an important role in building your application for the real estate business. This is the best way to get user attention to the application even though they don't think
Are You Looking To Build Real Estate App Like Zillow? Share Your Requirement to "Get a Free Quote"
How to Choose Zillow Like Real Estate Mobile App Development Company
It is important to contact the best Real Estate Apps Development Company that has expert consultants, Mobile and Web developers. Only the best can help the goal of entering the market with the right strategy along with the best online real estate market applications that have UI / UX features and perfect features.
Only a few years ago, the rental service industry would be a problem for those seeking assistance and assistance – for property owners, tenants and contractors. Currently, the rental platform designed so that users can spend less time searching and more lifetimes, less time searching for a dream home and more time enjoying sweet moments there. So why don't you contribute and make a breakthrough in the development of real estate mobile app – for the sake of a better future where people rent without being busy?
If you have further questions like what is the Real Estate Mobile App development Cost in Bangalore, Ahmedabad, Mumbai, Noida, Delhi and Gurugram, India, USA and Dubai then do not hesitate to contact us at sales@fusioninformatics.com. We are always ready to provide a free consultation and answer all the questions you have regarding real estate apps.