About home service provider App like UrbanClap
Everything comes handy within your fingertip as mobile applications have established an empire in the ever-burgeoning technological period. The new-fangled homes filled with a myriad of home appliances like Refrigerators, Air-Conditioners, Microwave oven, Heaters, and varied kitchen appliances require caution to deal with it effectively.
In the animated way of living, maintaining all the household chores and keep in track of the appliances may be purely frustrating. There is always a huge demand for carrying out home-based services and this is the situation where people feel exhausted of finding the perfect professional for their needs.
This is the all-in-one platform that the users can hire any professionals, from sofa cleaners and carpenters to real-estate lawyers, architects, bartenders, and home chef, etc. Missed the body shape in a long-hauled weekend, having a concern about your beauty. Just chill! UrbanClap provides the necessary service in a scrutinized manner by landing the experts at your doorstep.
Clasp the intriguing home service provider apps like UrbanClap which is the comprehensive solution platform for all lifestyle-related services. UrbanClap is curated in such a way that you can hire local professionals for getting the things done with a simple tap.
People overwhelmed by an online home-based service app like UrbanClap because it provides the comfort of post the required service in the app where the service provider responds with an appropriate budget and the timeline for finishing the job. People can hire professionals from the neighborhood or from any choice of location.
Fusion Informatics accomplished the development of various apps according to the need of our clients and made them peculiar in their approach. To thrive in the mutable competitive market, online service provider apps like UrbanClap employing new strategies to amuse the users and support themselves.
Every web service business is seeking for developing a home-based service application like UrbanClap and some attain success by creating their own UrbanClap clone, UrbanClap script thinking to operate a business just like of UrbanClap.

Fusion Informatics is the leading mobile development application companies in Bangalore, Ahmedabad, Mumbai, and Pune offer the best services with 24*7 support maintenance. Developing the cost of online service provider app like UrbanClap involves many factors and features based on market needs as discussed below.
List of service categories offered by UrbanClap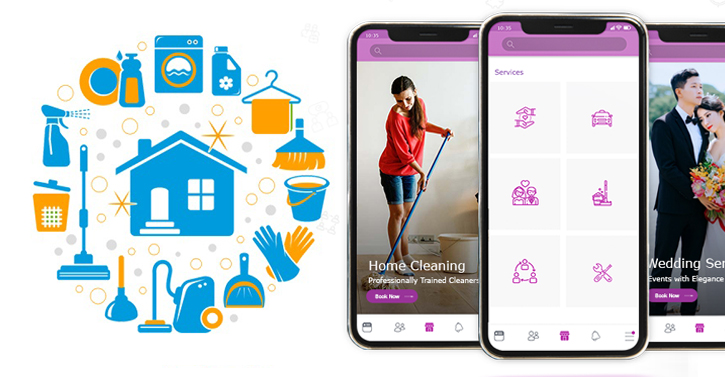 Home cleaning and repair
Geyser repair
Electrician
Plumber
Washing machine
Carpenter
TV and fridge
Home deep cleaning
Tutors and lessons
Commerce tutor
English tutor
Home tutor
Mathematics tutor
Shifting homes
Packers and movers
Pest control
Bathroom
Kitchen
Sofa
Carpet
Water tank
Home design and construction
Interior
Modular kitchen
CCTV camera installation
Painters
Architect
Party and event services
Birthday party
Event photography
Party make-up artist
Health and wellness
Physiotherapy
Dietician
Yoga trainer
Fitness trainer
massage
Wedding services
Wedding photography
Bridal makeup
Wedding planner
Pre wedding photoshoot
Business
Web designer & developer
Lawyer
CA for tax registration
Kids
Home tutor
Drum classes
Guitar classes
Baby photographer
How a service provider app like UrbanClap helps professionals?
In the conventional service sites, experts will be paid based only on the commission where the sites swindle a larger amount. The work case scenario is entirely different in on-demand home service provider apps like UrbanClap where there is no work for middleman involved and only 5-25% will be cut off from the earnings depending on service they offer.
About 15,000 people quit their daily job and made them available in UrbanClap platform. Suppose a beautician can earn around 60,000 per month in the app who were in the position of earning 10,000 on their own. Lawyers feel that they get many as 5 cases in a week with this platform. Likewise the photographers, event planners, other experts really enjoying the greater phase of their life in UrbanClap.
Key features of home-based service provider app like UrbanClap
Customer app features
Quick and undemanding registration
Social media login
Eye-popping user interface
Search filter
Service feedbacks
Quote & chat history
Payment history
Multiple payment gateways
Data security
Local vendors & features
Fast login
Profile analysis
Real-time data
Different rate plans
Full charity maintenance
Reply to clients feedback
GPS navigation system
Service rating & charged listing- hourly, fixed, etc.
Admin panel
Full admin control panel
Advanced CMS & CRM
Cloud hosting
Global access
Backup and restore feature
Records bill & payment history
Notification control from backend
Subscription plan management
Advanced features
Cloud environment
Promo/offer
Predictive search
Purchase package
Membership
Push-notification
In-app wallet
The special aspect of home-based service apps like UrbanClap
Sitting comfortably on the cozy sofa, you can finish all your household chores in a single flick. Interesting! Isn't it? This really comes true with the adoption of an online home service app like UrbanClap. The delay caused in the work can be neglected and it ensures safety by listing all the service details.
UrbanClap technology supports developing an interface between experts and customers. Simply sign-in to the app, look for the services you require and book them with prior approval of costs. A trusted service expert will be placed at your home. Refer to the complete details and reviews of all the experts in which you can pick the best person for your needs.
It provides the necessary value for a professional to foster their business by partnering with the UrbanClap platform. The seamless process includes downloading the application and creating a better profile. The interview process for the experts is poignant that only one out of ten will be qualified.
Conversion rates reach nearly up to 50% with the installment of the UrbanClap matchmaking algorithm. The customer can search their need with a variety of constraints such as budget, time, event, location, etc. The algorithm finds the relevant details in the database and sends experts of the customer choice.  The professionals can enroll here for better business growth rather than surviving hard on their own. However, the cost of developing an app like UrbanClap solely depends on various factors.
Want to build a Home Service provider App like UrbanClap? Share your thoughts to "Get a Free Quote"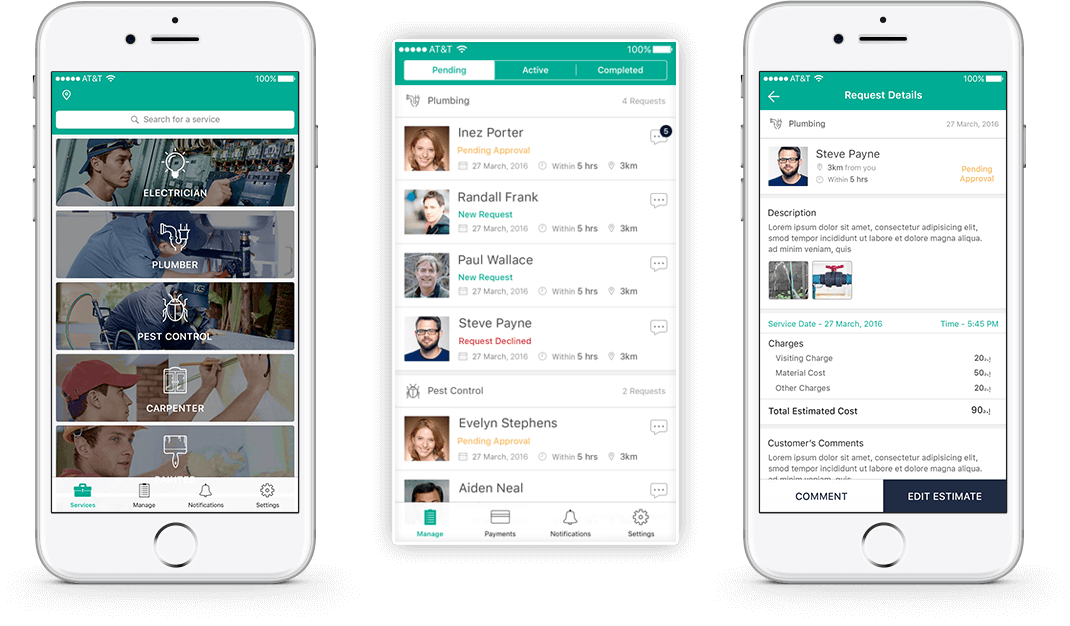 Is creating a service provider app like UrbanClap cost expensive?
The cost to create an online service provider app like UrbanClap fluctuates depending on the prerequisites. Developing in the platform of android or iOS may be quite exorbitant and never in the reach of your financial limit. It also relies on the factor of the service provider app development company that you recruit.
The cost to make UrbanClap lies in the proximity of $10000 to $50000 based on time and budget constraints. The hourly charge is being employed by the developers is common around the world and the price can charge up if the backend process included.
In Europe or America: $150- 200 per hour
In India: The cost of building a home-based service app like UrbanClap is very cheap somewhere around $80-$130 with the exact replica of UrbanClap app features
Key factors determining the cost of making an application like UrbanClap
App platform- The cost to build a service provider apps like UrbanClap changes according to the platform. Android costs relatively higher than the iOS platform because of testing functionalities.
Theme design: a wide range of themes available over the internet that perfectly fits into service provider application. Enabling proper UI makes the application compatible with other devices
Content inclusion: content is a king in the digital platform. Add a different variety of content including blog posts, infographics, galleries for the ornate display of the application.
Application launch screen: no matter the service provider app build in an iOS or Android medium, ensure that the home-based service application fits well into all sizes of the screen.
App developer- The cost to make UrbanClap iOS or android solely rely upon the basis of the developer. The demographic and prowess of a developer play a huge part in determining the cost.
Advance and External Features-The features of UrbanClap mobile app cost vary like data sync, hosting, design disintegration, push notification alongside OTP evaluation, etc.
Looking to hire UrbanClap like service provider mobile app development companies for creating UrbanClap App Script?
By figuring out and discerning what exactly advances in the home-based service provider market future, you will be a pioneer when talking with your favored on mobile app development company about measuring your application such that it is established for the service in the evident future
Need to know what to do next? It is Simple! Connect with Fusion Informatics, as we are the leading UrbanClap like service provider app Development Companies in India, USA, UAE, Europe, and Africa and begin with your very own service providing app development.
Do you want to know the development cost of creating an UrbanClap alike online home-based service provider application that could propel outcomes for new companies? Setting goals for becoming a pioneer, then send us a reply at sales@fusioninformatics.com