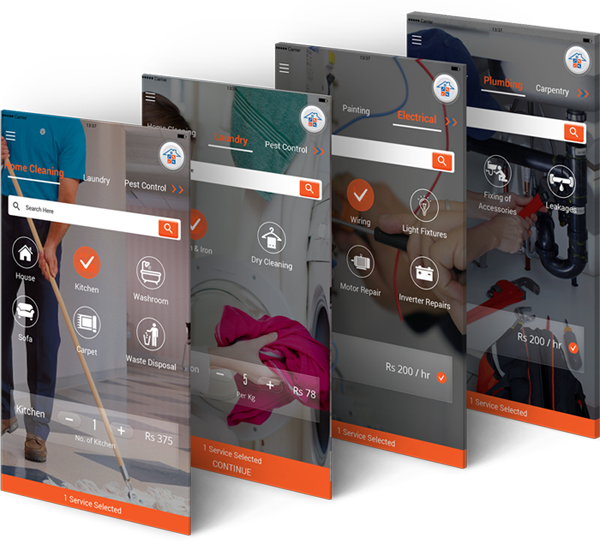 Avail day to day maintenance services at fingertips!
The app is a marketplace bringing normal users and service providers like house maintenance, car maintenance, electricity, plumbing, pest control, and more, on one common platform. It aims at helping those who find it hard to devote time for important maintenance activities. Services can be booked instantly with service providers present in nearby location, area, or city.
Problem
Most people suffer from day to day problems of cleaning their homes, as well as washing and ironing of clothes. Taking this into account, the client wanted to build an app connecting normal users with such services, to avoid the hassle of cleaning the homes or clothes by themselves.
Challenges
Storing identity proofs for so many multiple service providers required a huge database storage
With too many details to fill, a service form had to be neat with only relevant information to be filled
Historically availed services had to be stored so that users can keep a track of the services availed in the past
Solution
We were able to successfully deliver an app, wherein end users were able to quickly book their appointment online through the app. Alternatively, the app also turned out to be beneficial for service providers, for listing their services and getting highlighted for specific areas.
Features
Secured user login for both end users and service providers
Locate nearby service providers through Google Map integration
Push notifications enabled on availing a service
Options for paying now or paying later
2-colored interface (White & Orange) keeping it consistent throughout, allowing the app to appear soothing for eyes
Facilitates full proof safety as service providers need to upload their identity proof for registration