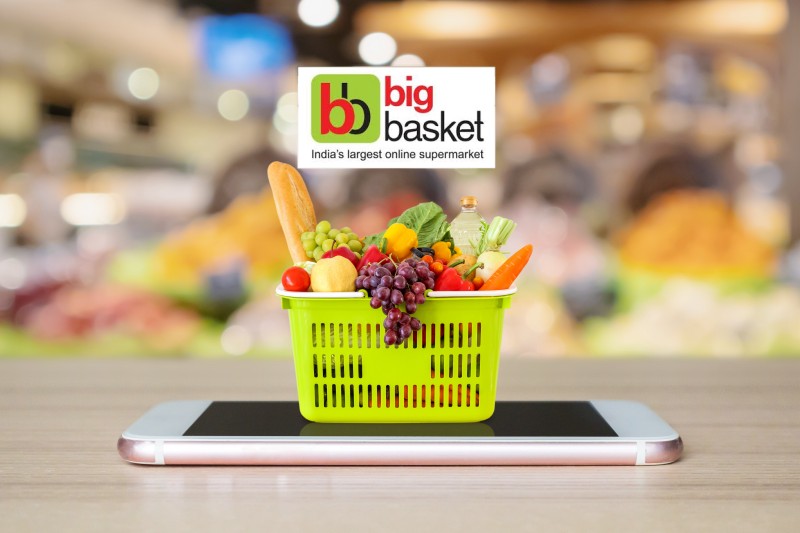 Are you a regular shopper on BigBasket? Do you enjoy ordering online for food and grocery- items via your mobile app? Personal grocery shopping has become so easy and seamless that you get your things at your doorstep. Well, BigBasket is India's largest online food and grocery store and its catalog proudly displays over 18,000 products and more than 1000 brands. Amazing indeed! Its credibility, the brand quotient is obvious from the fact when during the lockdown, BigBasket happened to be the only on-demand grocery-service provider who delivered basic food items across the country. As per Financial Express, BigBasket recorded an impressive 84% rise in new customers in the pandemic. And If you are planning to develop a similar kind of mobile application, just like the BigBasket app, you need to evaluate the cost factor. We'll be discussing several factors that will determine how much it'd cost to build an app like the Bigbasket one.
First Thing First – Benefits from an App like BigBasket
The benefits are manifold, both for customers, as well as for the grocery business or the app owners.
Benefits for Customers
Saves time. Just order online.
So convenient. From the comfort of your home, you order your grocery-items.
You buy what you need, no over-shopping the way you get tempted when buying in a shopping mall/physical store.
Money-saving affairs. You keep getting offers, discounts, schemes, loyalty programs, etc. due to online purchasing via the app.
E-Wallet. GooglePay, PhonePe, PayTM, card payment enables you to pay online. Here also you get reward benefits.
Benefits for App-Owners
Customer-loyalty.
Instant Online payment.
Option for a direct marketing channel.
Scope of building a broader customer base.
24*7/round-the-clock store presence.
Increase in sales.
Cost-saving. You don't need to hire people for store-assistance.
Significant Features of the App
You have four specific features in an app like the BigBasket. These are rather the four layers of apps within the main app.
• Customer-App
• Store-Manager App
• Admin-Panel
• Driver- App
1. Customer-App or the End-User App
Sign-Up and Sign-In – Your customer gets a unique email id and password or verified phone number to avail of the app service.
Choose from the catalog /Add to cart– Select items , add them to the cart for future buying or for comparing costs.
Location- Mention – Specifying a particular delivery location with a complete address.
E-Wallet – Online payment, option to track the balance amount available or recharge the wallet.
Return or canceling order – If not satisfied, can return the ordered products or replace them.
Delivery-scheduling – As per convenience can schedule timing for delivery.
Tracking order delivery-status- Your customer can track the order and delivery status.
Record of delivery orders – Can maintain the summary of previous orders and delivery date-wise.
Ratings and Reviews – Can rate the products and give reviews.
Wishlist for products – Can secure and collect products for future buying.
Chatting or messaging option – Can chat with delivery person to inquire about the delivery timing, etc.
Push- Notifications- settings – Your customer gets regular updates about orders, promotional offers, and schemes, etc.
Social Media Sharing feature – Yes, your customer is your brand ambassador, too!
The development of this feature involves costs around – $4K to $5K.
2. Store-Manager App
Login-Process – Needs to log in as per unique ID or verified Phone number.
Order-Management option (store locator and store-Pick-Up) – Store-Manager gets notified about all orders and suggestions for managing them relevant to the nearest stores.
Inventory-Management option – Helps in stock management.
Accepting or rejecting orders – The app accepts and rejects orders depending upon the product-availability.
Receiving of the payments – Once the delivery status shows delivered, payment is received automatically.
Logistic Integrations options – Arrangement of transports as per convenience.
Help & Support Option – depends upon his requirements where variations can help out.
Viewing of reviews and ratings – This feature allows a manager to view order- reviews or ratings of the customers.
The development of this feature involves costs around – $4K to $5K.
3. Admin- Panel
Login Process – Login credential is unique.
Dashboard Analytics– Managing orders from customers from this platform.
Managing of inventory – Managing a huge stock of products in all categories.
Order-assignments – Depending upon the location and order, store managers assign tasks to delivery people.
Real-Time Analytics & reports – It enables keeping track records of all the customers and extracting important data on the requirement. Can add, remove or block users.
The development of this feature involves costs around – $2K to $4K.
4. Driver – APP
Login Process – Login process using email id or verified mobile number.
Dashboard – Delivery drivers get complete detail about ongoing and completed orders.
Delivery status – On and off status feature.
Order-request detail – Displays order request and delivery time allocated. Drivers can either accept the order or reject it.
GPS Navigating feature – It gives directions to customer-locations as well as grocery shops.
Chatting or messaging option – Can chat with customers about a query regarding delivery timing, address, etc.
Payment – Tells about the mode of payment and summary.
E-Wallet – To check payment received from delivered order and withdrawing the same.
Order records – It records the history of the past deliveries completed, with user transaction detail.
Push-Notifications- For any changes to the order and all other statuses.
The development of this feature involves costs around – $3k.
On-Demand Grocery App, A Leap Towards Lucrative Business!
The world is shifting towards online mode of operations on a rapid scale. Be it eCommerce or any selling-purchasing deals, online businesses are flourishing in every nook and corner irrespective of geographical boundaries. Don't you think this is the ripest time for you to start developing your online grocery application, just like the Big Basket app? You got to see an average estimated cost for developing the app based on several features. These features are the factors that amount to determining the overall cost of developing an app like the Big Basket. Of-course, depending upon the platforms you choose, i.e. Android, iOS, or Cross-Platform, price-range varies. Approximately, $16 k to $17k you can expect, and that's quite a reasonable rate if you want to gain something big in return. Worth investing, no doubt!
The scope of an online grocery app is increasing day by day as customers are almost purchasing groceries online only. To develop an app like BigBasket, you need to evaluate market, geographical assessment and other business factors. Checkout how we helped a startup Freshly in a similar grocery market to establish their presence and how they achieved 20% growth in their sales.