About – Magicbricks like Real Estate Website, App Development Cost
No doubt that the current world is dominated by mobile apps; Magicbricks like house rental and home searching app is a real estate apps for buying & renting properties. Other than Magicbricks there are many other real estate apps like 99acres, nestaway, Nobroker & many more struggling apps in market to survive. However, all of these applications are generally the same and serve the same function. Therefore, understanding only one application can provide ideas about another. Today, the only way to market your real estate business is to break away from public web pages and create your own real estate Magicbricks like Clone app.
When we talk about developing real estate apps the first question comes in mind is How Much Does It Cost to Develop Real Estate App like Magicbricks. Many problems have solved with real estate applications. Previously, customers had to visit various sites to get the exact details and images of the property they were looking for. This will consume a lot of time on their daily schedule, which is not only futile but involves many difficulties. However, with a mobile application, the job is easy and feasible by the customer. Currently, 55% of customers are looking for online properties for great deals.
Therefore, if you are much interested in knowing How Much Does It Cost to Build Real Estate App like Magicbricks and want to have that taste of the success by building apps like Magicbricks then read the complete blog. Developing real estate applications can be time consuming. So I recommend to Hire Real Estate Apps Developers who are highly skilled and charge the amount at once for such applications.
Real estate applications are a great idea for business. The need for such applications is high and competition for such applications has not yet reached its target, unlike other industries. The Cost to Make Real Estate App like Magicbricks depends entirely on the features included in the application. Therefore, certain predictions of costs are not possible.
Confused? Don't be!
On this blog, we will explore the features you need in your application. We will also tell you about the Development Cost of a Mobile App, Website like Magicbricks. With this, we are all ready to move to the core part of this article, namely, to find out How to Make a Real Estate App like Magicbricks. Come let us go deeper.

Cost to Develop an App like Magicbricks and Its Business Model
First-of-all, I want to congratulate to those who have decided to develop their own real estate apps for your real estate business. Getting a business application will significantly increase your prospects of getting clients around the world. This application will help utilize potential customers. So now comes to the main topic, "COST". The Cost of Creating Real Estate App like Magicbricks varies with the features you want to use.
The average range for complete mobile applications varies from $ 16,000 to $ 18,000, and can reach up to $ 45,000 and more. So literally, the Cost to Create Real Estate App like Magicbricks depends on the customization you are using, changes in functionality and advanced features.
The Cost to Making Real Estate App like Magicbricks depends on the type of development method you choose, namely Waterfall or Agile Development Method. Developers and clients prefer the agile development method because it provides greater flexibility and the client has rights at every stage of the development process.
Fusion Informatics is a Magicbricks like Real Estate Mobile App Development Company. Our team of skilled designers, developers and along with marketing professionals, we have built a reputation for creating exceptional investment returns for our clients. Building a real estate mobile application that allows people to make important decisions in their lives, such as buying a new home, of course, requires a well-structured business plan.
Discover How Real Estate Apps Like Magicbricks Work
The Cost to develop Magicbricks like app entirely depends on features and development of real estate applications is now being considered as a more efficient way that can really help sales agents with their business. With the development of real estate app, you can use your mobile phone to go online most of the time. This will make you easily reachable by your customers or prospective buyers. This real estate application contains all the things your customers or buyers want to know about real estate properties. With just one click, they will know the exact location of the subject property, the price offered and other details that will make them understand the entire transaction.
The real estate business is a fast-growing industry, and by developing your real estate, application ensures that you are connected with more customers. Applications for real estate will help people narrow down some of their homes that their agents can show. A lot has to be invested, but it will help you get, and involve more users. Make sure that do some research on choosing companies before hiring as each companies Cost of Developing a Real Estate App like Magicbricks varies and you and recruit the best real estate apps development companies.
In order to stay competitive, you must follow rapid changes in technology, focus on the right business strategy, and useful features. Only in this way will your users buy real estate online through the mobile application without difficulty. Have a question about the real estate application development process or the cost? Don't hesitate to leave a comment below.
As I said, the cost of app like Magicbricks depends on its measurement & complexity. Different from that, the location of the developer and the number of hours or time spent in developing applications is an important part in determining the application development costs.
Basic Features Affecting the Cost to Create Real Estate App like Magicbricks
Below are the basic features that affect cost of developing a Magicbricks Clone App Script aka the real estate mobile app that is very dependent on the size and complexity. In addition, the location of the development team and the hours spent developing applications also affect costs. Based on the hours, the features and developer area we can know how much does an App like Magicbricks Cost.
3D view properties: 3D viewing properties is a great feature to offer to your users. It appealed to them and let them see the entire property from the comfort of their home.
Calendar: To have the right idea about when users see certain plantations. This will help you compare increases and decreases in prices.
Map: Having an integrated Map will help users find property locations easily.
Details of real estate agents: If the user can see the details of the real estate agent in the application, it will be easy for users to contact them.
Contact or ask via email / message: Users must have the option to contact the agent for each question by mail or SMS.
Forums: Forums to discuss property with brokers and other customers must be available in the application.
Image: Image gallery for all properties in the application must be there.
Customer support: The admin has this feature from where he can help customers and answer their questions about anything.
Social Sharing: Share property sold / bought / rented on social media.
Advance Features That Affects the Cost of Making Real Estate App like Magicbricks
Regardless of the admin and user panel features, you must also include several other features in your application if you want to stay ahead of the competition.
Loan calculator – Providing a loan calculator feature in the application will help users to calculate monthly installments and EMI loans.
Real-time message – Providing fast and hassle free messaging features will help users communicate directly with sellers and brokers.
Search, Filter & Sort – Search, filters, and sorting usually take some time in developing mobile applications. The home application allows users to search by location only.
Trending Properties – Generally, projects that are liked or trending are the ones that are preferred and sought by most users. Almost all applications show what's hot on their home screen and so does Housing.
Collection – Collections are just another name for the category. This application shows properties that are categorically different. Houses divide property into four categories, namely, independent cities, luxury, affordable homes & ready to move.
Advanced Search – Adding an advanced search option will help users to search for properties in the desired location.
Property Details –In any mobile application, the detail screen is the most severe content. However, we must always focus on the list of only the most relevant information.
Favorite – The favorite screen displays a list of favorite properties, users can delete favorites & share on various platforms.
Are You Looking To Build Real Estate App Like Magicbricks? Share Your Requirement to "Get a Free Quote"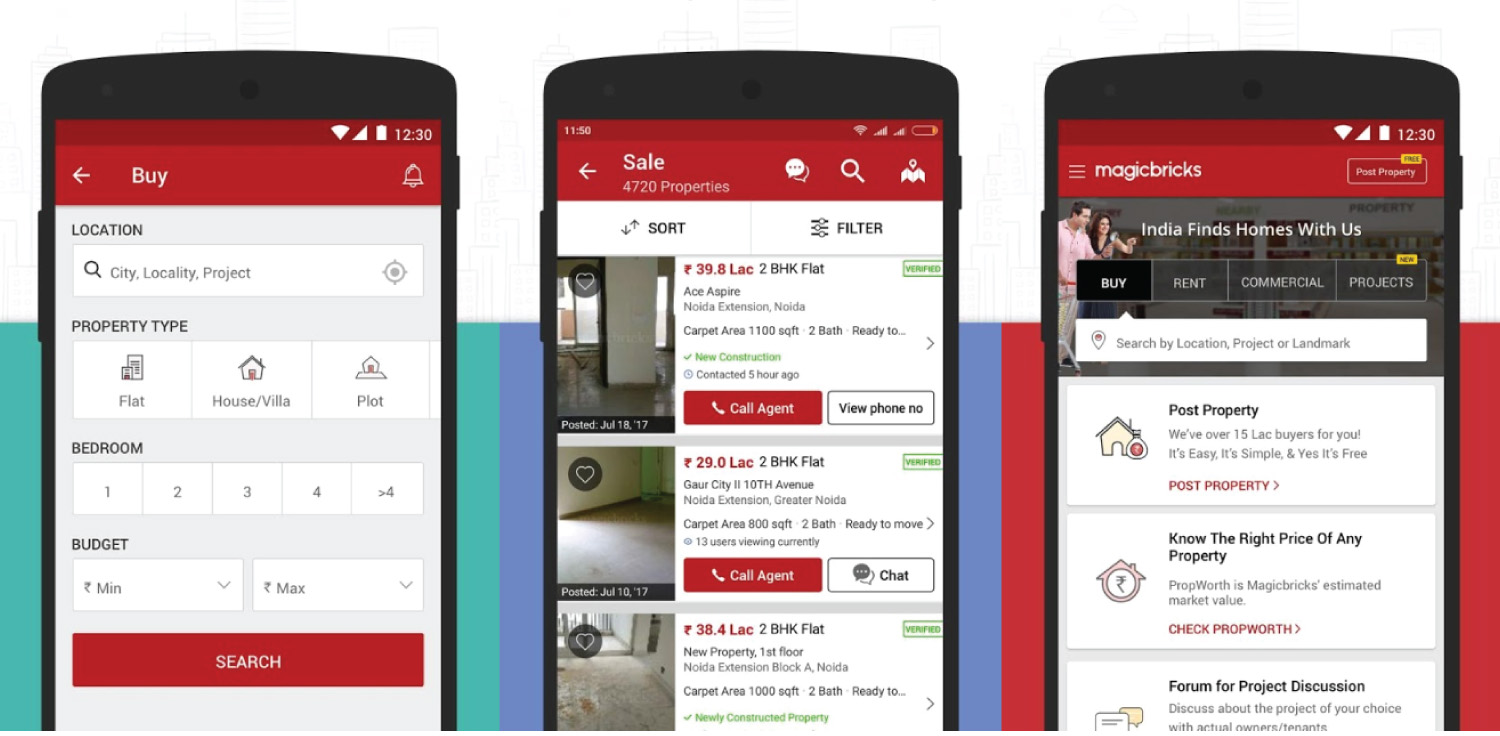 For more information and examples of applying our best real estate applications, please send your inquiry to Contact Us. We work around the clock to help our clients with suitable solutions.
So finally, we have understood that Magicbricks like Real Estate App development cost in Bangalore, Ahmedabad, Mumbai, Noida, Delhi and Gurugram, India, USA and Dubai depends on the number of features and complexity involved.
Do you want to shine in Real Estate Sector and want to form your real estate business with innovative solutions to increase engagement, visibility and income? Well, Contact our team at sales@fusioninformatics.com. Our 10+ years experienced developers, designers will help to create the perfect house-searching app, and home rent app for your real estate business.