Quick Ride – Bike Pool, Carpooling App Development Cost
Carpooling, Ride Sharing, Bike Pool has become the people's daily choice of transportation. It is a great change today as we all live in a mobile-driven environment where we don't have to go anywhere, just take your smartphone out of your pocket and click through an easy-to-go app to order, book, or buy things or services you need.
One of the best things about this digital world is that with a few swipes, there are some new ways to get things done from your home's comfort in no time. Do you know their popularity's secret? Simple to book a trip, cost-effective free, timesaving, safe ride, and ticketing made these apps popular among people. You have all the possibilities to disrupt building your own online Carpooling and Bike Pooling marketplace in 2019- 2020, but what counts is how much it Cost to Develop Carpooling App like Quick Ride, sRide, BlaBlaCar?
Quick Ride, sRide, BlaBlaCar are the current popular cab booking, Bike Pooling , Carpooling mobile app has completely transformed the travel industry so now a few days many business people want to create cab booking, taxi booking, car pool, mobile rental apps for their company.
This blog is for entrepreneurs and business owners who want to solve real-life issues and use app to support this human community. In this post, we covered important features of Quick Ride, the Quick Ride like Carpooling App development cost in Bangalore, Ahmedabad, Mumbai, Noida, Delhi and Gurugram, India, San Francisco, USA, Dubai, UAE, South Africa, which can be considered during the development of the bike ride-sharing app and carpooling application.

How Does Quick Ride, sRide like Carpooling App Work?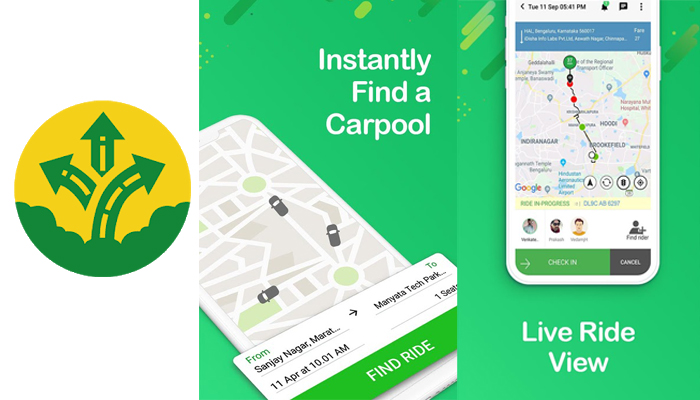 Before knowing, the Cost to Build Carpooling App like Quick Ride lets us checkout the working procedure of this car sharing application. The rider will book a ride in this service, selecting the destination and sharing the ride with other riders who go to the same destination. Various carpooling service giants such as Quick Ride, sRide, BlaBlaCar and many other transportation companies provide these ride-sharing and carpooling services. Travelers and young people, who often travel to different destinations, are extremely popular with these services.
With Quick Ride, driver and passenger get the chance to share and take a long-distance or city-to-city ride. The car owners can share their ride on the same route with the travelers. In addition, in return, the passengers pay the owners of the can for the ride they took as a sharing a respective amount. There are many factors, which affect the Development Cost of Quick Ride like Carpooling App and we will soon going to discuss those features.
Car owners: In the request for the route, they will take in a day or a couple of days, car owners share their information.
Passenger: Passengers search the same route for a vehicle and submit an application to the owners of the car. Car owner acknowledges the demand of the passenger and the in-app chat feature allows them to communicate with each other.
Secure & Safe Ride Identity Verification: The administrator only verifies those accounts that provide valid information along with a government ID to make the ride safe and secure.
With our Quick Ride clone app script, start your business in no time. Our app acts as a bridge between drivers and riders, enabling people to travel with a strong consciousness. Fusion Informatics white-labeled solutions are fully customizable from platforms such as iOS and android to the internet, enabling you to create a unique brand identity for your company and the Cost to Create Bike, Carpooling App like Quick Ride with Fusion Informatics will a very budget friendly.
Car Pooling App Development Cost like Quick Ride, sRide, BlaBlaCar and it's Revenue
You might want to know what your carpooling app will look like and how it will work before you get into the ridesharing business and what might be the Cost to develop Quick Ride like app? You can get fantastic demonstrations at Fusion Informatics that can give you a device survey with a robust admin dashboard and several interesting features.
For massive travel alternatives by modern technology and business models, there are even multiple options for individuals. Today, the ease of using mobile carpooling apps, sharing a ride with other drivers, and dividing costs has helped many people propel ride sharing to the sharing economy's forefront.
Through charging a transaction fee, which is about 10-12 percent of a ride's total cost, Quick Ride makes money. Let us look at the top features of carpooling and rideshare services, which affects the Cost of Creating Carpooling like Quick Ride and why drivers choose these networks to communicate through the best of them.
Model & Cost to build Quick Ride like Bike, Carpooling App
"How much does an App like Quick Ride Cost?" is the most searched query related to carpooling app development and how to build a Quick Ride -like app?" What is the Cost of App like Quick Ride?
Responding to the above questions depends on business models, system design, functionality you want in an app, platforms (iOS, Android, Admin Panel Window and Web), app, and the most relevant third-party APIs. It also depends on where the application is being created. There are various hourly rates for developers from different countries:
Developers operating in the U.S.: $90-$260/hour.
Developers operating in Eastern Europe: $60-$160 per hour.
Developers based in India: $10-$40 per hour.
Simple app design will cost you about $5,000, an average mobile app design will cost you around $7,000, and complex app design with advanced technology and features will cost you about $14,000.
Find out How Quick Ride a Car Sharing App Work and Its Competitors
We have reached the point of the process of developing carpooling apps like QuickRide after exploring the functionality, working method and revenue model. You can hire iOS/iPhone and Android Carpooling App Developers or a successful Carpooling Mobile App Development Companies for your own app like Quick Ride. You may find all features that we discussed above to make a perfect carpooling device.
Technologies Stack
AWS, Microsoft, Cloud Infrastructure
Amazon S3-Backup for Data
Stripe, Braintree, PayPal-Integration of Secure Payment
Four square API
Google & Android on Facebook–For Social Login
For quality & evaluation, Google Analytics or Mix Panel
Begin your carpooling company now by launching an advanced Quick Ride clone app script for your ridesharing service. Our design solutions can communicate with a single tap millions of riders and drivers around the world.
Basic Features Stirring the Cost to make app like Quick Ride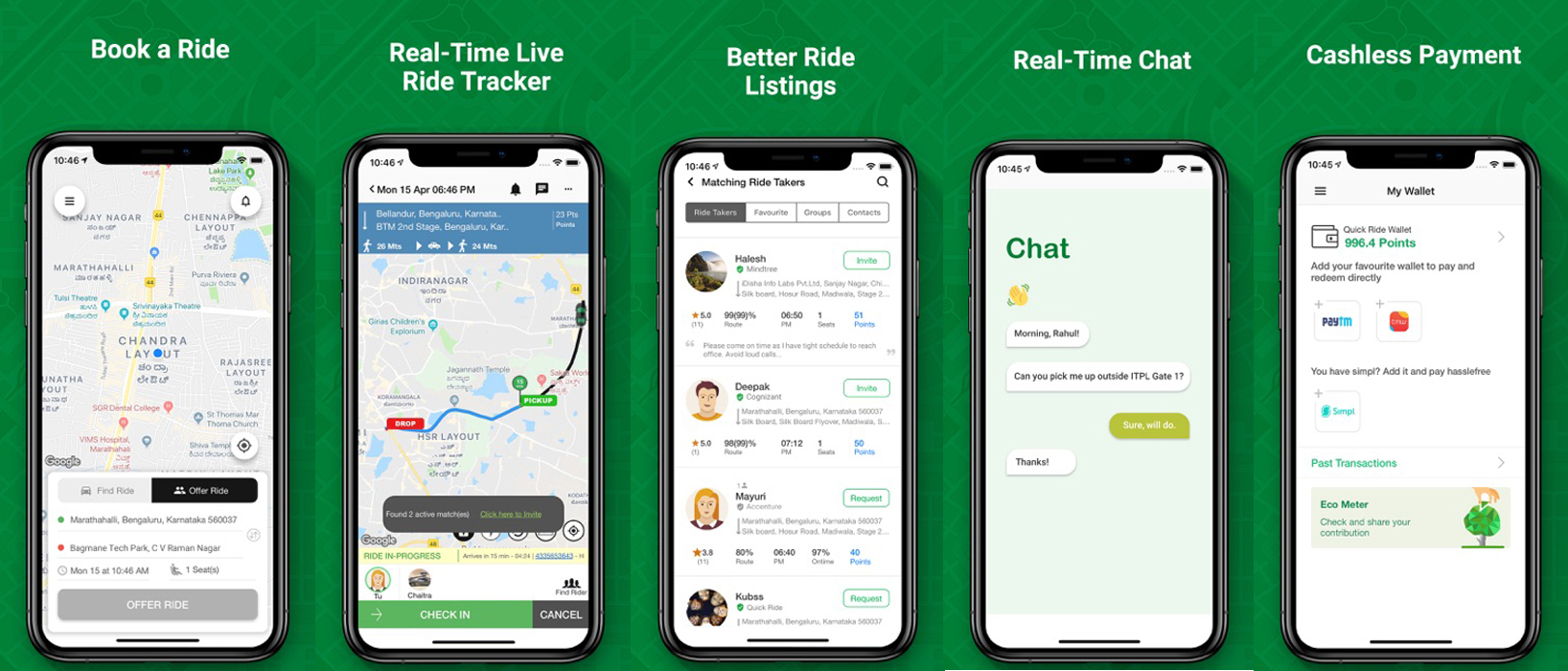 Easy Login: Easy login for passengers and car owners alike and you can easily enter the device by supplying essential information. You may sign up through social channels as a car owner or co-passenger.
Create Profiles: As a car owner or passenger, you can create your profile by providing some essential information, including an ID, Name, Profile Picture, Mobile Number, and Mail ID approved by a checked state.
Quick Login: One can easy login for travelers and car owners alike. You can easily enter the app by supplying essential information. You may sign up through social channels as a car owner or co-passenger.
Build Profiles: As a car owner or passenger, by providing some essential information, including a checked government-approved ID, Name, Profile Picture, Mobile Number, and Mail ID, you can build your profile.
Profile Picture Verification: This feature is required when signing up for enhanced security in the Fast Ride app.
Email Verification & Mobile Number Verification: Verify your Mobile Number & Email with the Easy Ride Green Badge's special key.
Carpooling: Car commuters can take the car ride as a taxi at the Just ticket fare with this app.
Ride Tracking: Use Fast Trip Real time tracking feature to monitor your ride.
Talk, Call, SMS: Commute providers can contact their switches with these features.
Payment Gateway: Go cashless through your wallet, UPI, Net Banking or Cards for every Fast Ride Commute.
Multi–Vehicle Support: This feature allows the vehicle that provides the rides to be modified when posting the ride in the app.
Recurring / Regular Ride: This feature allows riders to take the Recurring and Regular Ride in the same car or bike when they ride on the same route on a daily basis. Besides that, if ride is open, users can edit the time and days according to their suitability.
Fare Bidding: for Ride Takers & Ride Givers, this feature. With this advance feature, the riders can demand the fare and send it to the ride providers, while on the other hand, the same feature can be used by ride givers to change the fare.
Refund: If somehow commuters cannot take the trip, they can start the process of refunding the ticket.
Freeze Ride: This feature is intended for commute providers. If they no longer want to approve the ride request, they can freeze the ride in one click.
Sort and Filter: Ride donors will sort the ride takers and filter them according to their matching.
Notification: If the ride takers are delayed or modified, they must make the change in the ride notes function so that these notes can be shown to the ride takers when booking the ride.
Wallet: Users should attach points (Money) by card, internet banking or any other form in the Fast Ride wallet to take the ride. This Money will help users to go cashless for car and bike pool service.
Redeem: the ride donors can redeem the fuel card at (Shell and HP) or via Paytm wallet
Refer & Earn: Share your mates with the Quick Ride app and win 10 Quick Ride Points in your wallet
Prime Features affecting the Cost to Create Quick Ride like App
Below are the major functionalities, which affect the Cost to Make Bike, Carpooling App like Quick Ride, sRide, BlaBlaCar
Automate Workflow: The administrator can manage the complete process of running thr app. Whether it is the production of daily ride reports or the management of transactions, data can be easily tracked.
Payments Management: Admin may handle the routine ride and distance-based fee or commission. You may make a choice for users–choose a cashless payment or pay a driver in cash when the ride is through.
Discounts & Promotions: Discounts and promotions are the administrator's most important things. The operator may give co-passengers a discount on their services.
Reports & Analytics: The admin can generate a report based on performance to check the overall performance while the analytical reports keep it up-to-date with new and existing car owners or co-passengers.
Account Management: Admin can monitor riders and drivers ' account as they can approve new riders or co-passengers' applications. The admin may revoke their account for any reason, such as if the rider or driver does not have car information or government Identification.
Looking for Quick Ride like Car Pooling Clone Apps? Please Share your requirement to "Get a Free Quote"
How much a Quick Ride like Car Pool, Bike Pool app Cost
The main question raised by people is how much does Cost of Making Car Pooling App like Quick Ride? The response is that it is obvious that there is no estimated value. This is due to the fact that the final cost to develop is influenced by many attributes.
Some of the features that the final cost can increase or decrease include:
The framework and platform used to develop the app can be Android, iOS or Web App to create either MVP or a pack feature of the mobile app.
The location selected for the use of the app: USA, UK, India or any other country.
The features listed above are the basics of developing an app for ride sharing. Even with the basic information, the exact Cost of Developing Car Pool App like Quick Ride is still difficult to analyze. After a calculation made to determine the Cost of Building Quick Ride like Car Sharing App, it was decided that all applications mapping and tracking features take 120 to 150 hours.
Ready to Create Your Best Carpooling, Bike pooling Apps Today
A day may come when you feel you want to figure out how to make an app for rideshare. However, what is going to begin with? This problem is obvious and predictable. First of all, to make your app competitive and popular, you must follow a few key issues. In addition, the wise execution of your idea would enable you in the future to make a real profit. Do not hesitate to hire a sRide, BlaBlaCar, Quick Ride like Carpooling Mobile App Development Company in Bangalore, Ahmedabad, Mumbai, Noida, Delhi and Gurugram, India, San Francisco, USA, Dubai, UAE, South Africa who provide high-quality Carpooling app development services.
Now you see how to create an app for ridesharing. For many people who cannot imagine their lives without a travel, your service can become a real magic wand. Nevertheless, to excel in it, you will have to work hard. At Fusion Informatics, we will come to rescue and provide a helping hand to create a high quality Carpooling and Bike Pooling mobile app. What are you waiting for? It's time to Email us at sales@fusioninformatics.com to have your dream app once and for all to your business.