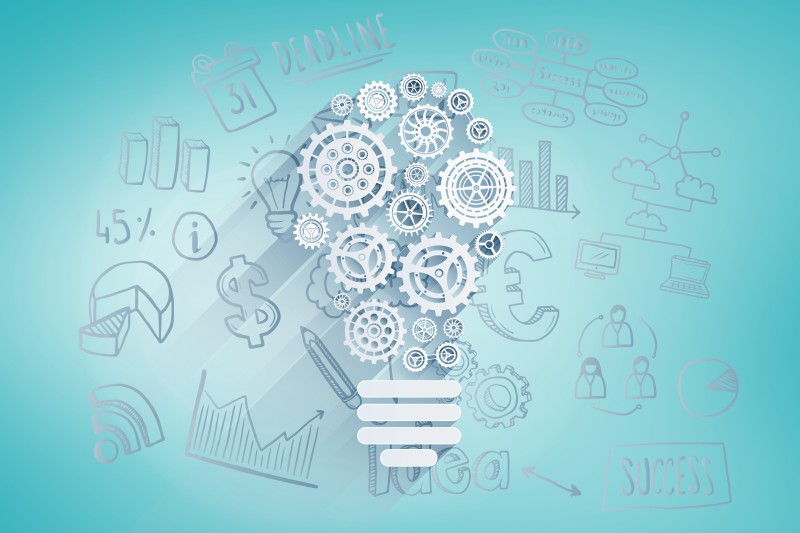 Fintech stands for Financial Technology. Today, India is a leading hub for Fintech Startups in the world. As per a recent report prepared by  Boston Consulting Group (BCG) in collaboration with FICCI, India's Fintech industry is set to reach a massive 150-160 billion USD by the year 2025, and that will result in a 100 billion USD value creation opportunity in the sector. The reasons behind the big growth of the Fintech industry in India are varied deep-rooted demands from customers, substantial tech- talent, diversity in the capital flows, and policy framework that is truly enabled.
What is Fintech?
As mentioned, Fintech means Financial Technology. It is a fine convergence of financial services with digital technologies. Empowered with advanced data & analytics capabilities, zero-processing costs, asset-light-platforms, fintech companies are providing a better, advanced form of financial solutions to their varied clients across industries. These financial solutions happen to be in the form of digital transactions, digital payments, and the likes. The advent of the Fintech industry has led to the adoption of digital technologies in the business models of financial providers, replacing the traditional modes of payments with ace, digital solutions. In short, it is a one-click service to the end-users.
India's Fintech Scenario
In the coming 5 years, the Fintech industry in India is supposed to carry on with its robust, upward trajectory. The dynamic Fintech industry in India today consists of around 2100+ Fintechs. 67% of these many Fintechs are set up in the last 5 years alone! That's what gives this industry big motivating push-ups. What else, this positive growth of the industry has not been deterred by the COVID-led pandemic, and as per the current data, since the last  January 2020, three new Unicorns, as well as 5 new Soonicorns (valued worth 500+Millions USD ) have emerged in the country. The estimation stands at $50 to $60 Billions value worth for the Fintech industry in India, today.
India's 5 Fintech Business Models
The word 'Demonetization' is a word one can recall very easily. Most of the Fintech companies in India got a digital kickstart thanks to the famous demonetization drive in the year 2016. Moreover, the grand launch of the 'Digital India Initiative' has a big contribution to the transformed landscape of the payment interface of India. Today, people want convenient and seamless online, digital payment modes like e-wallet system, credit/debit card payment, touchless payment system, and so on. The top  Fintech Startups and companies in India today are making a big wave in the way people are performing digital payments over the last few years! Let's see, how these top models of fintech companies in India, right from payment platforms to the ever growing insurance platforms, are achieving fames around the world.
1.Digital Wallets
You must have heard about Paytm, a popular mobile app-based digital wallet now utilized every corner, equally popular in all types of businesses in India. Paytm is a Fintech, digital wallet company based in Noida, and there are 150 million active, monthly users. This form of the digital wallet has garnered many tractions just after the demonetization drive in 2016 and has never looked back, only increasing its user base. It is the growth in the 'Digital-Payment' space that has made this model processed around  1.2 bn payment transactions so far!
This model involves an application-based mechanism wherein a user preloads or puts virtual money into wallets for online transactions with businesses who accept this form of digital wallet as their payment mechanism. Other examples from digital wallets that you may be knowing are Google Wallet or GPay, SquareCash, Venmo, etc. However, Paytm is India based business model that the whole world has acknowledged with open arms. Another notable Indian Fintech company from this model is PhonePE.This platform is also used to transfer money, pay bills, buying from local vendors, recharges, shop online, etc. And know what? This app-based digital wallet is available in 11 distinct Indian Languages.
2. Digital Insurance
Indian Fintech companies like Policy Bazaar have set trends in the insurance sector as well. These companies are changing the landscape of the insurance industry by bringing their traditional mode of insurance services directly to the digital world. Policy bazaar has given people choice-based buying insurance policies all on their own. What do people do? They make in-depth comparative analyses of varied insurances using this platform. Policy Bazaar is a living Indian Fintech example that acts as an insurance aggregator platform providing transparent and accurate information regarding insurance policies and other matters to customers from around the world. Also, this business model offers varied kinds of life insurance, health insurance with a lot better underwriting practices, and, along with some personalized marketing plans, has a massive potential to create business possibilities across the boundaries.
3. Digital Lending
Indian Banks have shown immense resilience in the wake of the COVID crisis . for example, Bank of Baroda, a public sector Indian bank, decided to digitalize the entire lending operations for agriculture loans, home loans, auto loans, personal loans, MSME loans, thus reshaped a traditional lending system into digital lending. The very bank reached out to BCG, McKinsey for consultation regarding establishing a digital version of the lending department on its own. And even instant digital credits could be possible now. This Indian Fintech model has shown the world that a vast country like India, with diverse languages and cultural backgrounds, and with such a huge population, can provide a seamless and smooth experience to customers and businesses alike with digital means of banking operations at all levels, departments. Digital Lending is a striking business model under digital banking where open banking, alternative data, AI technology are disrupting the entire landscape.
4. Digital Banking
Indian Fintech model facilitating digital banking is the incorporation of digital tools and technologies for attending banking chores and activities, day-to-day operations becoming easier and smarter. Under this model, Indian banks do collaborate with Fintech companies for providing an improved, advanced form of financial services for a greater reach of customers. The Fintech companies are equipping these banks with digital tools for efficient and productive outcomes. Digital banking offers so many options, such as AI-NLP chatbots that greatly enhance customer experience, real-time experience using a mobile application (where customer can have a quick look into a bank account on mobile only), as well as Machine Learning(ML) that works for securing against any fraud! In short, this Fintech business model turns the entire banking network, just from a limited & small branch phase, into a vast network spanning web,  mobile, virtual & interactive interfaces. This facilitates banks having a reduced dependency on their branches and a huge cost-reduction that'd otherwise involve a greater degree of real estate and manpower.
5. Payment Gateways
Under this model, Fintech companies integrate varied payment methods into the convenient form of applications or apps. These applications are adopted by online merchants, online businesses like e-commerce, and are easily affordable and seamlessly integrated on their respective websites. Thus, the payment gateways are the convenient platforms that allow shoppers, consumers to pay for their shopping for a service/product, directly on the websites of e-stores or shops they are buying from, in the virtual-mode. Multiple payment methods include credit-cards, debit-cards, cryptocurrencies, digital wallets, etc. Here, banks are not involved which would otherwise charge a big transaction fee for these payment methods. Rather, Fintech companies allow payment gateways to work on the line of varied payment applications where businesses sell their products and services directly to the end-users. As a shopper, you are directed to some online payment gateway, and you can make an online transaction for payment. The Indian model on this line is BillDesk.It is a prominent Indian firm for payment gateway, and it serves as a digital payment interface for more than 20 years. Today, it stands valued at over $1 billion, and received $257.5 Million of funding so far!
Conclusion
Fintech companies in India are seeing a massive surge and their value creation opportunity now stands at an enormous  100 billion USD. This is quite an impressive figure, and this explains why some of the Indian fintech business models are creating worldwide ripples in the financial sector. The ever-growing financial sector, the very Fintech ecosystem, has generated these innovative business models that are being emulated by major firms. These innovative models have increasingly assisted in decreasing the financial loads, pressures over individuals, businesses, by providing them direct, on the app, finance solutions.
Are you an Aspiring Fintech who wish leverage the latest in technology which enables you to set a new business model or you wish to accelerate your fin-tech business? Feel free to reach us and take our industry experts guidance.