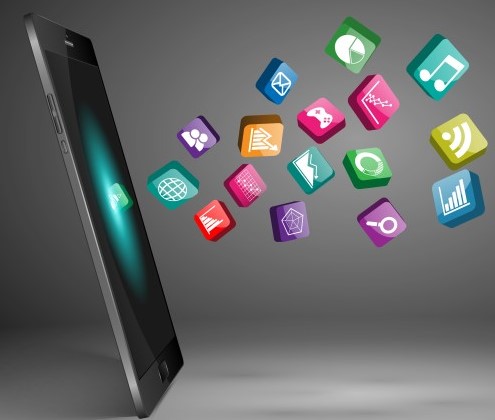 The current pandemic triggered by coronavirus is something that the whole world is talking about, the trendy topic that is resonating the unanimous reactions by people across boundaries, across the social media channels. Isn't it intriguing how come a tiny virus ( you need a microscope to see how it looks and only if you dare) can give those goosebumps deadlier than a real spooky moment? However, the pandemic is also creating an opportunity for startups and entrepreneurs to come out with innovative ideas for their businesses to start over! A blessing in disguise, indeed! Also, if you are considering the pandemic as the 'New Normal', then the time is ripe for you to think and act on those Mobile Apps that the world is depending upon. After all, remote living & online businesses are all relying on good and apt mobile application matching specific requirements across industries!
Let's discuss some probable, and, profitable mobile app ideas for your businesses or start-ups –
1. Android- Mobile Apps
Do you know the new normal is rather calling for mobile-based business? It's because you just cannot afford to take a chance (a risk )for setting up or reviving ( if already you have one) a physical mode of business enterprise in case you are thinking so. Not demotivating, but a practical idea, as CONTACTLESS is the keyword today. People are not willing to go out of their houses for work, shopping, or traveling (unless urgent). All they want is the services that can be availed of on mobile-based apps. Moreover, almost everyone owns a personal Android-based Mobile set and installing specific apps catering to their day to day and business requirements. Think of starting a business where you can deliver your service to customers via a dedicated mobile application!
How about consulting a reputed mobile app development company to frame your business plan regarding which application business will be suitable for you?
2. E-Learning Mobile App
How's the education sector is working nowadays, online mode, right?
Educational institutions the world over are working online and the pandemic has compelled them to adopt digital technologies to their system. It is the mobile application or web application that is donning the role of the online version of the institutes concerned.
How does an e-learning app work?
How it'd be an ideal idea for your start-up?
Well, you create an interface between different stakeholders! If you are an entrepreneur, your focus would be to create an e-learning app that can fetch you achieve your business goals, i.e. profit. And the idea is about leveraging the maximum capabilities of digital technologies such as AI, ML, NLP, and many more. These technologies work via your mobile application catering to users defined and who have installed your apps, subscribed to your appealing offers that might benefit them in their learning process!
Your e-learning app will have features exclusively created for specific stakeholders. Teachers, students, Principals, Admin, and others, will have their unique login credentials and features. Heard about BYJU'S, Vedantu, Grammarly, Coding app like WhiteHat Jr., all are creating waves in the learning app segments. And, mobile is the preferred device across places.
So, this could be a good idea to go for an e-learning mobile app.
3. Telemedicine Mobile App
What a paradox!
The pandemic itself is creating a platform for you to offer an emergency medical service to those who are diagnosed to be corona positive?
Or, people suffering from chronic illness, seasonal flu, or expecting mothers or infants needing mandatory vaccination, all are homebound now due to the ongoing pandemic. But, they need urgent medical attention.
How will you help leverage this situation to your business goals? Of-course, get one telemedicine app exclusively designed for virtually connecting doctors to patients, bringing home- treatment possible by connecting nurses, physicians, and elderly patients, the needy ones, on-demand basis.
It's about providing telemedicine service via mobile applications downloaded and installed on the mobiles of the users. The latter, who may be the doctors, patients, healthcare service providers in general, will download your healthcare based exclusive telemedicine app on to their mobiles and avail of the benefits. The idea is to connect all of them to one platform and give them the required medical services on time. In medical care, TIMING is important as every second does count for a patient's survival.
4. On –Demand Delivery Apps
People want to stay safe, stay home. They want their day to day chores taken care of on mobile itself. This means, if they want to fix their water taps at home, they want to consult a related app-based service on mobile. They will browse and locate their required home-based service app that will send a verified plumber from their area itself, on time.
Similarly, you can think of building an app that caters to home food delivery. Or, you can think of an idea where you can build features of grocery shopping, a service that is so easy to avail of just via a dedicated mobile grocery application. The idea is to provide convenient and touchless services to the users and the public at large.
Even you can think of apps catering to on-demand taxi bookings, courier service, caretakers, etc.
You might have heard about Zomato, Portea, Dunzo, Bigbasket, and so on. All are the dedicated on-demand kind of mobile applications based businesses that are seeing more ROI in the present scenario.
5. E-Wallet Mobile APP
When you are doing home deliveries under On-demand mobile apps based services, then obviously you have to go for some online payment version only in the entire ecosystem!
Thus, the idea of building an e-wallet mobile app is one of the perfect ones where you can think of getting the maximum ROI. You are going to deliver a secure and convenient payment service to the stakeholders who will be doing financial transactions like payment of bills, paying school or college fees, paying for groceries, home deliveries, and various business to business or business consumers based services.
E-wallets like Paytm, google pay, PhonePay are some perfect examples that you can take the leaf from.
So, are you ready to take off your dream mobile app business?
Pandemic and post-pandemic, going for a mobile application based business or integrating the same to your existing startup, the motto is the same – businesses that bring profits. In the present scenario, safety, and convenience are the key deciding factors that make customers download your apps and avail of the seamless experience. Being touchless is another reason, too. However, which mobile app will suit your system or set-up, you should consult a reputed Mobile app development company who will not only guide you with the idea but also develop sound and business-centric mobile apps for you.
Not sure how mobile applications can drive new demand gen in your industry? Unlock your new idea of a mobile app with us today!